Merkel Attacks Opponents as Campaign Starts in Two State Polls
by and
Social Democrats have 'failed' in fighting crime, Merkel says

Chancellor demonstrates hardening tone on asylum seekers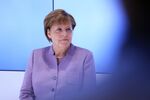 Chancellor Angela Merkel attacked her political opponents as soft on crime and took a harder line on refugees as she set out on the campaign trail before two key state elections next month, a foretaste for her bid for a fourth term in office in September.
Setting the tone for her Christian Democrats as the party seeks to retake power in Germany's most populous state, Merkel reaffirmed her push to deport migrants who don't qualify for asylum at a rally in North Rhine-Westphalia. Before the state vote there on May 14, the German leader also said the state's Social Democrat-led government had "failed" in fighting crime.
"The opportunity was there to make things better, and because it didn't get better, it's time for a change," Merkel told a crowd in the town of Beverungen on Thursday.
Five months away from the national vote, the rally showcased Merkel's hardening tone on asylum seekers two years after she was celebrated by her fans -- and pilloried by critics including now-President Donald Trump and political adversaries at home -- for her open-border stance.
The German leader blamed the Social Democrat government in the state for "sweeping under the carpet" the 2015 mass sexual assaults on women on New Year's Eve in Cologne, an event that galvanized sentiment against Merkel's refugee policy. She called the SPD-led government's response "incredibly damaging."
Merkel is seeking to carry momentum as polls show her Christian Democrat-led bloc gaining an edge nationally over the Social Democrats, who'd closed or narrowed the gap after the party's surprise choice for Martin Schulz to challenge Merkel on Sept. 24. The "Schulz effect" may not have lifted the SPD in North Rhine-Westphalia, where a poll this week showed the two main parties in a dead heat.
The Social Democrats, who consider North Rhine-Westphalia a political bastion, have governed there since 2010. Merkel will campaign Friday in the northernmost state of Schleswig-Holstein, where polls also show the parties neck and neck before the May 7 election there.
Before it's here, it's on the Bloomberg Terminal.
LEARN MORE