U.K. Treasury Committee Chair Tyrie Quits House of Commons
by and
Announcement comes after May called snap elections for June 8

Chichester is a safe Conservative seat, voted for Brexit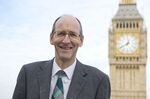 One of the most senior Conservative lawmakers unexpectedly quit the House of Commons and will not stand in the June 8 general election.
Andrew Tyrie, 60, was chairman of the U.K. Parliament's Treasury Committee and represented Chichester in southern England. Back in 2015, Chichester voted 58 percent for Conservatives. A year later, it narrowly voted in favor of Brexit, though Tyrie himself campaigned against leaving the European Union.
Tyrie's decision not to stand will spark a contest for leadership of the lawmaker committee, which will play an important role in scrutinizing government policy if the election returns Prime Minister Theresa May with an increased majority and a weakened opposition. Tyrie voted against May's Brexit plan in the House of Commons this year, criticizing her strategy.
As head of the cross-party panel that scrutinizes the U.K. Treasury and financial regulators, Tyrie made a name for himself by criticizing bankers following the 2008 crisis and Libor-rigging scandal, and for often leading testy exchanges with finance ministry and central bank officials at committee hearings.
"I have done what I can to make a contribution, particularly in efforts to improve banking standards and to shape a more trusted and resilient financial sector," Tyrie said. "I remain deeply committed to public service. I am determined, and hopefully young enough, to contribute in other ways in the years ahead."
Tough Questions
Under his leadership, the Treasury Committee has been a persistent thorn in the side of Britain's economic elite. In 2012, then-Chancellor of the Exchequer George Osborne was forced to reverse a budget measure imposing sales tax on Cornish pasties, a delicacy of the southwest region of England, in part because of scrutiny by the panel.
BOE Governor Mark Carney was a regular target, facing tough questions on everything from his early U-turn on forward guidance for monetary policy, to payment system outages, to his reticence last year to clarify how long he wanted to serve in the role. Other central bank officials who endured his inquisitions included Gertjan Vlieghe, a policy maker and former Brevan Howard Asset Management economist who was forced to sell his stake in that partnership to avoid a conflict of interest.
Under his stewardship of the committee, Tyrie supervised the grilling of Bob Diamond over the Libor scandal and dismissed the testimony of the former Barclays Plc chief executive officer as "somewhat implausible."
Most recently, Charlotte Hogg stepped down as BOE deputy governor for markets and banking after Tyrie led the backlash from lawmakers after she admitted to not declaring potential conflicts of interest. She will depart the institution this week after the panel admonished her failure to declare the role her brother holds at a bank that she would help to regulate.
Tyrie was an adviser to two chancellors -- Nigel Lawson and John Major -- before he joined the European Bank for Reconstruction and Development in the 1990s. He was elected to Parliament in 1997 and became Treasury Committee chairman in 2010, before being reappointed in 2015.
Before it's here, it's on the Bloomberg Terminal.
LEARN MORE