No Lack of Twists, Questions in Trump-Russia Saga: QuickTake
by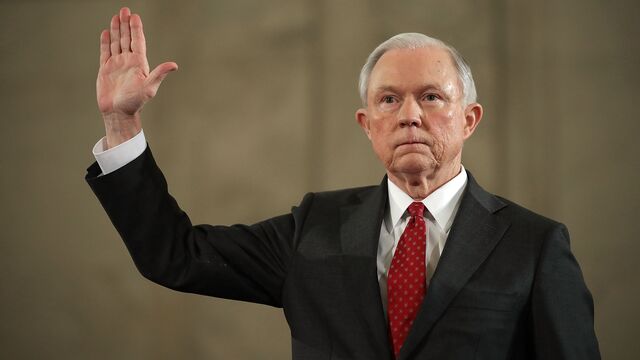 Questions about Russia's role in the 2016 U.S. presidential election, and about possible contacts with Donald Trump's campaign team, have swirled for almost a year. They've helped fray relations between Trump and the U.S. security agencies he now leads, and between Trump and the media. Along the way the story of Trump and Russia contributed to the firing of Trump's first campaign chairman, the resignation of the head of the Democratic National Committee, and the dismissal of Trump's national security adviser after just 24 days. More recently it put Attorney General Jeff Sessions on the hot seat. With multiple ongoing criminal and congressional investigations -- and a call for still more, by Trump himself -- the Russia story will hang over Trump, and U.S. politics, well into his first year as president.
1. What have U.S. intelligence agencies concluded?
That Russian President Vladimir Putin personally ordered a campaign to influence the U.S. election "to undermine public faith in the U.S. democratic process, denigrate Secretary Clinton and harm her electability and potential presidency." Also, that Putin and his government, along the way, "developed a clear preference" for Trump. These conclusions by the Central Intelligence Agency, the Federal Bureau of Investigation and the National Security Agency were made public in a declassified report released Jan. 6 by the outgoing administration of Barack Obama. (On Putin's "clear preference" for Trump, the CIA and FBI have "high confidence in this judgment," while the NSA "has moderate confidence.")
2. What's still not known?
Mostly, whether Trump or his team did anything to solicit, welcome or participate in Russia's campaign to undermine Clinton (other than Trump's invitation for Russia to hack Clinton's email account, which he said was a joke). Phone records and calls intercepted by the NSA indicate that Trump aides and associates had contact with senior Russian intelligence officials during the campaign, though there's no evidence yet of collusion, the New York Times reported, citing officials it didn't name. (White House spokesman Sean Spicer said the FBI's deputy director told Reince Priebus, the president's chief of staff, that the report "was, quote, B.S.") Then there's the 35-page "dossier" of unverified allegations compiled by a former British spy at the behest of Trump campaign opponents. It alleges that Russia has been "cultivating, supporting and assisting" Trump for at least five years.
3. What's being investigated?
The FBI and U.S. intelligence agencies are looking into contacts that Trump advisers and associates may have had with Russia during and after the campaign. They include Michael Flynn, Trump's first national security adviser, who spoke with Sergey Kislyak, Russia's ambassador to the U.S., on the same day Obama imposed sanctions on Russia; Paul Manafort, Trump's former campaign chairman, who resigned in August under scrutiny for his past consulting for the pro-Russian former president of Ukraine; energy consultant Carter Page; and Republican operative Roger Stone. All four men have denied any improper contact with Russian officials. The FBI is said to be conducting a separate cybersecurity investigation into the hackings.
4. Who's running the investigation?
Broadly speaking, the Department of Justice. Normally that would mean Sessions, the attorney general, but he recused himself following revelations that he, too, had meetings with Kislyak in 2016. For now, the interim deputy attorney general, Dana Boente is in charge. Once confirmed by the U.S. Senate, Trump's choice as deputy, Rod Rosenstein, will take over. He's currently the U.S. attorney in Baltimore. Democrats already are pressing him to bring in an independent counsel from outside government -- a special prosecutor -- to oversee the case. Rosenstein said at his Senate hearing that he trusts the Justice Department to handle the matter.
5. Who in Congress is investigating?
The Senate Intelligence Committee is off to the fastest and most bipartisan start and is hammering out a joint investigative plan that includes subpoena power. Still, some Democrats, and at least one Republican, are calling for an independent commission. Spicer, the White House spokesman, has said there's "nothing to further investigate."
6. Then what does Trump still want investigated?
He's said "the real subject" that should interest reporters is "all of the illegal leaks of classified and other information." He's alleged that Obama "had my 'wires tapped' in Trump Tower just before" the November 2016 election, and he's asked that Congress include that topic in its Russia investigations. (An Obama spokesman said it's "unequivocally false" that Obama or any other White House official "ever ordered surveillance on any U.S. citizen.")
7. What else has Trump said?
During the campaign, he dismissed reports of Russian involvement in the election, theorizing that Democrats could just as easily have been hacked by "somebody sitting on their bed that weighs 400 pounds." Priebus, his chief of staff, said on Jan. 8 that Trump had accepted the findings of U.S. intelligence agencies and is "not denying that entities in Russia were behind" the hackings. But six weeks later, as president, Trump called the concern about Russian involvement "fake news put out by the media," a "ruse" and a "scam." He said "nobody that I know of" from his campaign had contacts with Russia. In March, news resurfaced that Trump also met with the Russian ambassador, before a foreign policy address he gave in April 2016.
8. Does that include Flynn?
Though Flynn was a Trump campaign surrogate and adviser, the known communications between him and the Russian ambassador -- texts and a phone call -- took place when Trump was already president-elect. If all the two men did was extend holiday greetings and plan for their bosses to speak in the future (as the White House initially claimed), this offshoot of the story might quickly have been forgotten. But it's now clear that the two men discussed sanctions imposed by Obama on Dec. 29 to punish Russia for interfering in the election -- a chat that perhaps could have undermined Obama by suggesting Trump might reverse it. "It was basically, 'Look, I know this happened. We'll review everything,"' Flynn told the Daily Caller. "I never said anything such as, 'We're going to review sanctions,' or anything like that."
9. Why was Flynn let go?
According to the White House, he was dismissed because he didn't tell others in the administration that sanctions had indeed come up in the phone call. (Flynn says he didn't mention it because he didn't remember that part of the discussion.) Based on Flynn's assurances, Vice President Mike Pence declared on CBS's "Face the Nation" that Flynn and Kislyak "did not discuss anything having to do with the United States' decision to expel diplomats or impose censure against Russia." Pence was left with egg on his face.
10. How did Sessions get involved?
He was a U.S. senator and an active Trump supporter during the 2016 campaign, and Trump chose him to serve as attorney general. During his Senate confirmation hearing on Jan. 10, he was asked what he would do if he learned that anyone tied to the Trump campaign had communicated with the Russian government during the course of the campaign. As part of his answer, he said, under oath, that he had "been called a surrogate at a time or two in that campaign, and I did not have communications with the Russians." It's now emerged that Sessions met with Kislyak twice, in July and September. Sessions said his story was consistent because those meetings were part of his work as a member of the Senate Armed Services Committee. Sessions has recused himself from any campaign-related investigations.
11. How did this all begin?
In April 2016, Democratic Party leaders called in a cybersecurity firm to look at suspicious software on their computers. The firm said it found digital footprints of hackers tied to the Russian government. The Democratic National Committee went public with the news and the suspicion of Russian involvement in June, just after Hillary Clinton clinched the party's nomination for president, and just after WikiLeaks editor Julian Assange said his group had "upcoming leaks in relation to Hillary Clinton."
12. What were those leaks?
On July 22, as Democrats were starting to gather in Philadelphia for their nominating convention, WikiLeaks released almost 20,000 emails from inside the Democratic National Committee. They showed, among other things, how DNC staffers had favored Clinton during her primary campaign against Bernie Sanders -- a sideshow that prompted Debbie Wasserman Schultz to resign as DNC head. Later in the campaign, WikiLeaks released tens of thousands of emails from the Gmail account of John Podesta, Clinton's campaign chairman.
13. And WikiLeaks got those emails from Russia?
That's the allegation. The report by the CIA, FBI and NSA says Russia's General Staff Main Intelligence Directorate, or GRU, gave the material to WikiLeaks through the "persona" of a purported Romanian hacker, Guccifer 2.0, and a website, DCLeaks.com, both of which also promoted the hacked information to certain journalists. Assange has said the source of the hacked emails "is not the Russian government and it is not a state party," though that doesn't mean that an intermediary couldn't have done so.
14. Was this a first?
The cyber element might just be a new twist on an old story. The U.S. intelligence report says Russia, and the Soviet Union before it, "has a history of conducting covert influence campaigns focused on U.S. presidential elections" with an aim "to disparage candidates perceived as hostile to the Kremlin." And it's not just the U.S.: Already, Putin's Russia has been accused of meddling in European elections taking place this year.
The Reference Shelf
Before it's here, it's on the Bloomberg Terminal.
LEARN MORE