Republican Lawmaker Assails Conway's Promotion of Ivanka Trump Business
by and
Adviser 'counseled' over remarks made during TV interview

'I'm going to give it a free commercial here,' Conway said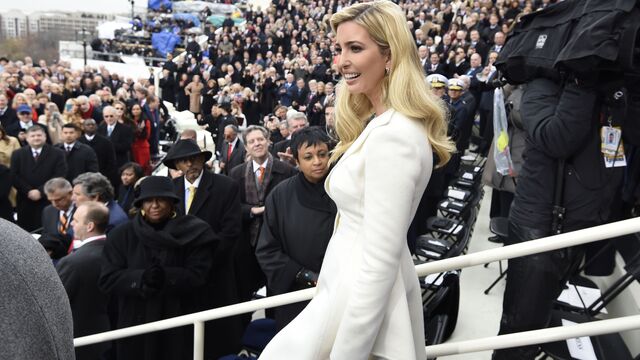 Presidential adviser Kellyanne Conway's "free commercial" for Ivanka Trump's clothing line during a television interview violated ethical principles for federal employees and is unacceptable, according to a letter signed by a Republican lawmaker.
Representative Jason Chaffetz, chairman of the House Oversight and Government Reform Committee, called on a federal ethics agency to recommend "disciplinary action, if warranted" against Conway. The letter also was signed by Representative Elijah Cummings, the oversight panel's top Democrat.
Conway "has been counseled," White House Press Secretary Sean Spicer said, without elaborating, before the lawmakers' letter surfaced. Conway, speaking to Fox News Thursday evening, declined to comment on that counseling, but said President Donald Trump "supports me 100 percent."

The rebuke from Chaffetz and Cummings represented bipartisan condemnation and may open Conway, who successfully guided Trump's presidential campaign, to additional disciplinary action. Theoretically, that could include reprimand, suspension, demotion or removal from office, according to federal regulations.
President's Support
Conway said the White House is aware of the lawmakers' letter and is reviewing it. She also praised Trump for supporting her, saying that all women should have bosses who treat them "the way the president of the United States treated me today."
Her unusual product endorsement, made earlier Thursday on Fox News Channel's Fox & Friends program, drew criticism from legal specialists who said it appeared to violate a federal rule barring officials from using their positions to promote private business interests. Enforcing that rule is left up to the White House itself -- or to the federal Office of Government Ethics. Traditionally, that agency has shown little interest in launching investigations.
Conway's remarks from the White House briefing room came in response to reports that retailers, including Nordstrom Inc., have been dropping Ivanka Trump's apparel due to lack of sales.
"It's a wonderful line. I own some of it," Conway said during the interview. "I'm going to give it a free commercial here. Go buy it today everybody; you can find it online."
Trump's Tweet
On Wednesday, President Donald Trump lambasted Nordstrom for its decision, saying in a tweet that his daughter had been treated "so unfairly" by the company. "She is a great person -- always pushing me to do the right thing! Terrible!" After initially posting the message on his personal account, he later retweeted it from the official presidential handle, @POTUS.
Ethics rules that date to 1993 bar officials from promoting products for the private gain of friends and relatives. The employee's agency -- in Conway's case, the White House -- is responsible for enforcing the rules, though OGE, which publicly clashed with Trump last month over his own potential conflicts of interest, could recommend disciplinary actions, the regulation states. OGE and the White House also have the option of waiving the rule in particular cases.
Chaffetz and Cummings' joint letter to OGE director Walter Shaub says Conway's remarks "raised extremely serious concerns." The two lawmakers called on the agency to review the statements and to report back to the committee with its recommendation.
'Inherent Conflict'
"In this case, there is an additional challenge, which is that the President, as the ultimate disciplinary authority for White House employees, has an inherent conflict of interest since Conway's statements relate to his daughter's private business," Chaffetz and Cummings said in the letter.
The OGE took to Twitter to note that its website, phone and e-mail systems were overwhelmed with contacts from citizens "about recent events." The agency said that "when OGE learns of possible ethics violations, OGE contacts the agency, provides guidance & asks them to notify OGE of any action taken." It said it is "actively following" that process.
Robert Weissman, president of activist group Public Citizen, said Conway's remarks demonstrate that the Trump administration "will use the government apparatus to advance the interests of the family businesses."
"Anyone harboring illusions that there was some separation between the Trump administration and the Trump family businesses has had their fantasy shattered," Weissman said in a statement.
Political Remarks
Peter Flaherty, president of the conservative watchdog National Legal and Policy Center, said Conway's comments fell short of a violation.
"Any federal official would look kind of foolish endorsing a commercial project, but what Kellyanne Conway was responding to is the assault on all things Trump," Flaherty said. "Her remarks were political and rhetorical, and not a product endorsement."
Tom Fitton, president of Judicial Watch, a conservative watchdog group, said, "This ought to be an area of sensitivity for the White House." He said that a warning and ethics counseling could help her "defend the family in an appropriate way without endorsing their products."
Retailers that carry the first daughter's collection have come under fire from the Grab Your Wallet campaign, which encourages shoppers to boycott stores that sell Trump goods. Nordstrom said the decision to quit selling Ivanka Trump-linked products was an economic one -- they weren't generating sales.
Conway called the boycott campaign "a huge failure" during her Fox interview. Shares of Nordstrom rose as much as 4.2 percent on Thursday before ending regular trading with a gain of about 1 percent. On Wednesday, the department-store chain's stock gained 4.1 percent to $44.53 after the president's tweet about the company, its biggest single-day advance in two months.
Conway also praised Ivanka Trump's entrepreneurial spirit and hinted that the first daughter would find a more official role in the administration working on policy issues she promoted on the campaign trail, such as maternity leave, child care and equal pay.
Before it's here, it's on the Bloomberg Terminal.
LEARN MORE