This Is How You Should Read French Election Polls
by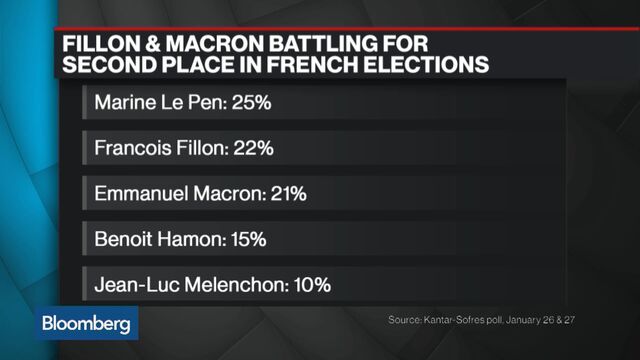 It's been a tough run for political polling, leading some to view poll results with an extra dose of skepticism. That might be particularly appropriate in France. Its two-stage presidential election system, with multiple candidates appealing to a highly divided electorate, makes interpreting polls something of an art. Especially as most focus on the first round, rather than the end result.
1. Who's up at the moment?
Marine Le Pen, head of the far-right anti-immigrant anti-European Union National Front. She drew 25 percent in a Feb. 4 poll by BVA, to 21-22 percent for independent Emmanuel Macron and 18-20 percent for Francois Fillon of the center-right Republicans. An Ifop poll published Feb. 2 had Le Pen at 24.5 percent, Fillon and Macron at 20 percent each.
2. How has that moved over time?
Most polls at the end of 2016 showed Fillon with a narrow lead over Le Pen, and Macron much further behind.
3. So is Le Pen now favored to be France's next president?
4. How can that be?
The headline polling numbers reflect possible outcomes for the first round of the election, on April 23. Under the French system, if no presidential candidate collects a first-round majority -- and no one ever has topped 50 percent -- the top two finishers face off in a second round, scheduled for May 7. Le Pen may have a solid bloc of support, but she's also France's most controversial figure and her anti-Europe views are rejected by most French. That might hurt her in a one-on-one race.
5. Who could beat her in a second round?
Either of her main competitors, apparently. The BVA poll showed Fillon routing Le Pen by 60 percent to 40 percent and Macron walloping her by 66 percent to 34 percent.
6. Why is that the case?
France's National Front has a fervent but limited base of support. That makes the party formidable in the crowded first round of voting but leaves it struggling thereafter. In regional elections in 2015, the party led the first-round voting in six of 12 mainland regions but failed to win any of them in the run-offs. Voters from other parties, it seems, held their noses and backed each other, intent to keep Le Pen's party out. "Le Pen still doesn't have any allies who could help her win a presidential runoff," said Antonio Barroso, an analyst at Teneo Intelligence. "Both Macron and Fillon would probably receive the endorsements of the rest of mainstream parties."
7. So is it impossible to foresee a Madame le President Le Pen?
Not impossible. Did the world learn nothing from Brexit and Donald Trump?
8. How could Le Pen win?
Any number of things could happen in the next three months. Another terror attack could further undermine establishment parties and draw swing voters to Le Pen's anti-foreigner message. The Feb. 3 incident at the Louvre, where a soldier fired on a machete wielding assailant dominated media coverage for a day, shows how even a minor terror attack can dominate a country that's on edge. Fillon has been hit with a graft investigation -- he hired his wife for years as an assistant, and there are doubts about how much work she actually did. Some members of his party are trying to get him to stand down. Plus, low turnout in the second round could distort the results. While turnout in French presidential elections has always remained at or above 80 percent, there are doubts about the second round this year. Fillon is openly religious and is calling for a Thatcherite cure for the French economy, hardly appetizing for leftist voters who may see little reason to choose him over Le Pen. If they stay home in mass, that could distort the second round results.
9. What's a poll-watcher to do?
Keep watching. French polling has been reliable in recent elections, and should be even more so now that the Socialists have chosen Benoit Hamon as their candidate, the last of the major parties to select a nominee. So far, pollsters have had to run numerous scenarios by voters. Now surveys will be able to gauge whether Hamon really will send moderate Socialists supporters scurrying toward Macron. And keep an eye on Oddschecker.com. The bookmakers have lengthened the odds on a Fillon victory over the past week, reckoning his legal problems will feed through into polls in the coming days. Macron is now the favorite with 47 percent chance, while Le Pen has a probability of 28.8 percent. Fillon had been the favorite but is now only at 16.4 percent.
The Reference Shelf
Before it's here, it's on the Bloomberg Terminal.
LEARN MORE