Trump's Pick for Attorney General Scoffed at 'Too Big to Fail'
by
Sessions's remarks on BP probe hint at approach to companies

'I was taught, if they violated the law, you charge them'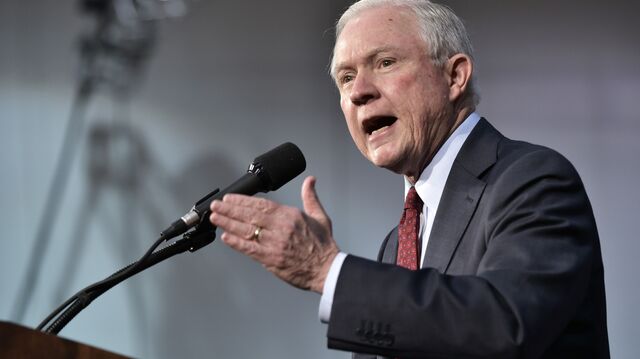 Senator Jeff Sessions, President-elect Donald Trump's pick for attorney general, doesn't have a record of going after big business, but he has signaled that he's willing to be tough on malfeasance, even when it involves some of the world's largest corporations.
While clues to his outlook on how to punish Wall Street and corporate misconduct are thin, the former federal prosecutor from Alabama indicated at a Senate hearing six years ago that he wouldn't back away from charging a major company if there was evidence of criminal conduct.

"I was taught, if they violated the law, you charge them. If they did not violate the law, you do not charge them," Sessions said during a 2010 confirmation hearing for former Deputy Attorney General James Cole.
He made the comments in reference to the Justice Department's investigation into BP Plc over the Deepwater Horizon oil spill. Sessions expressed concern that the department might refrain from prosecuting the company because it was worried that a criminal charge could cause wider harm to innocent people after the collapse of Arthur Andersen LLP, which was indicted by the U.S. for destroying documents related to the Enron Corp. case in 2002.
"I have said repeatedly that BP is liable and should be held liable for their responsibilities to the extent of their existence," Sessions said at the hearing. "In other words, they are not too big to fail."
BP eventually paid out about $25 billion to resolve civil and criminal claims related to the Deepwater Horizon drilling rig explosion, including $4 billion as part of a guilty plea in 2012.
Corporate Crime
What impact Sessions will have on numerous open investigations into corporate crime, Wall Street corruption and business mega-mergers that will carry over into the new administration remains an open question. A member of the Senate's Judiciary Committee, Sessions has weighed in on numerous Justice Department appointees and federal judges, as well as law enforcement policies. But his views on terrorism, drugs and immigration are far better known than his attitudes toward corporate enforcement.
Outstanding matters he may influence include years-long probes into alleged rigging of currency and other financial benchmarks by bank traders, a criminal investigation into price fixing of generic drugs and civil inquiries into the packaging and sale of mortgage-backed securities by banks in the run-up to the 2008 financial crisis. 
The Justice Department is also said to be assessing how big a criminal fine it can extract from Volkswagen AG over emissions-cheating without putting the German carmaker out of business, while Wal-Mart Stores Inc. is trying to wrap up a long-running foreign corruption investigation. Both of those cases are being handled by the Justice Department's criminal division, which has taken the lead on the most sophisticated and wide-ranging corporate prosecutions, according to James Koukios, a former federal prosecutor now at Morrison & Foerster LLP in Washington.
'Extremely Influential'
The appointee to head the criminal division could play a critical role in how those cases are resolved and which new ones are brought, Koukios said.
"Given that Sessions has been so focused apparently on blue-collar crime it really could leave the door open for the head of the criminal division to be extremely influential," Koukios.
Session's priorities will likely include terrorism financing and anti-money laundering, as well as cybercrime and the enforcement of the Foreign Corrupt Practices Act, said George Stamboulidis, a former federal prosecutor who worked in the Justice Department for a dozen years. He said fraud and corruption prosecutions will continue no matter what party is in the White House.
"Some of most famous prosecutions under the Enron era took place under a Republican-appointed attorney general with line prosecutors and supervisors who today serve as senior officials in the Obama Justice Department," said Stamboulidis, now a partner at BakerHostetler in New York.
The 69-year-old, four-term Alabama Republican is a hard-liner on free trade and immigration, arguing that prospective immigrants don't have constitutional protections. He has opposed efforts to overhaul prison sentencing, back off the war on drugs and legalize marijuana.
Sessions, who was U.S. attorney in Alabama from 1981 to 1983 and Alabama attorney general in 1994, was one of the few lawmakers to defend Trump after he proposed a complete shutdown on Muslims entering the U.S.
Thin Record
While on the Judiciary Committee, Sessions hasn't played a big role in the committee's oversight of antitrust enforcement. He asked no questions of the past two chiefs of the antitrust division during their Senate confirmation hearings, according to transcripts.
Sessions also didn't participate in a Senate Judiciary Committee hearing in September 2010 on prosecuting financial fraud or an oversight hearing of the Financial Fraud Enforcement Task Force in 2011.  
The Chamber of Commerce didn't offer any specific reaction to his selection for attorney general, other than saying the group looks forward to working with all of Trump's appointees.
  
The Justice Department has come under criticism in recent years for the deferred- and non-prosecution agreements it has reached with banks; lawmakers and other critics say the deals weren't an adequate deterrent. The government counters that the agreements lead to oversight and cooperation that otherwise wouldn't be possible.
In his 2010 exchange with Cole, who had been nominated for the department's No. 2 position under former Attorney General Eric Holder, Sessions acknowledged the failure of Arthur Andersen may have inhibited the department from indicting other companies for wrongdoing, but suggested that Cole's views risked "picking winners and losers."
Sessions said with this view, the government risked overreaching on the one hand by seeking high penalties that might not be entirely justified, while on the other it risked stopping short of issuing an indictment that was supported by the facts.
Cole's position "seems to go beyond strict enforcement of the law and try to preserve corporations who perhaps should be charged and suffer whatever consequences might result from their criminal acts," Sessions said.
Before it's here, it's on the Bloomberg Terminal.
LEARN MORE