Concession Speeches: A Brief History of Keeping it Classy
If tonight's loser wants to uphold election-night tradition, he or she will need to overcome the unprecedented vitriol of the 2016 campaign.
by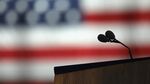 On Election Night in 2012, Mitt Romney was so confident that he only wrote one speech, declaring victory. In their scramble to prepare something very different, though, his team followed the decades-old precedent of a gracious concession. "The nation chose another leader," Romney acknowledged, "and so Ann and I join with you to earnestly pray for him."
It was a hard-fought campaign, but Romney wasn't conceding to a candidate he'd nicknamed "Crooked Barack," or threatened to imprison. Nor would Barack Obama, if he'd lost, have been forced to admit defeat to an opponent he'd deemed "temperamentally unfit" for the presidency.
Whether Donald Trump or Hillary Clinton does deliver a concession speech on Tuesday remains to be seen. The tenor of it, however, will depend on which pattern holds true: decades of gracious concession speeches, or months of brutal campaigning.

John McCain's 2008 concession to Obama, the most gracious such speech since 1992, focused especially on the virtue of electing the first black president. "This is an historic election," McCain said, "and I recognize the special significance it has for African-Americans." Tonight could offer a similar moment if the nation elects its first female commander-in-chief.
Unlike Romney in 2012, however, Clinton's team has confirmed that she's preparing both a victory speech and a concession speech for tonight. A concession speech from Clinton would likely hew closely to tradition. 
But with the election odds in Clinton's favor, Trump could face a different choice. Defeat would leave the Republican nominee with three options: A gracious concession, a combative one, or none at all.
If he gives a speech in line with history, it could sound like the one he delivered after placing second in February's Iowa caucuses to Texas senator Ted Cruz. Trump spoke for three minutes, mostly about how even a second-place finish was a triumph over the odds for a non-politician. Notably, though, he included the line, "I want to congratulate Ted and I want to congratulate all the incredible candidates, including Mike Huckabee, who's become a really good friend of mine." It accounted for seven percent of the speech, a degree of graciousness similar to that of general-election losers like John Kerry in 2004 (four percent) and Bob Dole in 1996 (nine percent).
Trump could also choose to concede in the same critical tone in which he's campaigned, running roughshod over both his opponents and presidential precedent. In that case, his July 21 speech at the Republican National Convention could serve as a template. Almost 250 times in that speech, Trump used a word that had never been uttered before by a major-party nominee on a convention stage, many of which were colorful invective against either Clinton (the beneficiary of a "rigged" system) or other adversaries (the "barbarians" of Islamic State).

Trump has an even more extreme option: choose not to concede at all. That would mark the first time that the country goes to sleep without a self-affirmed loser since 2004, when John Kerry and President George W. Bush waited more than 18 hours for final results from Ohio. In 2000, victory and concession speeches weren't delivered until December 13, the day after the Supreme Court ended Florida's protracted recount.

Trump has repeatedly questioned the integrity of the 2016 vote, making another election overtime a distinct possibility. "I do love it," Trump said in an election day interview of the concept of peaceful transition of power, but maintained that "it's largely a rigged system. And you see it at the polling booths, too." Absent a concession speech, tonight could end with a curious combination: a winner without a loser—at least one who has come to terms with defeat.

Before it's here, it's on the Bloomberg Terminal.
LEARN MORE