With Michelle Obama on Stage, Clinton Plays Role of Warm-Up Act
The first lady has emerged as one of Clinton's most effective advocates on the campaign trail.
by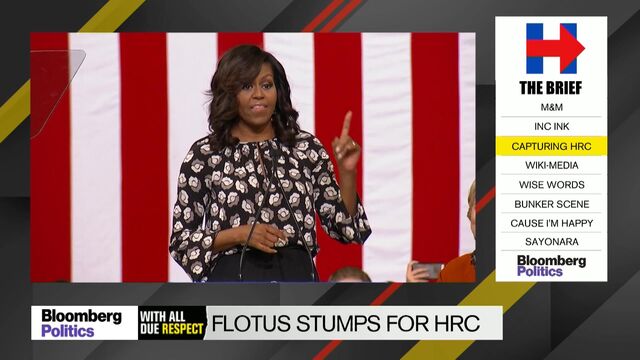 In North Carolina on Thursday, Hillary Clinton was just the warm-up act.
Clinton for the first time in her campaign shared the stage with Michelle Obama, who's turned into one of the Democratic presidential nominee's most effective advocates. In a sign of how important Clinton's campaign considers Obama's power to motivate the party's base, it was the candidate who introduced the first lady as the featured speaker at a rally at Wake Forest University's Lawrence Joel Veterans Memorial Coliseum.
"Are you with me? Are we going to do this?" Michelle Obama asked the mostly young crowd of about 11,000 as she concluded a sometimes emotional address on why Clinton should be elected president. 
With 12 days left before Election Day, Clinton and her campaign are putting her most prominent and popular surrogates on the road to secure her lead over Republican Donald Trump. Chief among them are the first lady and President Barack Obama, who plans to campaign for Clinton for most of the final week before Election Day.
The president has said his goal is to not only assure Clinton wins, but also that she wins by the biggest margin possible. He and the first lady are also particularly good at whipping up enthusiasm among Democrats as the Clinton campaign tries to fend off complacency among her voters.
Election Stakes
"If Hillary doesn't win this election, that will be on us," Michelle Obama said at Wake Forest. "It will be because we did not stand with her. It will be because we did not vote for her. And that is exactly what her opponent is hoping will happen."
Obama has been eager to promote Clinton and to challenge Trump. In a speech earlier this month in New Hampshire she condemned Trump's remarks about women in a 2005 video, saying, "It has shaken me to my core."
On Thursday, the first lady made mostly indirect references to Trump, saying the country needs a president "who sees our differences not as a threat but as a blessing."
Of Michelle Obama, Clinton said that she is a woman whose voice "we need now more than ever."
Michelle Obama's speech at the Democratic convention in July convention was widely hailed by party strategists. "When they go low, we go high," she said then, offering what's become a mantra for Clinton and her allies as they've faced aggressive and often personal attacks from Trump.
"No one knows more about what's at stake in this election than our first lady because all the progress that we've achieved under President Obama's leadership is at stake," Clinton said.
Polls of likely North Carolina voters have remained tight, though Clinton has an edge. She leads by 1 point, 47 percent to 46 percent, in a Monmouth poll Oct. 20-23, and by 8 in a New York Times/Siena College poll also conducted over the weekend. Barack Obama won North Carolina in 2008 but lost it in 2012. Its large population of African-Americans and growing numbers of college-educated whites makes it a prime place for Obama to campaign effectively.
Before it's here, it's on the Bloomberg Terminal.
LEARN MORE