U.S. ELECTION WRAP: Some See GOP Future Bright Despite Trump
Donald Trump is causing big headaches for the Republican Party right now, says one GOP strategist, but he's not likely to do long-term damage.
by and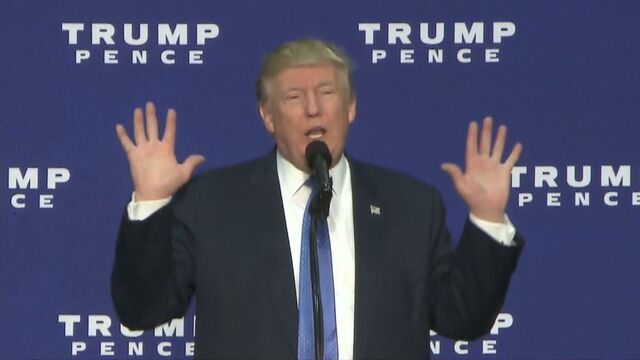 Fears that Donald Trump will permanently hobble the Grand Old Party are unwarranted, according to a former aide to Paul Ryan and John Boehner.
"I'm extremely optimistic" about the outlook for Republicans, Michael Steel, who also was an adviser to Jeb Bush's presidential campaign, said in a phone interview

Trump's "glaring weaknesses," coupled with Hillary Clinton's political strengths, mask the fact that Democratic Party isn't well positioned over the longer term, says Steel; he cites electoral losses over the last six years that have left down-ballot Democrats "decimated" and the party without a bench of "young, impressive" statewide office holders

In contrast, "Republicans have a deep and diverse bench of 40-something-year-old statewide officeholders poised to provide the next generation of leadership for the party," Steel, now managing director at Hamilton Place Strategies and a fellow at the Georgetown Institute of Politics, wrote in Time magazine
While some supporters of Trump will be left with a permanent "stain on their reputation," it's likely that most conservatives will "quickly rally to oppose President Clinton's agenda," assuming Trump loses, Steel wrote

He predicts conservatives will focus on crafting and advocating policy solutions that benefit Americans, particularly for people who live in less prosperous areas

Steel emphasized that Republicans don't want anything to do with racist, anti-Semitic Trump enthusiasts
NOTE: Steel was a longtime press secretary for former House Speaker John Boehner; he also served as an aide to Rep. Paul Ryan, the current speaker, when Ryan was the GOP vice presidential candidate in 2012
As far as expanding the GOP's support among minorities and women while also holding onto "angry" Trump supporters, Steel said Republicans can look to a model in the Democratic Party
After three straight presidential losses in the 1980s, "Democrats turned to the Democratic Leadership Council, which championed the ideas of moderate office-holders like Arkansas Governor Bill Clinton": Steel

"The group supported, 'a new public philosophy built on progressive ideals, mainstream values, and innovative, non-bureaucratic, market-based solutions.' Substitute 'conservative' for 'progressive' and that's exactly what the GOP will need in the wake of Trump": Steel

PAUL RYAN
While Steel envisions a bright GOP future, Republican leaders and down-ballot candidates are still wrestling with a Trump quandary
GOP Rep. Mark Meadows, a N.C. conservative who led the charge to oust Boehner, is now agitating for Ryan's removal, CNN reported, citing the lawmaker's interview on a Tar Heel State radio station
Meadows said Thursday the effort to remove Ryan as House speaker is "picking up some steam" because many GOP lawmakers are angry the Wisconsin Republican hasn't fully embraced GOP nominee

ADVERTISING
The U.S. Chamber of Commerce has a new ad up in New Hampshire touting incumbent Republican Sen. Kelly Ayotte as a potential check on the White House, a sign that the business lobbying group already sees an advantage as portraying her as a figure to oppose Hillary Clinton if Democratic nominee is elected president, Washington Examiner reported

Ayotte's Democratic challenger, N.H. Governor Maggie Hassan, is leading by 2 points, according to RealClearPolitics poll average

Clinton campaign is out with a new ad featuring Khizr Khan, the Gold Star father who spoke at the Democratic National Convention and tangled with Trump over the GOP nominee's position on Muslim immigration

The ad, which will run in battleground states including Florida, Iowa, Nevada and Ohio, features Khan talking about his son, Capt. Humayun Khan, who was killed in a 2004 suicide attack in Iraq
The spot ends with a tearful Khan asking: "I want to ask Mr. Trump, would my son have a place in your America?"

MARKETS
Investors are widely expecting Clinton to win the election and see a surprise victory by Trump as a "tail risk"; most are now shifting their focus to House and Senate races for any policy implications; read all about it in Bloomberg's "What to Watch"
A Trump victory would knock 10%-15% off the value of the S&P 500, the U.K. and Asian stock markets, economic professors Justin Wolfers and Eric Zitzewitz wrote in a paper released by the Brookings Institution

A Trump win also would cut price of a barrel of oil by $4, push Mexican peso down 25% and "significantly increase expected future stock market volatility," they said, after analyzing market reaction to the first presidential debate and the release of a 2005 tape in which Trump made lewd remarks about women

ON THE TRAIL
Trump in North Carolina spotlighted Philippine President Rodrigo Duterte saying that he wants to cut the cord with the U.S. and pivot to China and Russia

The U.S. is "so weak" that the Philippines broke with "decades of pro-American foreign policy to instead leave for the orbit of China and Russia": Trump
Trump went after President Obama, one day after Obama sharply criticized the Republican nominee while campaigning for Clinton in Florida
Obama should be working, not campaigning, Trump said

Meanwhile, White House spokesman Josh Earnest said Obama will continue to campaign for Clinton and other Democrats "up and down the ballot"
Clinton is in Cleveland Friday afternoon; Trump stumps there on Saturday as the two major presidential nominees are locked in a statistical tie in Ohio

Trump leads Clinton in the Buckeye State by less than 1 percentage point, according to RealClearPolitics poll average

POLLS
Trump and Clinton are in a dead heat in Georgia, Atlanta Journal-Constitution poll found
Almost one-third of Russians, or 29%, see relations with U.S. improving if Trump wins the White House, state-run VTsIOM polling company reported

36% of respondents don't think Russia-U.S. relations will change if Trump takes office; 29% see no change if Clinton becomes president

ETC

CONGRESSIONAL ELECTIONS
SENATE RACES (Republicans hold 54-46 majority)
FUNDRAISING: Senate Majority PAC, a Democratic super-PAC, raised $12.5m in Sept., including $1.5m from LIUNA Building America and $1m from hedge-fund manager Donald Sussman, according to Federal Election Commission filing

Senate Leadership Fund, a super-PAC defending GOP's Senate majority, raised $6.6m in Sept., including $1m each from billionaire Paul Singer and Annette Simmons, widow of billionaire Harold Simmons, Bloomberg's Bill Allison reported
FL: Democratic Rep. Patrick Murphy's campaign released TV ad that begins with footage of Trump's 2005 lewd comments about women and then shows Republican Sen. Marco Rubio saying "we have to make sure that Donald wins this election"

"No we don't," Murphy says in the ad, adding that "Marco Rubio stands by Trump, and failed to show up for Florida"
Murphy's campaign released TV ad featuring an endorsement from Obama; the spot also ran in July, as he competed for the Democratic nomination
Senate Majority PAC, a super-PAC aiding Democratic Senate candidates, got another $1m in Sept. from Murphy's father and $443k from pro-Murphy super-PAC Floridians for a Strong Middle Class, according to FEC filing
Rubio and Murphy won't have Spanish-language debate on Univision "because the two campaigns have seemingly failed to agree on terms for the Miami event," Miami Herald reported
GA: Republican Sen. Johnny Isakson in TV ad describes Obama's Affordable Care Act as a "disaster" that needs to be replaced, as narrator says Democratic businessman Jim Barksdale "continues to support the liberal policies that got us into this health care mess"

Isakson still favored to win third term against Barksdale, though the ad and a close presidential election in Georgia are signs Isakson may be in a closer-than-expected race
Cook Political Report rates Isakson-Barksdale race as "Likely Republican," meaning it's not currently competitive but has "the potential to become engaged"
IA: Republican Sen. Chuck Grassley's campaign released TV ad of actor/writer Ben Stein reprising his role as teacher in 1986 movie Ferris Bueller's Day Off, repeating the word "Judge" in monotonous roll-call calling attention to Democratic ex-Lt. Gov. Patty Judge missing meetings and primary debates

Ad also notes Grassley hasn't missed a Senate floor vote in 23 years
Judge's campaign in statement said Grassley "kicked Iowa values to the curb" by releasing "attack ad" on the day of her father's funeral; it also said Grassley missed many Budget Cmte hearings and declined invitations to debate Judge
IL: Republican Sen. Mark Kirk's campaign aired TV ad accusing Democratic Rep. Tammy Duckworth of putting "political ambition ahead of veterans" when she led state veterans' affairs department

Ad also says Kirk fought for increased funding for veterans health care and for whistleblower protections
IN: Democratic ex-Sen. Evan Bayh didn't stay overnight in his Indianapolis condominium once during 2010, his final year in the Senate, Associated Press reported

Republican Rep. Todd Young and outside groups have noted Bayh became a wealthy Washingtonian after leaving the Senate, saying he "left us to work for them"
Bayh campaign in statement said this "alleged schedule" and others are "not reliable sources of information on how Evan Bayh's time was spent" and are being "released now by someone with a political agenda in the final days before an election"
Bayh's campaign released TV ad praising his work "with both parties" as governor on college scholarship program; Bayh says he'll "reject the extremes of both parties and work across party lines" to help middle-class families afford college
LA: David Duke, a former KKK grand wizard running longshot bid as pro-Trump Republican, qualified for Nov. 2 debate at historically black Dillard University in New Orleans, The Advocate reported

Republican state Treasurer John Kennedy and Democrat Foster Campbell are leading candidates in Nov. 8 all-party election to qualify for a Dec. 10 runoff that looks inevitable
Republican Reps. John Fleming and Charles Boustany and Democrat Caroline Fayard "essentially tied for third place," according to the Advocate
Kennedy in TV ad said "congressmen are like throat lozenges" in that they offer "soothing words, but they never solve the underlying problems"; Kennedy also attacked trade pacts including Trans-Pacific Partnership
FreedomWorks PAC, which has a libertarian bent, endorsed Fleming as ''the clear conservative choice,'' according to release
MO: Democratic Senatorial Campaign Committee in TV ad said ''Washington is working great'' for Republican Sen. Roy Blunt, citing a 2006 Gannett story saying he's a ''top user of corporate aircraft''

DSCC backs Democratic Secretary of State Jason Kander, who's also called attention to Blunt's ties to lobbyists
NC: Senate Leadership Fund, a Republican super-PAC backing Sen. Richard Burr's re-election, released TV ad with Vietnam War veteran saying ''the flag is everything to me" and attacking Democrat Deborah Ross for defending right to burn U.S. flag

Ross's campaign in statement said "she believes flag burning is just plain wrong - and she also supports free speech, even speech she doesn't agree with"
OH: Republican Sen. Rob Portman's campaign released TV ad referring to Democratic ex-Gov. Ted Strickland as "Retread Ted" and a "bad governor" who would be "a worse senator"

In debate yesterday in Cleveland, Portman said was an "independent voice for Ohio" who had 45 bills signed into law, including anti-opioid abuse measure
Strickland said "I've spent my life fighting for working people" and promoted an increase in the minimum wage
PA: Democrat Katie McGinty in TV ad appears on basketball court as she says Republican Sen. Pat Toomey wants to "rig the game" in favor of "banks, Big Oil, Wall Street insiders"

The campaign to persuade "swing voters" includes a "heavy emphasis on abortion rights," according to Associated Press story noting campaign visits to "moderate southeastern Pennsylvania" by the presidents of pro-McGinty Planned Parenthood and NARAL abortion rights groups
WI: Democratic ex-Sen. Russ Feingold's campaign in TV ad said Republican Sen. Ron Johnson "supports privatizing Social Security" and raising the retirement age and would change Medicare "into a voucher program and add means-testing"

Ad cites Johnson's March 2013 vote against a Democratic amendment to a nonbinding budget blueprint written by Wisconsin Republican Paul Ryan


HOUSE RACES (Republicans hold 246-186 majority)
FUNDRAISING: Democratic Congressional Campaign Committee raised $21.1m in Sept. compared with $9.9m for National Republican Congressional Committee, according to FEC filings

NRCC began Oct. with $46.6m left to spend vs. $45.5m for DCCC, which needs net gain of 30 seats to win majority
CA-10: Republican Rep. Jeff Denham's campaign released TV ad saying Democrat Michael Eggman is "bankrolled" by Minority Leader Nancy Pelosi and "radical environmentalists," while Denham fights to secure more water for Central Valley

Denham, Eggman in rematch of 2014 race won by Denham 56%-44%; district includes parts of Stanislaus and San Joaquin Counties and backed Obama 51%-47% in 2012
CO-06: Republican Rep. Mike Coffman and Democratic state Sen. Morgan Carroll debated last night; full video here
FL-26: Republican Rep. Carlos Curbelo's campaign in TV ad shows footage of Trump, Clinton, and Democratic ex-Rep. Joe Garcia as Curbelo criticizes "politicians from both parties bragging about offensive, crass behavior, degrading women, lies and corruption"

Curbelo unseated Garcia 51%-49% in Hispanic-majority Miami-area district that became slightly more Democratic-leaning for this election after court-ordered redistricting
MN-03: Republican Rep. Erik Paulsen said he's likely to write in Rubio's name for president, MPR News reported

Paulsen, who's rejected Trump, said "I was hoping he would earn my vote" but "it's pretty clear he hasn't, and he can't"
DCCC, which supports state Sen. Terri Bonoff, said in statement Paulsen "today decided to vote 'present' instead of standing up to the historically dangerous candidacy of Donald Trump"
NY-03: The race between Democrat Tom Suozzi and Republican Jack Martins was initially classified as a battleground but Suozzi has edge in race that "has not been very close," according to NPR/WBUR's "Here and Now"

Suozzi, a former Nassau County Executive, favored to succeed retiring Democratic Rep. Steve Israel in district that includes parts of Long Island and Queens
NY-19: Republican John Faso's campaign released TV ad narrated by his wife, who says Faso is ''frugal'' and ''wait until he brings that frugality to Washington; boy do they need it"; spot shows Faso and his wife changing thermostat in their home to their liking

Faso, a former state legislator, and Democrat Zephyr Teachout, a law professor and anti-corruption activist, vying to succeed retiring Republican Rep. Chris Gibson in competitive district in central Hudson Valley
NY-22: Democrat Kim Myers, Republican Claudia Tenney, and independent Martin Babinec debated last night at Colgate University; full video here

Babinec's campaign released TV ad saying Tenney and Myers ''are making a lot of noise'' attacking Babinec because they're ''career politicians taking special-interest money"
National Republican Congressional Committee released TV ad criticizing Myers's votes for property tax hikes and linking her to Clinton
Republican Rep. Richard Hanna retiring from competitive district that includes Utica, Binghamton, Rome
NY-24: Republican Rep. John Katko leads Democrat Colleen Deacon 54%-31% in Syracuse-area district where Clinton leads Trump 43%-33%, according to Time Warner Cable/Siena College survey conducted Oct. 18-19 of 673 likely voters (+/- 4.1 ppts)
Before it's here, it's on the Bloomberg Terminal.
LEARN MORE