Trump, Clinton Double Down on Their Strategies: Final Debate By the Numbers
Trump's tone turned negative while Clinton stayed steady at 90 percent in prediction markets.
by and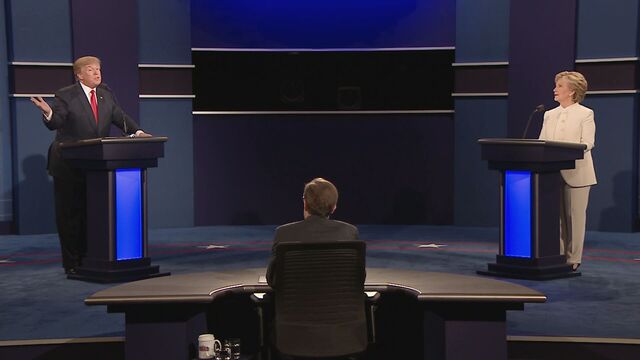 In an election full of surprises, Wednesday's presidential debate marked the last scheduled big moment of the 2016 campaign calendar. The candidates drew their battle lines for the final 20 days of campaigning, with Republican Donald Trump digging in on unprecedented attacks and Democrat Hillary Clinton solidifying her rhetorical lead on optimism and policy chops, according to a Bloomberg Politics language analysis of all three debates.
Clinton managed to control more of the air time in the final debate, speaking six minutes longer than Trump and fielding more questions from moderator Chris Wallace of Fox News. While Trump's refusal to commit to accepting the eventual election result was perhaps the debate's most significant moment, he also made history by becoming the first nominee to use the word "liar" against a general-election debate opponent. He also illustrated his penchant for interruptions and verbal barbs when he called Clinton a "nasty woman" during one of her responses.

Trump faced more scrutiny from the press, with an average of about 13 claims checked across 10 publications and watchdog groups, nearly twice as many as Clinton. According to an average of the five sources that provided clear assessments, Trump made seven false statements—including that he didn't know any of the women who've accused him of sexual assault—to Clinton's one.

Clinton came away with better ratings in reputable post-debate polls. Fifty-two percent of registered voters who watched the debate said she won it compared to 39 percent for Trump, according to CNN's survey. Clinton's share was down from her 62 percent and 57 percent in the first and second debates, respectively. In YouGov's poll after the final debate, 49 percent said Clinton won and 39 percent said Trump did.
Prediction markets largely saw the final debate as a wash, with Clinton's odds stable at around 90 percent, according to aggregator PredictWise. Her odds of winning the presidency climbed about 20 points during the debate season that started Sept. 26, buoyed by her solid performances and a string of damaging headlines for Trump. The leak of a 2005 hot-mic video two days before the second debate in which Trump bragged about being able to grope women led to Clinton's biggest single-day gain of the past four weeks.

With sagging poll numbers, Trump on Wednesday immediately sought refuge in his debate-stage habit of lashing out at critics, attacking Supreme Court Justice Ruth Bader Ginsburg within four sentences of his first response. It was the first time Trump used more negative than positive language in any of his general-election debates or 11 Republican primary debates, according to a Bloomberg Politics analysis with Quantified Communications.
Language researchers use audience focus groups and machine learning to classify thousands of words and phrases as negative—like "wrong," which Trump used to interrupt Clinton five times, and "disaster," which he mentioned 10 times—or positive, as in making America "great" again. Clinton used positive words more and negative words less than Trump in all three of their face-offs.

Of Wallace's six debate sections, Trump's most negative was "foreign hotspots," as he targeted the strategy for retaking Mosul from Islamic State ("the stupidity of our country"), the broken Syria cease-fire ("how stupid our leadership is"), and the Iran nuclear deal ("the stupidest deal of all time"). He used 36 negative emotion words per 1,000 words in that section, compared to 24 per 1,000 throughout the entire debate.
In addition to inspiring Trump's most colorful language, foreign policy also was the area in which Trump's keyword usage best kept up with Clinton's throughout the debates. On Wednesday, he barely edged ahead in that category. Clinton used economic policy keywords like "jobs" and "taxes" 78 percent more often than Trump did on Wednesday and domestic policy keywords, including "immigration," "guns," and "health care," 51 percent more often. That ends the debate season with the same pattern that Trump and Clinton established in their first debate, before Trump pulled even on the overall frequency of policy keywords in the second forum.

—Bloomberg contributor Adam Tiouririne of Logos Consulting Group advises CEOs and other corporate leaders on high-stakes communication.
Before it's here, it's on the Bloomberg Terminal.
LEARN MORE