U.S. ELECTION WRAP: Trump Tactics Push Clinton Out of Hot Seat
Donald Trump's week of war with fellow Republicans and a string of accusations from various women have eased Hillary Clinton's leaked e-mail headache.
by and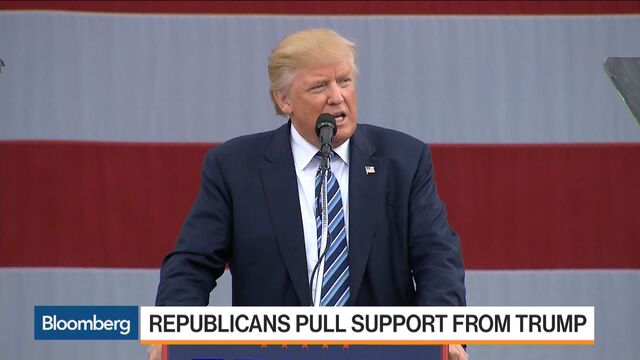 Donald Trump's week spent fighting Republicans and media outlets helped turn the spotlight away from Hillary Clinton even as thousands of hacked e-mails threatened to hurt her bid for the White House.
WikiLeaks on Friday dumped what it says is the seventh batch of e-mails from the personal account of Clinton campaign chairman John Podesta; yesterday's bundle of electronic missives revealed a Clinton aide urging a blanket denial that the former secretary of state ever sent classified information through her private e-mail system
Clinton campaign officials have said they won't verify authenticity of the hacked e-mails
The media "almost uniformly" ignored a flurry of Clinton "bombshells," Wall Street Journal editorial board's Kimberly Strassel wrote in an opinion piece: "The Press Buries Hillary Clinton's Sins"
Criticism comes as Trump faces a flurry of claims he mistreated women, accusations his camp has vowed to counter; the controversy, on top of last week's publication of an enormously damaging 2005 video of Trump making lewd comments, has many in Washington thinking the GOP nominee's White House bid is all but over

People "feel like the Trump campaign is going into a death spiral because all we are talking about is whether or not Donald Trump gropes women instead of how to solve America's problems," Ron Bonjean, a former top GOP aide to House Speaker Dennis Hastert and Senate Majority Leader Trent Lott, said in an interview
'That's very dangerous ground to be on when voters are paying a lot of attention right now'' to the presidential race, Bonjean says
Trump's campaign has lost two weeks of valuable campaign time and energy addressing various scandals instead of working to broaden the billionaire's base of support, he said
The fact the race isn't closer underscores "how bad a candidate Hillary Clinton is": Bonjean

Trump this week intensified attacks against the Clintons, Republicans including House Speaker Paul Ryan, journalists as well as the "corrupt" political establishment, which he said is pushing "radical globalization" and "disenfranchisement of working people"

OBAMA SCOFFS
Trump's latest inflammatory language drew an incredulous response on Friday from President Obama

"This is a guy who spent all his time hanging around trying to convince everybody he was a global elite," Obama said at a rally for Clinton in Cleveland. "Now suddenly, he's acting like he's a populist out there ...c'mon, man"

Trump plans to drag election as low as it can go: Obama
Obama cut off a heckler during the campaign event, saying: "If you're confident about the other guy, just go to his rallies. I feel confident about my candidate, that's why I'm at this rally"

"Go knock on some doors for your guy, that a better way for your to spend your time—unless you're just being paid to be here": Obama

The U.S. leader also went after Trump on avoiding federal taxes, saying it's not "smart" to "weasel out of your responsibilities" as an American citizen to contribute to the military, veterans, schools and roads
See earlier Bloomberg story: Obama's Persuasive Power Put to Test as Clinton Seeks Turnout

OBAMA SCOLDS GOP TRUMP SUPPORTERS
Obama also said he's "disturbed about Republican elected officials who know better but are still supporting" Trump

Such Republicans have allowed "a lot of crazy talk to just be pumped out again and again through all kinds of these media outlets," Obama said, citing things like the "birther" movement and claims that Democrats want to take guns away
A lot of Republicans in U.S. House and Senate have "stood by and they didn't say anything because it was a way to rile up their base," Obama said. "Over time, because a lot of the hard core Republican partisan voters were just hearing this stuff over and over again, they started to believe it."
"That's what allowed Donald Trump to suddenly emerge"

To Republicans who are now "walking away" from Trump, Obama asked: "Why did it take you this long?"
Shortly after Obama's remarks, House Speaker Paul Ryan gave a speech in his home state of Wisconsin in which he urged voters not to support Clinton; he also never mentioned Trump by name, highlighting the quandary he and other Republicans face regarding their party's presidential nominee

Disavowing Trump could alienate voters that many down-ballot Republicans need to win and help the GOP keep control of the House and Senate, but supporting him potentially turns off independent swing voters

Trump's troubled White House bid is clouding Ryan's political future, Politico reported
While Trump has been a gift to Democrats, their chance of winning control of the Senate or possibly the House is far from certain, Bloomberg's Sahil Kapur wrote

TRUMP UNDER FIRE
The Washington Post reported on a woman who alleges that Trump groped her in the early 1990s, the latest in a string of similar accusations

"Mr. Trump strongly denies this phony allegation by someone looking to get some free publicity. It is totally ridiculous," Trump spokeswoman Hope Hicks told the newspaper

Trump's running mate, Indiana Governor Mike Pence, told CBS News that the GOP nominee's campaign will unveil evidence on Friday that challenges women who allege Trump behaved inappropriately with them

"Before the day is out, there will be more evidence publicly that shows and calls into question these allegations," Pence said

Late afternoon on Friday, New York Post said a British man is countering claims that Trump groped a woman on a cross-country flight more than three decades ago
The man said he was sitting across from the accuser, Jessica Leeds, on the flight from 1980 or 1981 and got in touch with Trump camp because he was angered by her claim, the newspaper reported, citing the Trump campaign

INDIANA
Trump's lead over Clinton in Indiana has shrunk to 4 points vs an 11-point advantage in August, a Monmouth University poll found
Trump's standing with female voters has plunged in last 2 months: poll

Among likely voters, 45% back Trump, 41% Clinton, 9% Libertarian Gary Johnson, 5% undecided; Trump had 47% to Clinton's 36% in August
The latest results throw expectations that Trump can easily win the Hoosier State "out the window", Monmouth pollsters say
NOTE: Indiana has been a reliably Republican state in presidential elections since 1936, voting Democratic only in 1964 and narrowly for Obama in 2008

Meanwhile, in closely watched Ind. Senate race to succeed retiring Republican Sen. Dan Coats, former Sen. Evan Bayh holds a 48% to 42% lead over Rep. Todd Young, essentially unchanged from Bayh's lead in Aug.

ETC
Clinton has expanded her lead and now has 287 electoral votes in her column, more than the 270 needed to win the White House, according to NBC News' electoral map prediction model

Trump has 157 electoral votes in his column, down more than 30 for him from last week
94 electoral votes are in the "Tossup" column
Last week, the NBC map was Clinton 268, Trump 190, and 80 in Tossup

Bloomberg's Will Leitch and John Heilemann look at how late-night comedy is handling the Trump campaign; read story HERE

CONGRESSIONAL ELECTIONS
SENATE RACES (Republicans hold 54-46 majority)
IL: Chicago Tribune editorial endorsed Democratic Rep. Tammy Duckworth, saying Republican Sen. Mark Kirk "no longer can perform to the fullest" after his 2012 stroke and "we've become concerned about Kirk's ability to fulfill the multifaceted role" of senator

"It was clear" from Kirk and Duckworth's Oct. 3 joint meeting before editorial board "which candidate demonstrated stronger leadership capabilities," according to editorial; Duckworth, who was severely wounded in Iraq War, "offers a unique perspective on military spending, preparedness and troop deployment" and also has the "chops for nonconformity"
Kirk's campaign manager, Kevin Artl, in statement referred to "a low-blow and cheap shot by the Chicago Tribune that is not based on fact or reality"
IN: Democratic ex-Sen. Evan Bayh leads Republican Rep. Todd Young 48%-41% in Monmouth University Poll conducted Oct. 11-13 of 402 likely voters (+/- 4.9 ppts)

Arizona Sen. John McCain will campaign tomorrow with Young in Indianapolis, according to Young campaign release
Cook Political Report and University of Virginia's Center for Politics rate Bayh-Young race as a tossup; winner will succeed Republican Dan Coats, who's retiring
LA: Republican Rep. John Fleming's campaign released TV ad referring to the four-term Shreveport-area congressman as "tough, tested, trusted" on issues including abortion and illegal immigration

Fleming among nine Republicans joining seven Democrats and eight other candidates on Nov. 8 ballot; if no candidate wins majority, top two vote-getters would compete in Dec. 10 runoff
MO: Senate Leadership Fund, a Republican super-PAC, aired TV ad with image of Democrat Jason Kander's face morphing into one of Obama, Clinton, Nancy Pelosi, and Bernie Sanders as narrator says Kander clings to the "same old liberal thinking" on energy and immigration policy and Affordable Care Act
NC: Democrat Deborah Ross in TV ad highlighted a Marine Corps veteran and electrician who "just wants some economic security" like other workers hurt by Republican Sen. Richard Burr's votes, including one to "protect tax breaks for companies that ship jobs overseas"

Ad cites Burr's procedural vote in July 2012 against an anti-outsourcing Democratic bill dubbed the "Bring Jobs Home Act"
Burr and Ross debated yesterday on UNC-TV; full video HERE
NH: Republican Sen. Kelly Ayotte and Democratic Gov. Maggie Hassan held debate this morning on WGIR AM 610; full video HERE
NV: Democrat Catherine Cortez Masto and Republican Rep. Joe Heck will hold debate tonight in race for seat of retiring Democratic Sen. Harry Reid

Debate begins at 10 p.m. eastern time/7 p.m. local time on KLAS-TV and also will air on C-Span
OH: Republican Sen. Rob Portman and ex-Gov. Ted Strickland debated today on WFMJ-TV in Youngstown

On minimum wage, Strickland criticized Portman's vote in 2014 against Democratic measure that would have lifted the wage to $10.10 from $7.25; Portman said that he supports increasing wage more gradually, in a "smart way" indexed to inflation
Portman said that Trump's 2005 comments about women were "the final straw" and that he'll write in name of Republican vice-presidential nominee Mike Pence, who Portman said "would be a great president"
Strickland said Trump is "unfit to be president" and Clinton "will be a good president"; Portman said Strickland will be a ''rubber-stamp for Hillary Clinton'' and that Senate race is about ''our records"
PA: Vice President Joe Biden, who was born in Pa., released TV ad praising Democrat Katie McGinty's background and views while describing Republican attack ads as a "bunch of malarkey"
HOUSE RACES (Republicans hold 246-186 majority)
RACE RATINGS: Cook Political Report revised ratings of races in eight districts including CA-49, where Republican Rep. Darrell Issa is in a tossup race "for the first time in his career," House editor David Wasserman says

Cook Report includes 37 races in its competitive categories of toss-up or "lean" Democratic/Republican; of the 18 toss-up districts, 15 are held by Republicans
NY-01: Republican Rep. Lee Zeldin and Democrat Anna Throne-Holst held debate last night that touched on "a wide range of topics from gun control to strategies to help veterans," Southampton Press reported

Nonpartisan analysts give edge to Zeldin, who's seeking a second term, over Throne-Holst, the former Southampton Town Supervisor, in competitive district on eastern end of Long Island
NY-19: Democratic law professor Zephyr Teachout and Republican ex-state Rep. John Faso debated yday on WMHT, their latest encounter in competitive race to succeed retiring Republican Rep. Chris Gibson in central Hudson Valley
Before it's here, it's on the Bloomberg Terminal.
LEARN MORE