U.S. ELECTION WRAP: Clinton Vows to Work With Sanders on Agenda
Hillary Clinton and former rival Bernie Sanders join forces in New Hampshire as the Democratic nominee attempts to win over hard-to-get millennial voters.
by , , and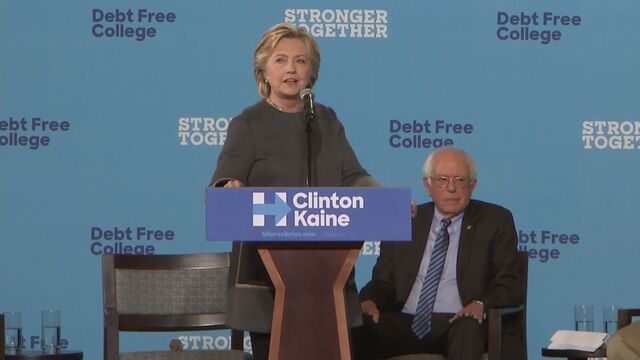 Hillary Clinton hit the campaign trail in New Hampshire with former rival Senator Bernie Sanders in a bid to ignite enthusiasm among hard-to-get millennial voters who seek a big shake-up in Washington.
Clinton, speaking at the University of New Hampshire against a backdrop emblazoned with the phrase "debt free college," praised Sanders' passion for "equality and justice" and vowed to work with the self-described Democratic socialist to "get the kind of agenda through our Congress that will begin to make our country stronger"
Sanders, while introducing Clinton, said New Hampshire could decide the outcome of the presidential race and urged young people to vote and also make sure their family and friends turn out on Election Day

"This election is enormously important for the future of our country," said Sanders, who won more than 80% of the youth vote in some states during the Democratic primary race
New Hampshire gave Clinton a primary comeback victory against Obama in 2008; eight years later, the Granite State went for Sanders by more than 22 points
"It is imperative that we elect Hillary Clinton as our next president," Sanders said

With ~40 days until the election, Clinton is still working to build the kind of youth enthusiasm that helped propel Barack Obama to the White House eight years ago. A Bloomberg Politics poll this week shows Clinton winning about 40% of millennial voters vs. about 30% for Donald Trump and 60% for Obama in 2012

"It's not a crisis but it's a huge problem," former Obama campaign manager David Plouffe told Bloomberg TV's With All Due Respect late Tuesday
"A bunch" of young voters are backing Libertarian Gary Johnson, Plouffe said
Millennials now make up the largest generation in America, surpassing Baby Boomers, according to Pew Research Center
Click here for Bloomberg story on Clinton's millennial math problem

ON THE TRAIL
As Clinton tries to raise her standing among young adults, many of whom are opting to back third-party candidates, first lady Michelle Obama is warning voters that support for a minor party candidate or choosing to stay home on Election Day would help elect Trump

"If you vote for someone other than Hillary, or if you don't vote at all, then you are helping to elect Hillary's opponent," Obama said earlier at a rally in Philadelphia. "The stakes are far too high to take that chance"
Obama also is campaigning for Clinton in Pittsburgh while former first daughter Chelsea Clinton is scheduled to talk about "clean" energy in the millennial-heavy hub of Asheville, North Carolina

Trump earlier told Polish-Americans that Poland will have a dependable friend in the U.S. if he wins the White House

The GOP nominee, who has accused some U.S. allies of not paying their fair share of defense costs, credited Poland with staying "up to date" on its NATO payments
Former NYC Mayor Rudy Giuliani, who also spoke at the event at Chicago's Polish National Alliance, sought to reassure the audience of about 100 people that Trump would defend the NATO treaty and understands his "solemn obligation" to the alliance
Trump also is holding rallies in Iowa and Wisconsin

PREDICTIONS & DENOUNCEMENTS
Wall Street veteran Ken Moelis believes Trump will win the presidential election
Clinton is up 3 points among likely voters in Politico/Morning Consult tracking poll of four-way race for president
Investors could forget about polls altogether and "just watch" the Mexican peso as an indicator for how the race is tracking, HSBC global head of currency strategy David Bloom told Bloomberg TV

Buy the peso if you think Clinton will win, he said

Chinese state media has declared the victor in the first U.S. presidential debate: No one

The election is a "lose-lose" battle that highlights the U.S.'s deepening political and social divides, the People's Daily said in a news analysis Wednesday; see full Bloomberg story

ENDORSEMENTS
Arizona Republic endorsed Clinton, marking first time in the newspaper's history it has backed a Democrat for president

Trump "is not conservative and he is not qualified" to occupy the Oval Office, editorial board wrote
Clinton is the "only choice" the move the country forward: newspaper

Retired Republican Senator John Warner endorsed Clinton at a campaign event with vice-presidential nominee Tim Kaine in Virginia

The former secretary of the U.S. Navy said he was "distressed" by comments Trump has made about the military

THE PRESIDENCY & CORPORATE AMERICA
GE will be flexible and build a relationship with the next president of the United States, whether it's Clinton or Trump, Vice Chairman John Rice said in an interview at the Bloomberg Markets Most Influential Summit in Hong Kong

"We will operate with whoever is the president of the United States in January," though GE doesn't agree with some of the rhetoric out of the election season: Rice

Ford Motor top executive said he's disappointed by Trump's accusations that the automaker is moving jobs to Mexico and reiterated that the transfer of small-car production will result in "zero" job loss in the U.S.; see full story

ETC
Trump's advisers plan to drill the real estate developer before his next debate with Clinton on October 9, though some aides are worried that the GOP nominee may not be willing to thoroughly practice, New York Times reported
FBI won't re-open investigation into Clinton's e-mails, FBI Director James Comey told a House Judiciary Committee hearing

Comey, fending off criticism from Republicans who contend the FBI probe wasn't thorough, told lawmakers he's "very proud" of how the investigation was conducted

Libertarian Johnson says he's offering Americans "a chance to find common ground"

The Libertarian ticket is the one that can "break the partisan gridlock which for too long has kept real solutions out of reach," Johnson wrote in a New York Times op-ed

CONGRESSIONAL ELECTIONS
SENATE RACES (Republicans hold 54-46 majority)
FL: Republican Sen. Marco Rubio's campaign in TV ad referred to Democratic Rep. Patrick Murphy as "one of the least effective members of the entire Congress"

Ad cites 2015 InsideGov story that calculated "effectiveness score" based on how many of a member's sponsored bills were approved by committee; that's "not a sufficient way to rate a member's effectiveness" according to Politifact
National Rifle Association's Institute for Legislative Action released TV ad featuring Mark Geist, a survivor of the 2012 terrorist attack in Benghazi who said Clinton "lied to protect herself" and that Murphy showed "weakness" in defending her
IN: Senate Majority PAC, a super-PAC aiding Democrats including ex-Sen. Evan Bayh, released TV ad narrated by suburban Indianapolis woman who says Republican Rep. Todd Young among "Washington politicians" who would "make it harder" to send her children to college

Ad cites Young's May 2013 vote for "Smarter Solutions for Students Act," which pegged new student-loan interest rates to yields on the 10-year Treasury note, Bloomberg reported
Young also voted in July 2013 for final version of measure after changes made by Senate, then controlled by Democrats
Ad also cites Young's April 2015 vote for a non-binding budget framework written by Republicans and which in part called for fully repealing Obamacare
MO: Republican Sen. Roy Blunt's campaign released TV ad saying Clinton and Democrat Jason Kander agree "on every major issue"

Missouri has voted Republican in four straight presidential elections, including 54%-44% for Mitt Romney in 2012
NC: Democrat Deborah Ross is "counting on public anger over the GOP political takeover" of state government as she seeks to unseat two-term Republican Sen. Richard Burr, AP reported

Ross, a former state legislator, is "emerging as a sharp and canny campaigner" while Burr's Republican allies have run TV ads attacking her actions and views when she worked for ACLU
NV: Senate Majority PAC, a Democratic super-PAC, in TV ad linked Republican Rep. Joe Heck to the "billionaire Koch brothers" and said he votes with their agenda "85% of the time"

Ad refers to Heck's "current score" from the Koch-aligned Americans for Prosperity, a conservative group that agreed with Heck's votes against the Affordable Care Act, a carbon tax, and a $10-per-barrel fee on oil
NRA's ILA in TV ad said Senate Minority Leader Harry Reid ''voted for gun control and anti-gun judges" and is "trying to force" Nevadans to vote for his like-minded preferred candidate, Democratic ex-state Atty. Gen. Catherine Cortez Masto
OH: National Association of Realtors Congressional Fund, a super-PAC, in TV ad praised Republican Sen. Rob Portman for "reaching across the aisle" to help make home ownership more affordable and accessible and for protecting private property owners from over-regulation

Portman now strongly favored to win second term against Democratic ex-Gov. Ted Strickland, who's "largely flamed out as a candidate," according to UVA's Center for Politics
HOUSE RACES (Republicans hold 246-186 majority)
SPENDING: Democratic Congressional Campaign Cmte reported spending $5.9m in 17 districts and National Republican Congressional Cmte disclosed spending $5.6m in 19 districts, according to FEC filings today
FL-26: DCCC TV ad linked Republican Rep. Carlos Curbelo to Trump on environmental policy, with woman saying their views "are more alike than what you think" and Curbelo "repeatedly voted against President Obama's ability to fight pollution and combat climate change"

Ad cites four votes by Curbelo, including one to disapprove of the "Waters of the United States" rule and another to require federal agencies to complete environmental reviews within two years for federally funded construction projects
Curbelo seeking second term in Miami-area district made a bit more Democratic-friendly by court-ordered redistricting; race is rematch of 51%-49% 2014 contest with ex-Rep. Joe Garcia, who beat DCCC's preferred candidate in primary
ME-02: Congressional Leadership Fund, a super-PAC aligned with House GOP leaders, will spend $600k through Election Day to help Republican Rep. Bruce Poliquin against Democratic challenger Emily Cain, Bangor Daily News reported
Poliquin, Cain in rematch of 2014 race in mostly rural district as Trump and Clinton compete for its electoral vote
MI-07: Republican Rep. Tim Walberg's campaign and National Republican Congressional Cmte released 60-second TV ad of a man praising Walberg's legislative work to combat drug problem after the man's son died of overdose

Democratic state Rep. Gretchen Driskell opposing Walberg's bid for 5th term in southern district that includes Jackson, Adrian, Monroe; Cook Political Report rates race as "Lean Republican"
NJ-05: Some leading House conservatives met with Speaker Paul Ryan yesterday to "sound the alarm bell" about Republican Rep. Scott Garrett's re-election campaign, Politico reported

Garrett, a member of the strongly conservative House Freedom Caucus, faces well-financed Democrat Josh Gottheimer, a former Bill Clinton speechwriter, in mildly Republican district where most people live in Bergen County near NYC
Gottheimer's campaign released TV ad saying Garrett embodies "Tea Party extremism," citing his positions on abortion and Violence Against Women Act

In Feb. 2013, Garrett voted against reauthorizing VAWA, which gives federal government authority to pay for grants for shelters for domestic-violence victims and police training
NY-19: Republican ex-state Rep. John Faso had 43% to Democratic law professor Zephyr Teachout's 42% in Time Warner Cable News/Siena College poll of 678 likely voters, Poughkeepsie Journal reported

End Citizens United, group that aligns with Teachout in wanting to overturn key 2010 Supreme Court campaign-finance ruling, released TV ad referring to Faso as an "Albany politician" and "lobbyist" who "will make Washington worse"
Faso and Teachout seeking to succeed Republican Rep. Chris Gibson, who isn't seeking re-election in competitive central Hudson Valley district that includes Kingston, New Paltz
NY-22: Democratic businesswoman Kim Myers, Republican Assemblywoman Claudia Tenney and independent investor Martin Babinec debated yesterday on issues that "ranged from the 2nd Amendment to health care to immigration," Utica Observer-Dispatch reported

Republican Rep. Richard Hanna retiring from competitive district that includes Utica, Binghamton, Rome, Cortland; NY-22 among 12 districts nationwide UVA's Center for Politics rates as a tossup
Before it's here, it's on the Bloomberg Terminal.
LEARN MORE