Trump Mexico Visit Backfires on President With Bruised Image
by
Pena Nieto's meeting with Trump on his terms baffles Mexicans

President already suffers from worst approval in two decades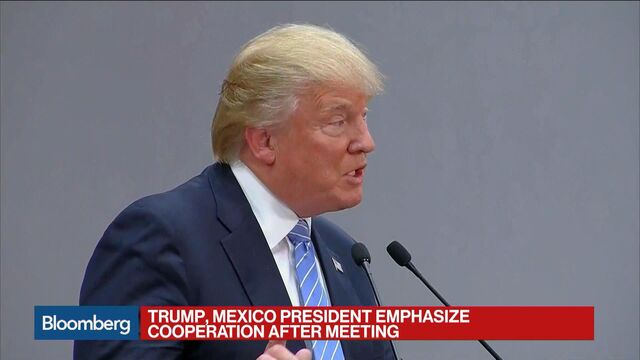 While President Enrique Pena Nieto may have sought to help Mexicans living in the U.S. by welcoming presidential candidate Donald Trump into his mansion on Wednesday, reaction following the summit seems to indicate he wasn't too focused on how it would play at home.
Commentators, politicians and ordinary citizens took to TV and social media to criticize Pena Nieto, with some lawmakers holding up anti-Trump banners on the Senate floor. The backlash increased throughout the day as Pena Nieto stood by Trump in an address to the media where the candidate remained firm on a proposed border wall and played the role of statesman with such pearls as "Mexicans are amazing!" 
And faced with central intrigue between the two -- Trump's demand that Mexico pay for the wall -- Pena Nieto found himself already having to break with his new ally to tell his nation, via Twitter of course, that yes, the topic came up and that he told Trump he wasn't having it.
Click here for a Bloomberg Quicktake on the topic of U.S. immigration reform.
The meeting made for an uncomfortable exchange between the man who had labeled some Mexican immigrants "rapists" and the leader of Mexico who allowed him to visit on short notice hours before he addressed U.S. voters about his own immigration policy. This won't bode well for Pena Nieto's approval rating, according to Alejandro Hope, a Mexico City-based political and security consultant, because he appears to have given Trump an opportunity to appeal to Hispanics in the U.S. without demanding anything in return. Pena Nieto's popularity is already the lowest of any Mexican president in two decades.
Presidential Appearance
"He permitted Trump to appear presidential for nothing," said Hope, who formerly worked in Mexico's intelligence agency. "Serving as a carpet for Donald Trump won't likely help him."
This is the same Pena Nieto who has likened the billionaire's rhetoric to that of Adolf Hitler and Benito Mussolini. So it was strange that he'd allow Trump to visit without any time to prepare, which could have deepened the impact of the meeting, said Andrew Selee, executive vice president of the Woodrow Wilson International Center for Scholars. Pena Nieto sent invitations last Friday to both the Trump and Hillary Clinton campaigns for the candidates to meet with him, his office said in an e-mail.
In an open letter published in Mexico's El Universal newspaper early Thursday, Pena Nieto said he met with Trump to tell him firsthand about the importance of U.S.-Mexico relations and that he had offended Mexicans with his statements.
"My priority as president is to protect Mexicans, stand up for their rights, defend their lives and dignity no matter where they are," Pena Nieto said. "It's important to meet with both candidates, but even more so with Mr. Trump, because there are things that he should know directly from the president, starting with Mexicans' sentiments."
Trump's moment with Pena Nieto warmed up the topic of immigration that was the centerpiece of the Republican nominee's speech later Wednesday in Phoenix, where he returned to form with a nativist immigration plan definitively ruling out legal status for undocumented immigrants and reaffirming that he'd force Mexico to cover the cost of a border wall.
'Modernizing' Nafta
Standing next to Pena Nieto, Trump said ending illegal immigration, not just from Mexico to the U.S. but also from Central America into Mexico, would increase prosperity for both countries if they worked together. Pena Nieto said he was open to modernizing the North American Free Trade Agreement with the U.S. and Canada. Given Trump's stated dissatisfaction with Nafta, it was unclear what the Mexican president meant by "modernizing."
Pena Nieto almost certainly hurt his public image, while Trump failed to take advantage of the moment to soften his rhetoric and win over skeptical voters, but the importance of the U.S.-Mexico relationship came out the winner, Selee wrote in an e-mail early Thursday.
"It gave the impression to Mexicans of being a good photo-op for Trump with nothing to gain for Mexico," Selee wrote. Yet, "Mexico ceased to be a rhetorical prop in the U.S. election cycle and became a real country to be dealt with."
Before it's here, it's on the Bloomberg Terminal.
LEARN MORE