Obama Visits Flooded Baton Rouge and Dismisses Trump's Criticism
by and
Trip follows Louisiana stop by Trump, Pence last week

DHS secretary visited last week while Obama was on vacation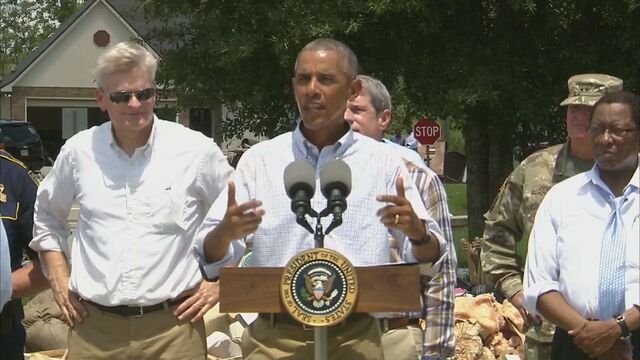 President Barack Obama toured a damaged flood-stricken neighborhood near Baton Rouge, Louisiana, on Tuesday, and dismissed criticism by Republican Donald Trump, who had chided him for not visiting the area sooner.
"One of the benefits of being five months short of leaving here is I don't worry too much about politics," Obama said after walking through the Castle Place neighborhood in East Baton Rouge Parish with local officials. "When disasters strike, that's probably one of the few times where Washington tends not to get political."
Obama's visit to the flood zone, normally a routine presidential exercise, became politically freighted thanks to his decision not to interrupt his annual Martha's Vineyard vacation, criticism from Trump and the Baton Rouge newspaper, and memories of the botched federal response to Hurricane Katrina in 2005.
Trump, the Republican nominee for president, flew into the city on Friday and said Obama should have cut short his vacation after the floods. The White House has batted away Trump's criticism and comparisons with Katrina, calling the government's response to the flooding robust.
Trump responded to Obama's visit by tweeting on Tuesday that the president should have visited Louisiana earlier. "Too little, too late!" he wrote on Twitter.
On Monday, White House press secretary Josh Earnest praised the work of the Federal Emergency Management Agency, pointed to compliments for FEMA from Republican Louisiana officials and responded sharply when asked if Trump's criticism had spurred Obama to visit.
"Of course not," Earnest said at a White House briefing.
Severe Storms
The Louisiana floods were caused by one of the most severe U.S. storms in recent years, damaging an estimated 40,000 homes and leaving tens of thousands of people homeless. As of Tuesday, more than 106,000 people had registered for individual assistance and more than 25,000 people had filed flood claims, according to FEMA.
As he walked through Castle Place, a neighborhood of small, single-story brick homes where most residents appeared to be black, Obama stopped to ask a couple how high the water had risen. She gestured over the hood of a sedan.
"The least I can do is say hello after you went through all that," Obama said. Piles of insulation and broken drywall lined both sides of the street, intermingled with furniture, stuffed animals and clothing. Everything smelled wet.
FEMA has more than 1,100 personnel on the ground, including 560 housing inspectors and hundreds more on the way. More than $16.7 million has already been approved for temporary housing and emergency repairs for disaster survivors. Earnest said on Tuesday that $120 million in federal assistance has been made available.
Trump and his running mate, Indiana Governor Mike Pence, visited Baton Rouge on Friday. The Republican nominee's criticism of Obama echoed an editorial last week by The Advocate, Baton Rouge's local newspaper, that demanded Obama cut short his vacation to visit the region. Louisiana Governor John Bel Edwards, a Democrat, said Sunday on CNN that Trump's visit was helpful because it drew attention to the disaster.
"The president is used to people trying to score political points even in situations where they shouldn't," Earnest told reporters aboard Air Force One on Tuesday.
During his vacation, Obama declared a state of emergency in Louisiana, spoke by phone with local officials and dispatched Homeland Security Secretary Jeh Johnson to visit the area. He has said that he avoids visiting disaster zones immediately because his presence requires local police and other resources that are better used helping victims recover.
Edwards said in a news conference on August 18 that last week, immediately after the flooding, wasn't a good time for Obama to visit.
Katrina Memories
"It's Louisiana officials, both Democrats and Republicans, who are saying that the federal response to these floods in Baton Rouge have been much more effective than the federal response to Hurricane Katrina in 2005," Earnest told reporters Monday.
As a presidential candidate in 2008, Obama criticized the disaster response of the Bush administration. His predecessor, President George W. Bush, was criticized for not going to Louisiana and other areas hit by Katrina soon after the hurricane made landfall. In his book, "Decision Points," Bush said he regretted not visiting New Orleans sooner.
Craig Fugate, the FEMA administrator, has "professionalized" the agency, making it more effective than it was in the aftermath of Hurricane Katrina, when thousands of people were left without adequate food or appropriate shelter, Earnest told reporters.
Obama met with Edwards and the state's Republican Senators David Vitter and Bill Cassidy, as well as Republican Lieutenant Governor Bill Nungesser on Tuesday. Nungesser, a frequent Obama critic, is among Louisiana officials who have praised FEMA's response to the flooding.
Obama said that FEMA had enough money to handle the Louisiana disaster but urged local Republican leaders to call on their congressional representatives in Washington if they need additional assistance. The president visited a disaster recovery center in Zachary, Louisiana, after his remarks.
Before it's here, it's on the Bloomberg Terminal.
LEARN MORE