Clinton Avoids Deposition But Must Still Answer E-Mail Questions
by
U.S. judge denies watchdog's bid to question nominee in person

Candidate has 30 days to answer from time queries put forth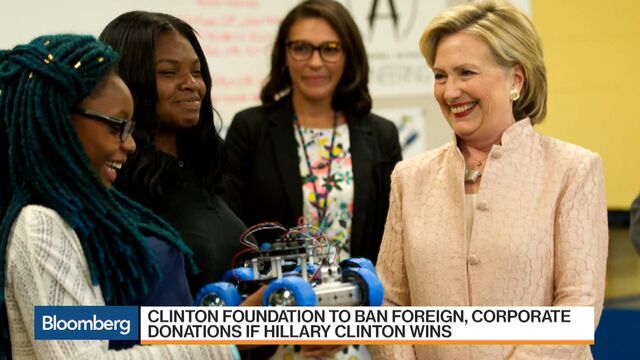 Hillary Clinton won a U.S. court order denying a conservative watchdog group's bid to force her to submit to questioning under oath about her use of a private e-mail server while secretary of state, but she'll need to answer at least some of those queries in writing.
U.S. District Judge Emmet Sullivan on Friday set an Oct. 14 deadline for Judicial Watch to submit its questions to the Democratic presidential nominee, meaning her replies may not come until after the Nov. 8 election. Judicial Watch said it will act quickly, signaling Clinton's answers may arrive in the final weeks of the campaign.
The e-mail controversy spurred a federal criminal investigation and has dogged Clinton for more than a year as she vies for the White House. Her Republican opponent, Donald Trump, and his party have made it the centerpiece of their attacks on her honesty and credibility.
Aiding that endeavor has been Judicial Watch, a Washington-based group that uses Freedom of Information Act lawsuits to extract records from the federal government. In a suit filed in 2013, closed and then revived, it has pressed for information about Clinton aide Huma Abedin's overlapping employment at the U.S. State Department, the Clinton Foundation and an outside consulting firm while the Democratic nominee was the top U.S. diplomat.
For more information on Clinton's use of private e-mail, click here.
Tom Fitton, president of the watchdog group, said the organization was pleased with the court's order, calling it a reminder the candidate wasn't above the law. "We will move quickly to get these answers," he said.
Earlier this year, the organization won an order giving it permission to question members of Clinton's State Department staff about its response to FOIA requests and about the e-mail system based in her Chappaqua, New York home.
Telling Judge Sullivan they were dissatisfied with what they'd learned, the group's lawyers pressed him last month to let them depose the former Secretary of State. Just days earlier, FBI Director James Comey said that while he wouldn't recommend bringing charges, Clinton and her aides had been "extremely careless" in their handling of sensitive government information. On July 6, the Justice Department declared the matter closed.
Long-time Clinton lawyer David Kendall objected to the Judicial Watch request at a July 18 hearing. In court papers he called their request "futile" and said the information sought was already public.
"We're not here writing on a blank slate," Kendall told Sullivan in court. "They've had all the discovery they've asked for."
The judge concluded Clinton's testimony was necessary to explain the purpose of the private e-mail system, but that an in-person deposition wasn't needed to do so. He ordered the organization to "propound questions that are relevant to Secretary Clinton's unique firsthand knowledge" of the system and of her department's FOIA processing practices.
Clinton's campaign claimed a measure of victory in the outcome.
"Judicial Watch is a right-wing organization that has been attacking the Clintons since the 1990s," spokesman Brian Fallon said in an e-mailed statement. "This is just another lawsuit intended to try to hurt Hillary Clinton's campaign, and so we are glad that the judge has accepted our offer to answer these questions in writing rather than grant Judicial Watch's request."
The case is Judicial Watch Inc. v. U.S. Department of State, 13-cv-1363, U.S. District Court, District of Columbia (Washington).
Before it's here, it's on the Bloomberg Terminal.
LEARN MORE