Trump's Call for Rules Freeze Gets Cold Shoulder From Bank Lobby
by and
Proposal could prevent positive changes, Chamber unit says

Wall Street wary of candidate's support for Glass-Steagall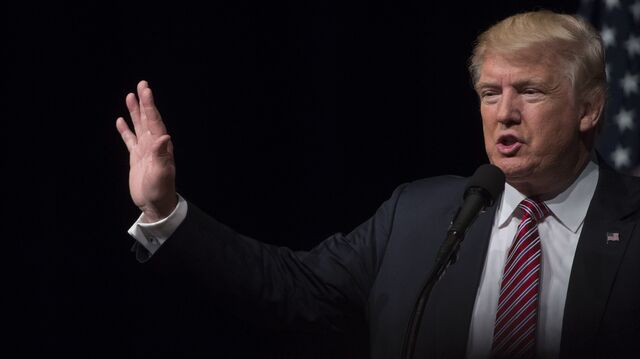 Donald Trump's call for a moratorium on new regulations is getting a chilly reception in Washington's financial-services lobbying community, where battle-weary trade groups are warning that the Republican presidential nominee's plans could bring risks along with any rewards.
Industry associations might have been expected to welcome Trump's promise to block new rules, after spending the last few years fighting against what they see as regulatory excess in response to the 2008 financial crisis. Yet groups such as the Financial Services Roundtable and the U.S. Chamber of Commerce's financial-markets unit say they are against the idea of a full stop.
"It unfortunately would take away the tools that could be used to address adverse impact on Main Street businesses in the short term," said Tom Quaadman, senior vice president of the Chamber's Center for Capital Markets Competitiveness. "The threat of a moratorium wouldn't change the already frantic pace of rule-making in which the Obama administration is trying to get as many major rules done as possible before they walk out the door."
Carl Icahn
Trump's plan to cut regulations, outlined as part of a broader economic policy speech this month, has been lauded by investors including billionaire Carl Icahn even though the candidate hasn't said how it would be would be applied or whether rules already in the pipeline would be affected.
On Wall Street, Trump proposals including the moratorium and his promise to repeal the Dodd-Frank Act have to be considered against his call for reinstating the Glass-Steagall Act, which would break up the nation's biggest financial-services companies by separating commercial banking from investment activities.
"Those two things don't seem to line up," said Justin Schardin, a financial regulation analyst at the Bipartisan Policy Center. "But until we get more detail on exactly what he'd do, all we can do is speculate."
From the time a rule is proposed, it can take regulators years to approve them, giving lobbyists and trade associations plenty of time to submit comments to help shape the final version. Groups representing the banking industry say at this point they would prefer fine-tuning existing requirements over any sweeping changes.
'Actively Participating'

"We are not pushing for a moratorium on all financial regulation," said Alison Hawkins, the Financial Services Roundtable's vice president of communications. "We are very much open to tweaking existing regulations and are actively participating in shaping ongoing regulation."
The Consumer Bankers Association, whose members include the biggest U.S. banks, said in a statement that "banking regulation should be handled on a case-by-case basis." A spokesman for the American Bankers Association said "a moratorium will require further review and analysis to determine impact on the industry." The Securities Industry and Financial Markets Association and the Clearing House Association all declined to comment.
In his Aug. 8 speech in Detroit, Trump said that as president he would "cut regulations massively" and impose the temporary moratorium. It's also unclear how Trump would go about imposing a moratorium on new rules.
While it's common for new presidents to call for a review of rules that haven't yet gone into effect, it's unclear whether Trump would seek to do so, said Dan Berkovitz, a former Commodity Futures Trading Commission general counsel who's now a partner at law firm WilmerHale in Washington. Presidents don't have direct authority to compel independent regulatory agencies like the CFTC or the Securities and Exchange Commission to make or not to make a rule, he said.
"The devil is in the details," said Berkovitz. "The more aggressive the executive order would be, the more legal and policy issues there would be with taking such action."
Before it's here, it's on the Bloomberg Terminal.
LEARN MORE