Trump, and Changing Demographics, Are Helping Turn North Carolina Blue
Republican gains made over the past three election cycles may have peaked.
by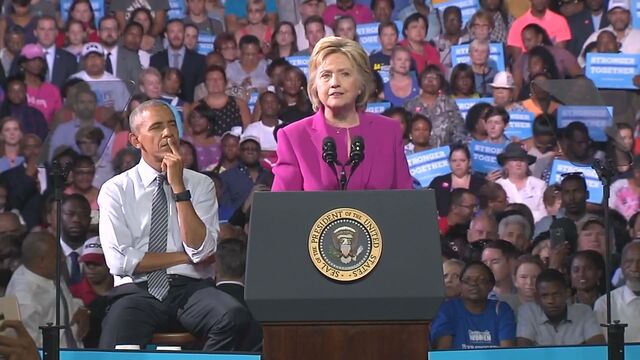 Over the past three election cycles, Republicans in North Carolina won the governor's mansion, ousted Democratic U.S. Senator Kay Hagan, and built a veto-proof supermajority in the state legislature. But with Donald Trump imperiling down-ballot candidates and population demographics in the state undergoing a shift, those gains could soon be reversed.
Lagging by 9 points in the latest state poll, Trump is poised to give Hillary Clinton something Democrats in North Carolina have only achieved twice in the last 40 years: the state's 15 electoral votes. What's more, Democratic gubernatorial candidate Roy Cooper leads Republican incumbent Pat McCrory by 7 points, according to a Wall Street Journal/NBC/Marist poll released Friday, and Deborah Ross, a former state representative running to replace Republican U.S. Senator Richard Burr, is up by 2 points. (The survey's margin of error was plus or minus 3.2 percentage points.)
"It's an exciting year to be a North Carolina Democrat," said the state party's executive director, Kimberly Reynolds.
Reynolds pointed to Clinton's strength against Trump, as well as competitive races for governor and U.S. Senate, as evidence the party can gain back some ground. "We do see opportunity across the board that we haven't seen in a while and we're ready to take advantage of that opportunity," she said.
The immediate concern for North Carolina Republicans is whether a Trump defeat will hurt incumbents seeking re-election. "Republicans could lose a lot of elections," said Carter Wrenn, a long-time GOP strategist in the state. "If the tide in the national election is running strongly for the Democrats it affects everybody: governor, senator, Congress, state house, state senate."
Ground Game
The coordinated campaign between the Clinton organization, the state party, and the down-ballot candidates means that Democrats currently have 21 offices and 2,000 volunteers and staffers across North Carolina, according to party officials.
Clinton, who has campaigned frequently in the state, held her first joint event with President Barack Obama in Charlotte last month. Tim Kaine, Clinton's running mate, campaigned in Greensboro earlier this month and will spend Monday and Tuesday in Asheville and Fayetteville. That heightened attention, Democrats say, will make a difference in down-ballot races.
"Two years ago Kay Hagan ran at the top of the ticket and she was the top of the ticket," said Ross. "She had to do all of the turnout."
Following the 2012 election, the Republican Party added staff in 11 swing states, including North Carolina. The Republican National Committee currently has about 650 people working in the state, including nearly 50 staffers. The RNC credits its ground game for helping Thom Tillis defeat Hagan in 2014 and the team is now working to help Trump, 70, and down-ballot Republican candidates.
"We've definitely learned from the lessons of the past that you can't parachute in a few months or a few weeks [before an election] and expect to be ingrained in these communities and make the strides that are necessary to win," said Kara Carter, the RNC's North Carolina communications director.
Despite Republican efforts to invest in the state early, however, the party has been unable to improve Trump's numbers among key demographics, especially women. Trump's vulnerabilities have allowed Clinton, 68, to expand the universe of voters she can appeal to, according to Cook Political Report's Jennifer Duffy.
Regardless of who the Republican nominee was, "it was going to be close," Duffy said. "The way that this changes things is you've got a lot of suburban women who can't vote for him and who will vote for Clinton." It won't be clear until Election Day if those voters will split the ticket and vote for Republican down-ballot candidates.
Demographic Shift
While many of the higher-profile races in the state are up for grabs, Republicans in North Carolina will still maintain a political advantage after 2016. Of the state's 13 congressional seats, Republicans control 10. While Democrats may pick up some seats in the general assembly, especially in urban centers like Charlotte and Raleigh, they likely aren't going to take back the state house or state senate this cycle.
But once a reliably Republican state, North Carolina is now starting to shade blue. "What's going on there is sort of fundamental to a changing state, that we started to see in 2008, '12," Duffy said. "It's becoming less of a Southern state and more of a Mid-Atlantic state."
The shift has been fueled by an influx of new residents from out-of-state to city centers like Raleigh and Charlotte. Between 1990 and 2010, the number of North Carolinians who lived in a city with 75,000 people or more rose from 17 percent to 28 percent, according to Rebecca Tippett, the director of Carolina demography at UNC-Chapel Hill's Carolina Population Center. During the same period the state's population grew from 6.7 million to 9.6 million. As it continues to become less rural and more urban, Democrats stand to benefit.
"I think we're a couple of election cycles away from the big Democratic year … and it's because of demographic changes," said John Davis, an independent veteran political analyst in the state. This cycle, he said, Democrats will likely see the affects of these shifts in county level races near the major cities.
"Democrats have every reason to be optimistic that the election cycle is going to come when they're going to regain the upper hand in state politics," he said.
(
Corrects Deborah Ross's former title in second paragraph.
)
Before it's here, it's on the Bloomberg Terminal.
LEARN MORE