U.S. ELECTION WRAP: Clinton Gets Bump in Polls, at Least for Now
Hillary Clinton is seeing a boost in the polls -- but still likely faces a tough slog to Election Day
by , , and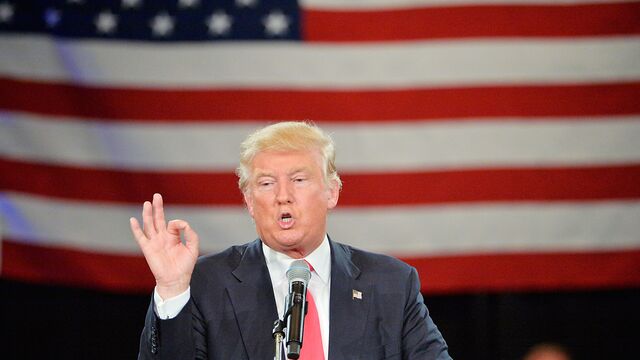 Hillary Clinton is enjoying a flurry of good poll news, with a 10-point nationwide edge and leads in Michigan, Pennsylvania, Florida and New Hampshire over Donald Trump.
The Democratic presidential nominee's post-convention bounce hits as her Republican rival Donald Trump grapples with one of the worst weeks of his campaign; or, as Cook Political Report's Amy Walter puts it: an implosion that sent "red hot shards of burning metal across the countryside"

"Just imagine what would be happening now if Donald Trump could just keep his mouth shut," Walter said in a phone interview

If the spotlight weren't on the GOP billionaire's latest spate of controversial remarks -- and the Republican Party's reaction to them -- Clinton might be facing more scrutiny now. One issue: she told "Fox News Sunday" that the FBI director said she had been "truthful" about her use of a private e-mail server as secretary of state, a claim that prompted Washington Post Fact Checkers to give her "Four Pinocchios," their worst rating

"It's dangerous" to put too much stock in post-convention polls, Walter said. "I'd like to see things settle down before we get too far ahead of ourselves"

Whether Clinton's bounce sticks depends on three factors, Walter wrote in a blog post

1) Trump's ability to keep the focus on Clinton's "weaknesses and off of his"; 2) developments out of her control, such as another Wikileaks dump; 3) "unforced errors," like her comments about her FBI testimony
Clinton remains "clearly the favorite" to win, she said. "But, this race is not over"

Bloomberg Politics' Mark Halperin put it this way earlier on MSNBC: While Trump has had the "worst 10 days" of any candidate in memory, "people have overcome much bigger leads than this"; Clinton is "still a very flawed candidate"
Click here to get the U.S. Election Wrap by e-mail every afternoon
POLLS & PREDICTIONS
Clinton has about a 78% chance of winning the presidency, according to the New York Times's Upshot elections model, which is updated with each new poll

The Democratic nominee's chance of losing is the same as the probability a professional basketball player will miss a free throw, according to the newspaper
There are signs that Colorado may no longer be in play as Clinton widens her lead over Trump in the Western swing state, Politico reported

ON THE TRAIL
Clinton speaks this afternoon at a campaign rally in Las Vegas while Trump is set to hold a town hall in Maine
President Obama might have more thoughts to share about the race to succeed him when he speaks this afternoon at a news conference in Washington; Obama earlier this week called Trump "unfit" to lead the U.S.
Clinton is ramping up efforts to gain Republican votes, Bloomberg's Jennifer Epstein and Margaret Talev reported

ENDORSEMENTS/RENUNCIATIONS
House Speaker Paul Ryan told WTAQ radio in Green Bay, Wis., that Trump's campaign is "distressing," but he stands by his endorsement of the GOP nominee, Washington Post reported

Ryan, who faces a GOP primary next week against pro-Trump businessman Paul Nehlen, also said his endorsement of Trump wasn't a "blank check"
"He's had a pretty strange run since the convention," Ryan said in his first live interview in more than a week and the first since Trump's refusal to endorse Ryan in the Aug. 9 GOP primary
Bloomberg's John McCormick looks at Nehlen's attempt to leverage Trump's troubled relationship with Ryan ahead of Tuesday's primary, a contest that's become a small-stage enactment of the battles within the party; see story here
Harvard Republican Club said it won't back Trump and called for GOP leaders to withdraw their support of the billionaire candidate

The biggest conservative club at Harvard called Trump a "threat to the survival of the Republic"
Seth Klarman, founder of Baupost Group hedge fund, is backing Clinton, he told Reuters

Klarman said "it is simply unthinkable that Donald Trump could become our president," citing the former reality-TV star's "words and actions over the last several days"
Former N.H. Republican Sen. Gordon Humphrey told NBC News he views Trump as a "sociopath" and he will consider voting for Clinton

"To imagine Trump in charge of our armed forces at a moment of crisis is frightening," said Humphrey, who unsuccessfully aided efforts to block Trump from becoming the nominee at the Republican convention in Cleveland
"I would only vote for Hillary in the event of a very close contest," he said
Hollywood actor and director Clint Eastwood told Esquire magazine he hasn't endorsed anyone yet but would have to "go for Trump" over Clinton because "she's declared that she's gonna follow in Obama's footsteps"

"There's been just too much funny business on both sides of the aisle. She's made a lot of dough out of being a politician. I gave up dough to be a politician. I'm sure that Ronald Reagan gave up dough to be a politician," said Eastwood, whose forays into state and local politics included a stint as mayor of Carmel-by-the-Sea, California
When asked if he still identifies as a Libertarian, Eastwood said: "I don't know what I am. I'm a little of everything"

Eastwood told Washington Post he regrets his on-stage speech to an empty chair at the 2012 Republican National Convention

ETC
Bloomberg View's Albert R. Hunt wrote that Republicans can give up trying to rein in Trump; see column here
Bloomberg's Sahil Kapur looks at how Republicans stuck with Trump despite fears he may destroy the party in an electoral wipeout in Nov.; see story here
The Trump campaign's strategy of banking on veterans and military voters to help amass enough votes to defeat Clinton is in jeopardy thanks to tensions over his comments about Khizr and Ghazala Khan, the parents of a U.S. soldier killed in action, Bloomberg's Jennifer Jacobs reported; see story here
Hollywood Reporter's Michael Wolff riffed on what he calls the "'Duck Dynasty' vs Lena Dunham election"

"Yes, Donald Trump's D-list convention was a flop by usual media standards, but Hillary Clinton's revisionist celebration actually was more tone-deaf as the disliked candidates careen toward November, their supporters dangerously oblivious," Wolff wrote

CONGRESSIONAL RACES
PA-SEN: AFSCME, the union representing state, county and municipal employees, has spent more than $1.8m to oppose Republican Sen. Pat Toomey's re-election and promote Democratic challenger Katie McGinty, according to FEC filing
N.H.-SEN.:  Incumbent Republican Sen. Kelly Ayotte of N.H. is lagging behind her Democratic challenger, N.H. Gov. Maggie Hassan, by 10 points, according WBUR radio poll, the Hill reported ; It's the biggest lead for Hassan to date 
AZ-05: Republican businesswoman Christine Jones released TV ad blasting what she said are Obama's "liberal policies," including Iran nuclear deal, immigration "amnesty," and "boys in the girls bathroom at our schools," according to Kantar Media's CMAG

Winner of four-candidate Republican primary favored to succeed retiring GOP Rep. Matt Salmon in district that includes Gilbert, most of Mesa, part of Chandler
Jones, a former GoDaddy executive, lost bid for Ariz. governor in 2014 primary
CA-07: Sacramento County Republican Sheriff Scott Jones "has taken heat for saying he'll vote for Donald Trump" and Democratic Rep. Ami Bera "is doing his best to turn the burner to high," Los Angeles Times reported in profile of one of nation's most competitive House races

Bera re-elected in 2014 by less than one percentage pt
CO-06: Republican Rep. Mike Coffman in TV ad said "I don't care much" for Trump and "I'll stand up to him" if Trump is elected president, Politico reported

Coffman opposed by Democratic state Sen. Morgan Carroll in suburban Denver district that voted for Obama in 2012 election
NY-19: Democrat Zephyr Teachout released proposals today that she said will aid "independent businesses" being squeezed out by "big businesses" with "well-paid lobbyists" in Washington, according to New York-based State of Politics blog

Teachout, a law professor and anti-corruption activist, is running against Republican ex-state Rep. John Faso for central Hudson Valley district of retiring Republican Chris Gibson
Before it's here, it's on the Bloomberg Terminal.
LEARN MORE