Obama Says Islamic State Military Losses to Hurt Recruiting
by and
Group continues to lose ground in Syria and Iraq, Obama says

He says he's 'not confident that we can trust the Russians'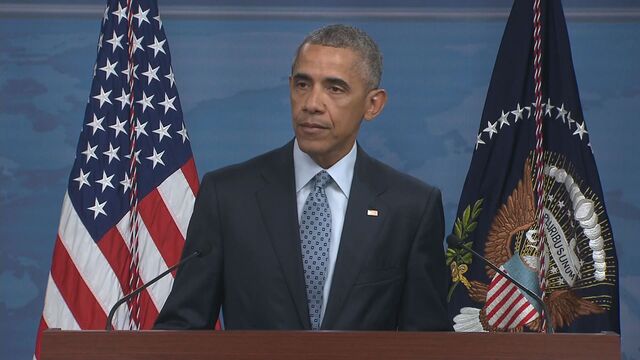 President Barack Obama said Islamic State continues to lose territory in the Middle East, and that the terrorist group's strongholds must be retaken in order to reduce the appeal of its propaganda.
"So long as they have those bases they can use their propaganda to suggest that somehow there's still some caliphate," Obama said in a news conference at the Pentagon on Thursday after meeting with his national security advisers. "That can insinuate itself into the minds of folks who may be willing to travel there or carry out terrorist attacks."
The U.S. has begun a campaign of airstrikes in Libya, targeting Islamic State militants who have established a stronghold in the city of Sirte. Obama said earlier this week that the U.S. and its allies didn't adequately attend to Libya after a 2011 military intervention that toppled the government there, leaving room for extremists to take hold.
Islamic State fighters have streamed into Libya this year, as the group has lost territory in Iraq and Syria.
Criticizing Putin
The civil war in Syria, now in its sixth year, has killed more than 280,000 and displaced millions. Russia's President Vladimir Putin provides military support to the regime of President Bashar al-Assad, while the U.S. has called for him to step down.
The U.S. is attempting to work with Russia there to fight terrorism and address the humanitarian crisis stemming from the conflict. But neither country has disclosed steps they have been discussing to coordinate efforts in the conflict, which has driven a refugee crisis that has further destabilized the Middle East and generated a flood of migrants into Europe.
"I'm not confident that we can trust the Russians and Vladimir Putin, which is why we have to test whether we can get an actual cessation of hostilities," Obama said. "Russia may not be able to get there, either because they don't want to or because they don't have sufficient influence over Assad."
A cease-fire backed by the U.S. and Russia earlier this year has been marred by continuing violence carried out by the Syrian regime and opposition fighters. Airstrikes by a U.S.-led coalition targeting Islamic State killed dozens of civilians in northern Syria last month, according to the U.K.-based monitoring group Syrian Observatory for Human Rights. The U.S. is investigating those reports, Defense Secretary Ash Carter has said.
Prospects for a political solution in Syria, which Obama has said is the only option for resolving the conflict, have worsened amid the continuing violence.
"We're going to test and see if we can get something that sticks," Obama said. "If not, Russia will have shown itself very clearly to be an irresponsible actor on the world stage that is supporting a murderous regime and will have to answer to that on the world stage."
Dozens of State Department diplomats signed a dissent memo in June objecting to Obama's strategy in Syria and calling for more forceful U.S. action against Assad.
For a QuickTake on the fight against Islamic State, click here.
Refugees continue to flee their homes, and the violence and humanitarian crises in Iraq and Syria are creating new challenges for Europe, including several large terrorist attacks by Muslim immigrants.
"What ISIL has figured out is if they can convince a handful of people or even one person to carry out an attack on a subway, or a parade, or some other public venue, and kill scores of people, instead of thousands of people, it still creates the kind of fear and concern that elevates their profile," Obama said, using an acronym for the group.
Rooting out small networks of terrorists or lone attackers in some ways "is tougher" than disrupting larger organizations, Obama said. "Those networks will probably sustain themselves even after ISIS is defeated in Raqqa and Mosul," he said, using another acronym for the group. The cities of Raqqa and Mosul are the group's strongholds in Syria and Iraq.
Before it's here, it's on the Bloomberg Terminal.
LEARN MORE