Trump and Clinton's Next Competition: Michael Phelps and the Olympics
With conventions over, the campaigns will need to be creative to break through with their messages in August.
by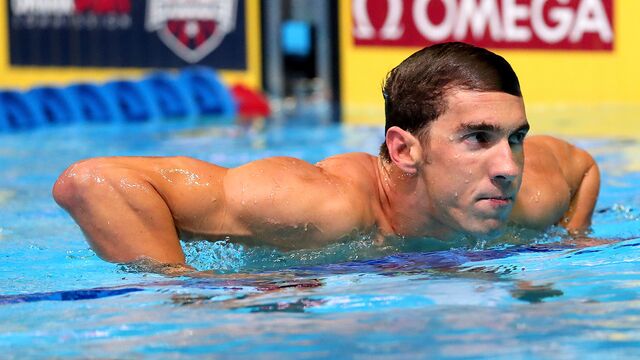 The conventions are over and Americans are preparing for final summer vacations and Olympic viewing parties, but the intensity of the presidential campaigns shows no signs of entering its traditional August slowdown. 
The explosion of social-media traffic compared with previous election cycles, the bitter divisions in the White House race, and a convention schedule shift from late August to late July is likely to make this month busier than normal.
A dispute during the weekend between Donald Trump and the parents of a Muslim-American soldier killed in Iraq showed just how unlikely it is that there will be any reprieve. The parents of Army Captain Humayun Khan had criticized the Republican nominee at last week's Democratic National Convention and Trump responded by patronizing them, further inflaming the situation.
"I think it just goes forward without a lull," said Mike Murphy, a Republican strategist who has advised several presidential campaigns. "Now that politics is a reality show, there's no incentive to stop the show. Old rules, even the good ones, all seem to be gone."
The one exception may be political advertising, which appears poised for a slowdown during the 17-day Olympic Games that start Aug. 5 in Rio de Janeiro.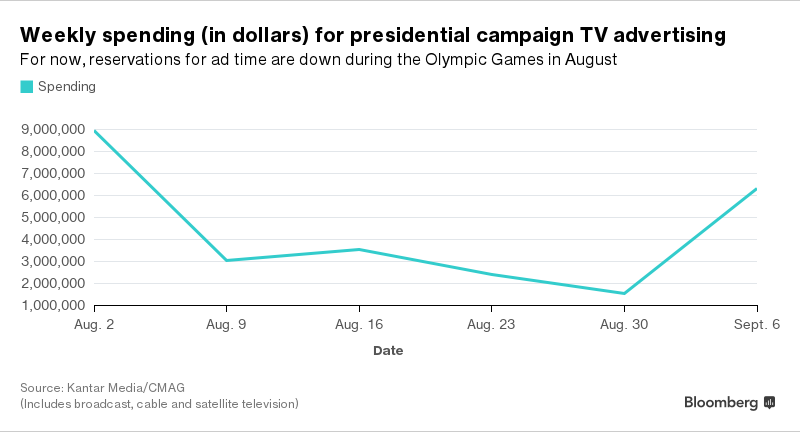 The attention-grabbing Olympics arrive less than 100 days before November's election and as the campaign moves into a new phase. A wave of post-convention polling is expected this week, and analysts say the race could lock in for a while, if there are no major developments.
"I'm a little disoriented, and I think everybody is because of the early conventions," said David Axelrod, a former top strategist and adviser to President Barack Obama. "The last time we had a convention, it ended and a few weeks later there was a debate. What it suggests to me is that the campaigns are going to have to be creative, because there are no natural vehicles to advance their messages."
The next major campaign event isn't for almost two months, when Trump and Democratic nominee Hillary Clinton are expected to face off on Sept. 26 for their first of three debates. 
The candidates will crisscross the country during August, raising money and trying to win over the shrinking pool of undecided voters. Their campaigns and the national parties will also be busy, building get-out-the-vote operations ahead of the start of pre-Election Day voting that starts in some states as soon as late September.
Television screens may flicker with just a bit less vitriol. Based on reservations placed, presidential campaign advertising on broadcast, cable, and satellite television will drop to roughly $3 million for the week that starts Aug. 9 from about $9 million for the current week, according to data from Kantar Media/CMAG. 
Weekly spending is projected to stay in a range of $2 million or $3 million during the Olympics and for the rest of August, before spiking back to $6.3 million for the week that follows Labor Day, which falls this year on Sept. 5. 
While Clinton's campaign doesn't have any August advertising reservations after the first week of the month, the top super-PAC backing her, Priorities USA, is booked to continue running ads at its usual clip of $2 million to $3 million per week. Overall, reservations have been made so far for almost $18 million in presidential campaign advertising in August. 
The 2012 Olympics in London started on July 27, with the Republican convention held during the final week of August and the Democrats following in the first week of September. Both Obama and Republican challenger Mitt Romney advertised during the games four years ago.
"The politics of 2016 likes to break rules, and rewrite rules, rather than follow precedent, but the Olympics has always given campaigns and candidates time to retool, reset and rest before the fall stretch, and this is probably one tradition that survives," said Anita Dunn, a Democratic strategist and former top aide to Obama.
If there's a major world event in August, Dunn said, her prediction would change. "Absent that, look for positive advertising during the Olympics, campaigns using social media tools to congratulate American winners and make a few points," she said.
Clinton's campaign has booked $3.5 million in broadcast television advertising this week in Florida, Pennsylvania, Ohio, North Carolina, Nevada, Iowa, Virginia, New Hampshire, and Nebraska, as well as $2.3 for national cable and satellite. After that, her team has nothing booked, as it assesses the lay of the land following last week's convention.
Trump's campaign, meanwhile, hasn't spent anything on television advertising since early May and has no time reserved for the rest of the summer or fall, as of now.
Axelrod said he suspects that will eventually change. "He's sitting there with some pretty significant negatives," he said. "I think he has to start spending."
Axelrod argued that Trump may have missed an important window when it comes to political advertising.
"My experience with presidential races is that after the conventions, paid media is much more difficult in terms of having impact because the earned media, the free media coverage is so intense that these candidates are in people's living rooms already," he said. "They're more apt to be influenced by the thing they think is not propaganda from campaigns. In a certain way, coming on late, he kind of missed an opportunity."
It could be hard for Trump to take much time off from the campaign trail, Axelrod said, because he needs to constantly be in the media mix to keep his polling numbers up.
"He's the whole show," he joked. "He only grudgingly accepted a vice-presidential nominee because the Constitution insists."
Clinton, Axelrod said, has "force multipliers" that include an engaging vice-presidential running mate, Senator Tim Kaine of Virginia.
"She's got the president, the vice president, Kaine, her husband," he said. "All can appeal to specific niches, all A-list performers. I think you're going to see them fanning out and that's going to be important. I think Trump is going to be handling incoming from a whole bunch of different places. We'll see how he takes the provocation."
In the battleground state of Ohio, where Clinton stumped on Sunday, campaigning won't subside just because it's August and voters are consumed with vacations and the Olympics, said David Pepper, the state's Democratic Party chairman.
"If it's the right kind of campaigning, I actually think that voters appreciate it," he said. "If it's the over-the-top negative ads, I think people are going to say, 'Hey, can we just watch the Olympics for a couple of weeks?'"
—With assistance from Mark Niquette.
Before it's here, it's on the Bloomberg Terminal.
LEARN MORE