Trump Ends Tireless Week of Refusing to Play Second Fiddle
As Clinton became the first female nominee of a major U.S. party, Trump spent the week on an adrenaline-fueled streak.
by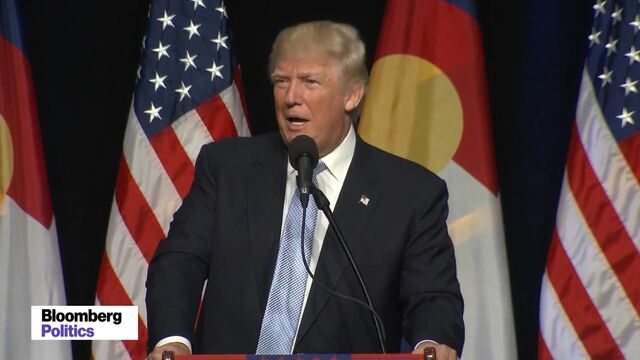 It was a roller-coaster week for Donald Trump, scheduled to play his least favorite instrument—second fiddle—to Hillary Clinton and the Democratic national convention.
The Republican presidential nominee beamed on Monday as "great" poll numbers emerged and he asked his supporters to refrain from watching his rival's nomination speech on Thursday as ratings showed a bigger audience for Democrats on the first few nights of their gathering. By Friday, the real-estate developer and TV personality could lay claim to a coveted title of ratings champion: his speech last Thursday was watched by 30 million viewers on the six major networks broadcasting the event. Clinton's attracted 27.8 million.
But the straight comparison of conventions was only half the story, for when it was the Democrats' turn on the stage this week, Trump gleefully tried to steal as much attention as he could. "I have a big microphone," he said on Wednesday.
As the historic nomination of a female presidential candidate by a major U.S. party took place in Philadelphia, Trump mounted an adrenaline-fueled mad streak with more than a dozen events in seven battleground states. He lobbed day-and-night critiques at Democrats via tweets, news interviews, and multiple arena-sized campaign rallies.
Unlike Clinton, who did not watch the Republican convention or hear the many "lock her up!" chants from the crowd, Trump didn't miss much of the Democratic event, according to aides. He either caught up on cable news channels or watched the live broadcast, often while traveling on one of his jets. As Democrats argued he wasn't qualified to be president, Trump took it all in and prepared his responses.
"Boy, do you need a thick skin. How would you like to be me?" he told a Cedar Rapids audience at one of his two Iowa rallies on Thursday.
Shift in Mood
Throughout his frenetic week, Trump's shifts in mood, unforced errors, and impulsiveness were on full display, especially on Wednesday.
At a morning news conference, he took a potshot at Democratic vice-presidential nominee Tim Kaine of Virginia for his stewardship of the Garden State, likely confusing him with former New Jersey Governor Tom Kean. He also objected to "David Hinckley" being released from a psychiatric hospital, possibly confusing Ronald Reagan shooter John Hinckley with the late newscaster David Brinkley, who co-anchored with Chet Huntley on NBC in the 1970s.
At a rally later that day, Trump inexplicably referred to "Carson" having no chance against Clinton because Democratic party officials rigged the nominating system against him. Ben Carson was Trump's opponent in the Republican primary; Democrat Bernie Sanders was the person he meant to bring up.
He claimed former President Bill Clinton had said "I grabbed her" during his convention speech about the courtship of his wife, Hillary. That was an apparent embellishment to Bill Clinton's lines about how he "got close enough to touch her back" and "knew this would not be just another tap on the shoulder."
Democrats pounced on Trump's freewheeling style at the convention. During his speech on Wednesday, Kaine did an impression of Trump, ridiculing his habit of saying "believe me." Michael Bloomberg, the former New York City mayor and founder and majority owner of Bloomberg LP, the parent company of Bloomberg News, called him "a con man" in his own speech in support of Clinton. "He's not really a plans guy," President Barack Obama piled on. "Not really a facts guy, either."
Trump used Twitter to throw shade on speakers throughout the week. But in Iowa on Thursday, he vowed to follow advice from a "very, very great" Republican governor who told him to ignore the attacks and focus on Clinton.
"I was going to hit a number of those speakers so hard their heads would spin. They never would recover," he said. "But I won't."
Hours later, Trump threw that decision aside and unleashed a round of insults on Twitter. He had words for Clinton, too, saying her speech was "very long and very boring," despite mentioning Trump 22 times.
He also reviewed the Democratic convention more broadly, tweeting on Tuesday that "the Republican Convention was far more interesting (with a much more beautiful set)."
Maximizing Attention
To be Trump in the past two weeks was to be unlike any previous nominee. Refusing to wait until later in the week of July 18 to appear at his own convention, he showed up on several occasions—to introduce his wife on Monday after an entrance worthy of a professional wrestler, to land in one of his helicopters as TV cameras rolled on Wednesday, to dramatically enter the arena later that day as Texas Senator Ted Cruz pointedly failed to endorse him.
Likewise, he found a way to generate media coverage during the Democratic gathering—much of it about his asking Russia to find Clinton's private e-mails during a wild news conference on Wednesday—while many other nominees have left the campaign trail to cede the spotlight.
"He has re-written the book of manners since the day he went down the escalator," said Syracuse University pop culture professor Robert Thompson.
But was it effective in maintaining or growing his convention bounce and possibly stealing some momentum from his opponent?
"I think the Democrats clobbered Trump this week," said Mike Murphy, a Trump detractor who ran a super-PAC aimed at electing former Florida Governor Jeb Bush. "Their convention was effective while Trump stumbled into a stupid error on Russia."
Some analysts said they think the net losses and gains were about even for both sides.
Kyle Kondik, the non-partisan editor of the political "Crystal Ball" newsletter at the University of Virginia, said he wouldn't be surprised if the result of the two conventions is that the polling reverts back to where it was a month ago, with Clinton up 3 to 5 points nationally.
Before Clinton's own convention bounce could materialize, Trump announced that he had changed his mind after a week of being slammed by Democrats before millions of television viewers.
"I don't have to be nice to her anymore. I'm taking the gloves off!" he told a Colorado Springs crowd, the day after the Democratic convention ended. "Just remember this: Trump is going to be no more Mr. Nice Guy!"
Before it's here, it's on the Bloomberg Terminal.
LEARN MORE