Obama's Economy Left Behind the Voter Coalition Clinton Covets
by
Clinton counts on youth, minorities behind Democrats' 2008 win

Trump still seen as alienating to disaffected Obama backers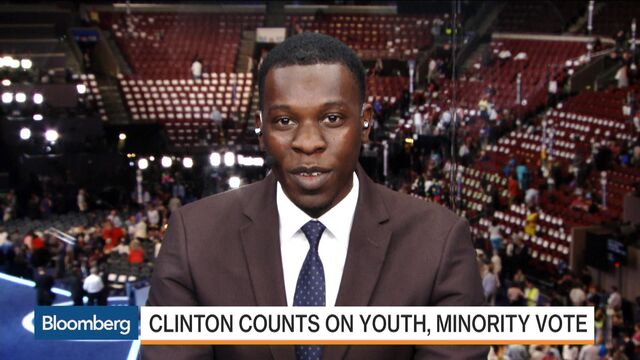 The young people and minorities who propelled President Barack Obama into office have lagged behind the economic recovery he's shepherded, with blacks and Hispanics continuing to lose wealth even as whites gained after the recession.
That's posing a special challenge for Hillary Clinton, who's vowing to largely continue Obama's fiscal policies even as she counts on his coalition to keep the White House in Democratic hands. Economic data suggest these voters could be ripe for the picking by Republicans -- but for one thing.
She's running against Donald Trump.

It's still unclear how strongly these voters will turn out for Clinton. But Trump has flouted the results of a 2012 Republican National Committee "autopsy" that warned the party should reach out to minorities, and has instead run a campaign that is antagonizing them.
"Donald Trump is running the opposite type of campaign of what we recommended in terms of outreach and inclusion to minority voters," Ari Fleischer, a former spokesman for President George W. Bush who helped write the Republican autopsy after Obama's re-election in 2012, said in an interview. "I don't think he's doing anything from a strategic demographic perspective."
Not long ago, some Democrats worried that the economic struggles of Obama's constituency -- youths, blacks and Hispanics who turned out in record numbers to put him into office -- would damp their turnout in November. But Ruy Teixeira, a demographer at the Democratic-affiliated Center for American Progress said his concerns about that have largely vanished.
"Trump, with his tone, really should be a turnout machine for the Democrats," Teixeira said.

The median net worth for black households fell to $11,000 in 2013, a 33.7 percent drop from $16,600 in 2010, as the racial wealth gap continued to widen even after the recession, according to the most recent Federal Reserve data. Median wealth for Hispanics declined 14.3 percent to $16,000 during that three-year period, while non-Hispanic whites saw a 2.4 percent increase to $141,900.
"The people who have been hurt the most in the Obama economy have been the most vulnerable," Texas Senator Ted Cruz said at a Republican presidential debate in February. "It's been young people. It's been Hispanics. It's been African-Americans. It's been single moms."
Obama is expected to address his economic record, warn that the election of Trump would be risky for the country and call for national unity in a prime-time address at the Democratic National Convention on Wednesday.
"This is an opportunity for him to not only make the case for why the record of accomplishment over the past eight years should indicate that we should continue on this path and not regress, but also why Secretary Clinton is uniquely qualified to make the decisions that a commander-in-chief would have to make," White House spokesman Eric Schultz told reporters on Tuesday.
Empty Office
In the Ridgewood neighborhood of Queens, New York, the Republican National Committee opened an office that the party once hoped would attract the sorts of disillusioned Obama voters that heavily populate the area. But on one afternoon at the height of the primaries this spring, the walls and chairs inside were empty, and a single employee watched CNN alone.
"People here are not going to vote for Trump," said David Rodriguez, a 34-year-old barber in Ridgewood. "Most people are immigrants and, if they're smart, they're not going to vote for somebody who's trying to kick them out."
Republicans have sought to reach out to minority and young voters in places like Ridgewood. Ethnically diverse and part of a congressional district where 88 percent of voters backed Obama in 2012, the neighborhood would not appear to be fertile ground for the party.
But Queens has struggled with wage stagnation in the years since the Great Recession. Real wages declined 3 percent between 2009 and 2015, worst among New York's five boroughs, according to a report by New York City comptroller Scott Stringer.
Through a program called the Republican Leadership Initiative, the RNC says it has trained 5,000 volunteers and dispatched many of them to minority communities across the country. Part of their mission is to argue to the president's most reliable voters that the economic recovery Obama has shepherded in fact left them behind. The volunteers highlight data showing that minorities, young people and women have suffered disproportionately from suppressed wages, underemployment and ballooning costs for tuition and childcare.
Trump, though, is undercutting that message. His proposals to conduct mass deportations of undocumented immigrants and temporarily bar Muslims from entering the U.S. are alienating minority voters. The staff member inside the new Republican office on Ridgewood's Fresh Pond Road declined to comment when approached by a reporter, and the RNC declined to discuss the leadership initiative.
'Better Life'
A Bloomberg Politics poll released June 10 found that 77 percent of likely voters under age 35 had an unfavorable view of Trump. Eighty-five percent of likely nonwhite voters dislike him, the poll found.

Trump attempted an appeal to minorities in his speech accepting the Republican nomination on July 21, citing high poverty and joblessness among blacks and Latinos during Obama's presidency. "Every day I wake up determined to deliver a better life for the people all across this nation that have been ignored, neglected and abandoned," he said.
But on Friday afternoon, the day after his speech, the RNC office in Ridgewood was locked and gated. Disillusionment with the nation's leaders isn't hard to find in the neighborhood.
"Last election, I voted for Obama; he promised a lot of stuff," said Mustafa Daw, 50, who works in a print shop next to the RNC office. "But I won't vote in the next election."
The choice between Trump and Clinton feels like a no-win situation, he said.
If Trump can highlight Clinton's weaknesses and focus on an economic argument, there may yet remain an opening.
As a college student in 2012, Stephanie Shaw chose to skip class rather than miss a chance to vote for the first black president. But the 24-year-old daughter of Jamaican immigrants, who lives with her parents in Piscataway, New Jersey, spent her first year after college searching for full-time work.
She voted for Vermont Senator Bernie Sanders in the New Jersey primary and said her support for Clinton is driven mainly by her disdain for Trump.
"I'd honestly vote for Draco Malfoy over Trump," she said, referring to a villain from J.K. Rowling's Harry Potter book series.

Clinton has thus far struggled to find a message that inspires the young voters who backed Obama. Exit polls show Sanders dominated the under-30 vote over Clinton in primary states, in many cases by a 4-to-1 margin. Groups of mostly young Sanders supporters held protests at the Democratic convention this week, and his delegates loudly booed the mention of Clinton's name on Monday. Some of them walked out of Philadelphia's Wells Fargo Center in protest after the vote on Tuesday that officially nominated her.
Democrats have struggled in elections during Obama's presidency in which he wasn't on the ticket, losing control of the House of Representatives in 2010 and the Senate in 2014.
In his first joint appearance with Clinton on July 5 in Charlotte, North Carolina -- a preview of his convention remarks -- Obama implored his constituency to turn out for her.
"If you're asking who's actually going to stand up for the guy on the construction site or the guy on the -- in the factory or -- or the woman who is cleaning a hotel room, or somebody who's really working hard, the working family -- if that's your concern, this isn't even a choice," he said. "Because the other side has nothing to offer you."
Before it's here, it's on the Bloomberg Terminal.
LEARN MORE