Sanders Backs Clinton After Fractious Opening of Convention
by and
Vermont says the choice between Clinton and Trump is clear

Sanders and Clinton supporters exchange chants during night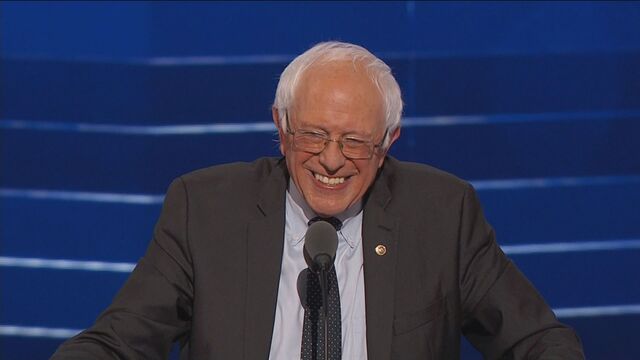 Bernie Sanders told divided Democratic delegates on Monday that he stands with Hillary Clinton, as his supporters ignored his pleas not to protest and undermined the image of unity the party hoped to broadcast from its national convention.
Sanders spoke on the first night of the four-day event to formally nominate Clinton with his delegates, still angry about revelations that party leaders favored Clinton in the primary, erupting in boos and chants almost from the moment the convention was called to order Monday.
The Vermont senator did not directly call for his supporters to vote for Clinton but extolled her commitment to key issues and emphasized the importance of her nominating Supreme Court justices. He said the contrast with Republican Donald Trump is clear, and that the country needs leadership to improve the lives of people and not divide them.
"This election is about which candidate understands the real problems facing this country and has offered real solutions – not just bombast, not just fear-mongering, not just name-calling and divisiveness,"  Sanders said in his speech at the Wells Fargo Center in Philadelphia. "By these measures, any objective observer will conclude that – based on her ideas and her leadership – Hillary Clinton must become the next president of the United States. The choice is not even close."
Sustained Ovation
After a sustained ovation as he took the stage, Sanders thanked his supporters and mostly recounted the themes of his campaign, including addressing income inequality and curbing the power of Wall Street.
After Sanders finished his speech, his campaign sent an e-mail to supporters asking them to submit their names and contribute to a new group he's calling "Our Revolution."
"The goal of this organization will be no different from the goal of our campaign: we must transform American politics to make our political and economic systems once again responsive to the needs of working families," the e-mail said.
Sanders, who challenged Clinton all the way through the California primary on June 7, was a featured speaker on a night that also included addresses from first lady Michelle Obama and Senator Elizabeth Warren of Massachusetts, a favorite of the progressive wing of the party. Warren, like others who took the stage, combined laudatory remarks on Clinton's agenda with stinging criticism of Trump.
In her remarks, Warren said the billionaire Republican is trying to win votes by "fanning the flames of fear and hatred" in a "divide and conquer" approach.
"That's Donald Trump's America," Warren said. "An America of fear and hate. An America where we all break apart. Whites against Blacks and Latinos. Christians against Muslims and Jews. Straight against gay. Everyone against immigrants. Race, religion, heritage, gender – the more factions the better."
But even Warren drew jeers from the most fervent Sanders supporters. Chants of "We trusted you. We trusted you" arose from within the Washington delegation as she spoke.
Seeking Unity
The speakers who preceded Sanders on the stage tried to foster unity in the Democratic Party. U.S. Senator Jeff Merkley of Oregon, who endorsed Sanders in the primaries, said the Vermont senator inspired the party to reach for bold solutions and created a grassroots movement that will endure. But he presented Clinton and Sanders as a team that all Democrats should support to secure policies the party wants.
"We must be united in this battle," he said. "Whether you spent the year 'feeling the Bern' or this year 'ready for Hillary,' all of us are ready for an America that rejects discrimination and embraces diversity."
First Lady's Address
The most well received address of the evening was delivered by first lady Michelle Obama, who endorsed Clinton by saying the president has great influence over the nation and its children.
"This election, and every election, is about who will have the power to shape our children for next four or eight years of their lives," Obama said. "I am here tonight because in this election, there is only one person who I trust with that responsibility."
But it was clear from the very beginning of the day's proceedings that the resignation of party Chairwoman Debbie Wasserman Schultz and her decision not to gavel the convention to order as scheduled wouldn't be enough to quell the anger of the Vermont senator's delegates. Representatives from the Clinton and Sanders campaign held an urgent meeting Monday afternoon to come up with a plan to avoid disruptions, according to a party official.
Plea to Supporters
The result was a text from Sanders to his delegates asking "as a personal courtesy to me not to engage in any kind of protests" on the floor of the convention. Sanders also posted a comment on Twitter that Democrats "have got to defeat Donald Trump and do everything we can to elect Hillary Clinton to the White House."
It had little effect. When the Reverend Dr. Cynthia Hale gave the invocation and mentioned the nomination of Clinton, the crowd erupted in a mixture of cheers and chants of "Bernie, Bernie, Bernie." Clinton supporters responded with "Hillary" chants to drown them out.
Another round of cheers, boos and chants ensued about 45 minutes later when U.S. Representative Marcia Fudge, the convention chairwoman, discussed putting Clinton and running mate Tim Kaine in the White House.
"Excuse me," Fudge said as the cheers and boos interrupted her for several seconds.
Fudge then asked for delegates to be respectful and said, "We are all Democrats and we need to act like it."
But speaker after speaker had to talk over the chants and shouts of Sanders's supporters and the corresponding response from Clinton's backers, who make up a majority of the convention delegates.
Feeling the Burn
Wasserman Schultz resigned after the release of hacked DNC e-mails that showed the party apparatus favoring Clinton over Sanders, buttressing complaints from many Sanders supporters that the party organization she led was biased against the Vermont senator and undermined him during the primaries.
Sanders felt the heat of the fire he lit among his supporters earlier on Monday. After praising the party platform his allies had negotiated as the most "progressive" in the party's history, he drew boos at a rally when he said Republican Donald Trump must be defeated and the Clinton-Tim Kaine ticket elected.
'Real World'
"Brothers and sisters, this is the real world that we live in," Sanders said. Wasserman Schultz's departure as party chairwoman at the end of the convention represented progress for "those people who want real change," he said.
The crowd responded with chants of "we want Bernie."
In the Wisconsin delegation, Sanders supporter Ben Carpenter, 37, said of Clinton that "she's got a chance" to win his support in her speech Thursday. He needs to hear "a much more progressive tone," he said. "I'm still pondering that."
Wasserman Schultz should have been forced out months ago during the primaries, he said.
Sanders's Power
Democrats came into Philadelphia hoping to avoid the spectacle of party divisions that defined the Republican convention last week. The danger of an enduring rupture in the party is perhaps more serious for Democrats and their presumptive nominee. While Senator Ted Cruz was booed off the stage in Cleveland for refusing to endorse the party's nominee, Trump, he doesn't have the following, in numbers or devotion, that Sanders has commanded throughout the primary campaign.
Sanders amassed 1,893 delegates during the primaries and caucuses, compared with 2,814 for Clinton including superdelegates, according to the Associated Press.
Trump, at a campaign event with his running mate, Indiana Governor Mike Pence, tried to stoke dissent among Democrats over the DNC e-mails.
"Hillary Clinton knew what was going on. She knew everything that was going on," Trump said in Roanoke, Virginia. "She knew it's a rigged system that Bernie Sanders never had a chance. OK? He never had a chance."
"A lot of those people are going to vote for us," Trump said.
In campaign stops Monday in North Carolina, Clinton didn't address the furor in Philadelphia, focusing instead on attacking Trump for what she described as his go-it-alone foreign policy and bigotry.
DNC Apology
In Philadelphia, Sanders told his delegates that a compromise reached by the two campaigns on a "unity commission" to review superdelegates and the party's nomination process was "a major victory in transforming the Democratic Party." Delegates approved the commission, the party's rules and its platform by voice votes Monday afternoon.
And Donna Brazile, a longtime Democratic strategist who's set to take over as interim head of the DNC, together with other top DNC officials issued an apology to Sanders in a statement Monday afternoon.
"On behalf of everyone at the DNC, we want to offer a deep and sincere apology to Senator Sanders, his supporters, and the entire Democratic Party for the inexcusable remarks made over email," the statement said. "These comments do not reflect the values of the DNC or our steadfast commitment to neutrality during the nominating process."
Before it's here, it's on the Bloomberg Terminal.
LEARN MORE