Bill Clinton Says His Wife Is a 'Change-Maker' Ready to Lead
by and
Former president's speech emphasizes personal, not political

As Democrats turn left, Clinton years come under scrutiny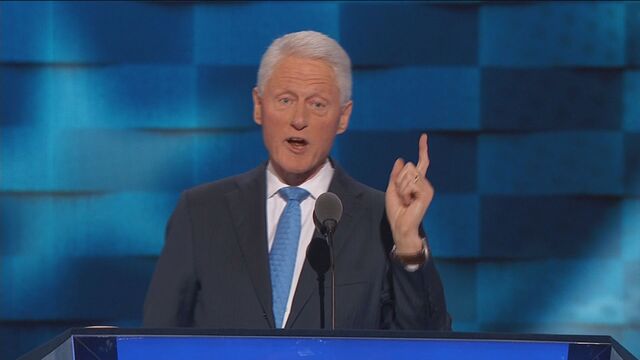 Bill Clinton on Tuesday addressed a Democratic Party that remains divided over not only his wife's candidacy but his own legacy as president. During a prime-time speech at the Democratic National Convention, the former president sought to humanize his wife by describing her as a loving mother and wife whose service to others started long before she walked the halls of power in Washington.
"She's the best darn change-maker I ever met in my entire life," Clinton said in Philadelphia. "This woman has never been satisfied with the status quo in anything. She always wants to move the ball forward. That is just who she is."
Dubbed the "secretary of explaining stuff" for his well-received speech endorsing President Barack Obama in 2012, Clinton faced a much different environment when he entered the Wells Fargo Center in Philadelphia, where supporters of Bernie Sanders have booed and chanted against Hillary Clinton. The former president's speech was greeted with cheers and applause as he laid out the chronology of his relationship with the woman he met at Yale Law School 45 years ago.
Clinton, who aides say wrote his speech himself, emphasized the former first lady's role as a wife, mother and advocate as well as a politician.  Many of the policies he embraced as president have come under withering criticism from his party's base -- particularly Bernie Sanders's supporters -- and Hillary Clinton has distanced herself from her husband's legacy on trade, criminal justice, financial regulation and welfare.
"He still has a visceral connection with a lot of people. Beyond the Obama coalition, I think he really reaches people that the Democratic Party has struggled to get since 2000," said Teege Mettille, a delegate from Ashland, Wisconsin.
'Change-Maker'
Using the term "change-maker" multiple times to describe his wife, the former president sought to counter criticism, voiced by Sanders during the primary campaign, that she is a member of the political establishment who will defend the status quo. The 69-year-old Clinton, who built his political career on moving Democrats toward the center and now is the elder statesman of a party surging toward the left, steered clear of discussing his own presidential legacy.
During the primary campaign, Sanders regularly whipped up the crowd at his rallies with broadsides against policies that Bill Clinton championed two decades ago. Decrying "establishment politics" and "establishment economics" without naming the former president, Sanders criticized the North American Free Trade Agreement that Clinton pushed to ratification in 1993 and mass incarceration resulting from the 1994 crime bill. He has also slammed the welfare legislation Clinton championed in 1996 as "unacceptable" and criticized the deregulation of the financial industry in the 1990s.
In seeking to boost his wife's campaign, the former president has struggled to strike a balance between defending his record and embracing the insurgent wing of today's Democratic Party.
"People say 'Well, we need a change. She's been around a long time,'" Clinton said in his speech. "She sure has. And she sure has been worth every single year she's put into making people's lives better."
When protesters from the Black Lives Matter movement interrupted his campaign speech in April, Clinton engaged in a shouting match with them as he tried to defend the crime bill. The spectacle took attention away from his wife's campaign and his defense of the bill conflicted with Hillary Clinton's decision to apologize for the impact it has had on minority communities.
The former president has also attacked Sanders for promising an unattainable political revolution, and accused his supporters -- so-called "Bernie Bros" -- of engaging in sexism and abuse online in February.
Limited Role
Clinton, who has had a limited role in his wife's campaign since those early stumbles, has done little to smooth over things with Sanders supporters. He drew rebukes from Democrats and Republicans last month after privately meeting with Attorney General Loretta Lynch on an airport tarmac just days before Hillary Clinton was cleared in an FBI investigation into her handling of classified information as secretary of State.
In Philadelphia, where hundreds of Sanders supporters have taken to the streets to chant "lock her up!" and "Never Hillary," Bill Clinton sought to persuade doubters who say his wife is neither honest nor trustworthy. He said critics had painted a "cartoon" image of Hillary Clinton.
"She is constantly referred to as the least-known best person in America, and I think you will get to hear from him that sense of what attracted him to her in the first place," John Podesta, Hillary Clinton's campaign chairman, said Tuesday morning at a Bloomberg Politics breakfast in Philadelphia.
When Obama faced questions over his handling of the economy in 2012, Clinton used his 50-minute speech at the Democratic convention to lay out a statistics-laden economic case for Obama's re-election. The speech received positive reviews and a thankful Obama pledged to name the former president "secretary of explaining stuff."
For Clinton, the speech Tuesday night was perhaps his best opportunity to give his wife a boost against Republican nominee Donald Trump. He left office with the U.S. economy booming and with a 66 percent public approval rating. He still is viewed favorably by a majority of Americans in most polls.
Trying to bolster his wife without distracting from her, Clinton has kept a low profile in Philadelphia this week, attending some receptions and making his way among the dignitaries at the Wells Fargo Center. Other than his address Tuesday night, aides said he has no other public events scheduled in the city.
Before it's here, it's on the Bloomberg Terminal.
LEARN MORE