Clinton-Kaine Ticket, in First Rally, Repudiate Trump's Dark Vision of U.S.
Clinton, Kaine display chemistry in appearance in Miami.
by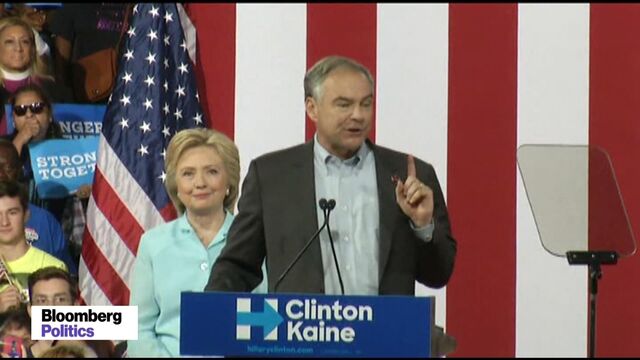 Presumptive Democratic presidential nominee Hillary Clinton joined hands with Virginia Senator Tim Kaine on Saturday, introducing her new running mate to a national audience and promising that the pair offered "a very different vision" from that of the Republican Party. 
"Tim Kaine is everything Donald Trump and Mike Pence are not," Clinton said at Miami's Florida International University. "He is qualified to step into this job and lead on day one. And he is a progressive who gets things done."
Clinton lauded Kaine's "backbone of steel" and for his having been "a leader who cares more about making a difference than making headlines."  
Their hour-long rally, before a raucous crowd of more than 5,000, presented a study in contrast between the Democratic ticket and the Republican one. Trump, the Republican nominee, first appeared with his running mate, Indiana Governor Pence, at a Manhattan hotel ballroom a week ago, where a hand-picked audience of about 250 had a muted response. The pair barely shared time on stage.

Clinton and Kaine, who also served as governor of Virginia and mayor of Richmond, spent several minutes walking the stage together and waving, and each sat on a stool, attentive, as the other spoke. 
Their message, too, was aimed at putting the two tickets' messages in stark relief. "America is not built on fear," Kaine said during a speech that included occasional asides in Spanish, which animated the heavily Hispanic crowd. "America was build on courage and imagination." 
Discussing immigration laws and Trump's comments on Hispanics, Kaine asked naturalized citizens in the room to raise their hands. Hundreds did. "Thanks for choosing us," he told them. "Bienvenidos a todos a nuestro país, porque somos americanos todos," Kaine told the crowd at another point, welcome all to our country, because we're all American.  
Much of the joint appearance was focused on starting to introduce Kaine, 58, to voters. 
Clinton extolled the Midwestern values she shares with the senator, who was born in Minnesota and grew up in Kansas City, Missouri, noting that both had fathers who ran small businesses and taught them about "the dignity of work." A "lifelong commitment to social justice" was a "shining example of faith in action," Clinton, a Methodist, said of Kaine, a Roman Catholic, who spoke similarly, saying their "creed is the same: do all the good you can."
Taking the microphone after sharing a peck on the cheek and pat on the back with Clinton, Kaine said he was "feeling a lot of things today, but mostly gratitude." 
"For many of you, this is the first time you've heard my name," Kaine said in a speech that was heavy on biography of himself and of his wife, Anne Holton, Virginia's secretary of education. "I'm excited for us to get to know one another."

Kaine reflected on his life's arc, including his decision to take a year away from Harvard Law School to work at a technical school in Honduras with Jesuit missionaries. "My time in Honduras changed my life in so many ways," he said.
He also celebrated Clinton while jabbing Trump. "She doesn't insult people. She listens to them," he said. "What a novel concept."
Clinton and Kaine shared a stage just over a week ago in northern Virginia, where the former secretary of state tested the chemistry with her potential running mate on his home turf. "Hillary's ready to be president. Hillary's ready to make history," Kaine said then, introducing Clinton in Annandale. After she spoke, the two shared a fist bump.
The vice presidential announcement came Friday night via text and Twitter messages, and set off waves of praise from many Clinton allies. "It's a testament to Hillary's character and integrity that she chose a man like Tim Kaine," President Barack Obama said Saturday in a fundraising e-mail sent to Clinton's list. "Tim is a good man. He's a true progressive. And he will make a great vice president."
Kaine learned that Clinton had selected him during an evening phone call that came in as he holed up in a rope-and-tackle-adorned office in Newport, Rhode Island, where he was fundraising with Senator Jack Reed, said an aide traveling with Kaine. A small team of Clinton staff, including campaign chairman John Podesta, senior aide Matt Paul, speechwriter Megan Rooney and Podesta aide Sara Latham, traveled there to meet him, brief him, and start preparing the speech he gave on Saturday, a Clinton official said.
The group had initially planned to return to Kaine's home in Richmond, Virginia's state capital, on Friday night, but instead headed directly to Miami. On the way to the airport, Kaine got a call from Obama, his aide said. On the flight and again on Saturday morning, he worked on his speech with Rooney. He used a teleprompter but also ad-libbed as he spoke at the rally.
Ohio Senator Sherrod Brown, one of the choices Clinton considered for the ticket, said in a statement that Kaine "brings an incredible depth of knowledge and experience to what is already the most qualified presidential ticket in my lifetime." Facing a disappointed voter on Twitter, another candidate, New Jersey Senator Cory Booker celebrated the pick. "Sincerely, Tim Kaine is 1 of the most honorable men in politics. I admire & am inspired by him, give them your vote," he wrote Saturday.

Across the aisle, Senator Jeff Flake, an Arizona Republican, tweeted on Saturday, "Trying to count the ways I hate @timkaine. Drawing a blank. Congrats to a good man and a good friend." Flake has clashed with Trump, and in June urged Republicans not to endorse the billionaire following Trump's criticism of Gonzalo Curiel, a federal judge of Mexican origin,  presiding over a fraud case involving Trump University. 
While many of the candidates on Clinton's short list have voiced support for Kaine, Massachusetts Senator Elizabeth Warren has been notably quiet thus far. Warren, a favorite among progressives, appeared with Obama on Saturday in the weekly White House radio and internet address, discussing the progress of the administration's Wall Street reforms. 

Aides for Clinton's chief rival for the Democratic nomination, Vermont Senator Bernie Sanders, have declined to comment on the pick and his first post on Twitter after the announcement was about his opposition to fracking, which Kaine supports. Sanders will surely be unable to dodge questions about Clinton's pick on two scheduled appearances on Sunday political talk shows. 
The Progressive Change Campaign Committee, which considers itself the voice of the Warren wing of the Democratic Party, expressed disappointment because of Kaine's past vote in support of the Trans-Pacific Partnership. (He has since said he opposes the final version of the trade deal, which awaits ratification by Congress.)  

"The mood of the country is a populist one," Stephanie Taylor, group's co-founder, said in a statement. "The center of gravity in the Democratic Party has shifted in a bold, populist, progressive direction — regardless of who is selected by Hillary Clinton as vice president."
Before it's here, it's on the Bloomberg Terminal.
LEARN MORE