Trump Has Third Person in Mind to Hit With Super-PAC Beyond Cruz, Kasich
Tells NBC he doesn't want to give publicity to unnamed "small person."
by and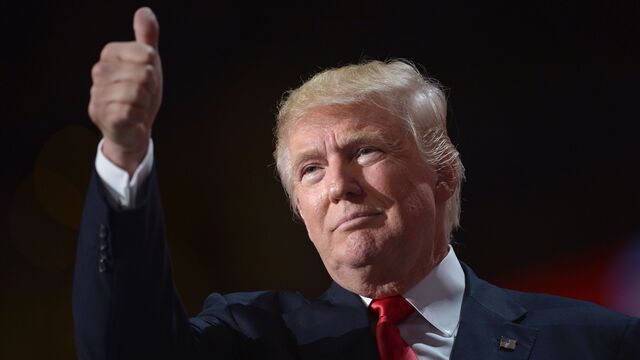 Donald Trump plans to create and fund super-PACs specifically aimed at ending the political careers of Ted Cruz and John Kasich should either run for office again, after both snubbed the Republican nominee during his party's convention this week, a person familiar with Trump's thinking told Bloomberg Politics on Friday. 
Donald Trump confirmed his plans during an interview with NBC's "Meet the Press" broadcast on Sunday, saying "I'll probably do a super-PAC, you know, when they run - against Kasich for $10 million, to $20 million against Ted Cruz." 
Trump added that there may be "one other person that [he's] thinking about" starting an outside group against, but that unnamed individual is "such a small person" that he "hates to give him the publicity."   
Former nomination rival Jeb Bush is apparently not the third person being eyed by Trump, even after skipping the convention and refusing to back the Republican nominee. On Friday Trump said he "does not care" about targeting t Bush because the former Florida governor is already "destroyed."  
Trump said on NBC that he would begin the super-PACS "at the appropriate time." Bloomberg reported Friday that Trump plans to create one or two outside groups about six months before their respective election days, if Texas Senator Cruz or Ohio Governor Kasich stand for office again.  The person said Trump is willing to set up two separate super-PACs – one for Cruz and one for Kasich – and put millions into each. 
Of course, the ire that Trump has exhibited in the aftermath of the bitter nomination contest, including an extended rant against Cruz on Friday, could fade over time, leading the sometimes mercurial billionaire to drop the idea. 
During an event in Cleveland on Friday, Trump hinted at the prospect of funding an outside group against Cruz in the future.
"Maybe I'll set up a super-PAC if he decides to run," Trump said of Cruz.  Turning to his running mate, Indiana Governor Mike Pence, he asked rhetorically, "Are you allowed to set up a super-PAC…if you are the president, to fight someone?" 
The person close to Trump's thinking indicated that Trump would consider forming the super-PAC whether or not he wins the presidential election in November. According to Federal Election Commission rules, if Trump doesn't win the presidency, he is clearly free to set up and fund a super-PAC. But if he occupies the Oval Office, the rules head into a legal gray area. Between elections, or if Trump declares himself a one-term president, he would be allowed to donate to a super-PAC, but is not allowed to solicit contributions of more than $5,000.
Kasich, 64, cannot run again for Ohio governor due to the state's term limits. The 45-year-old Cruz has said he'll run for re-election to the Senate in 2018. Both men have indicated an interest in running for president again in 2020, when they would either face Hillary Clinton or mount a primary challenge to a sitting Republican, Trump. 
Trump's feud with Cruz boiled over in prime time on Wednesday, when the Texan refused to endorse Trump during his convention speech, instead urging voters to "vote their conscience" in November. After being criticized for the speech by Republican elites, and even many members of the Texas delegation, Cruz pointed to Trump's attacks on his wife and father as reasons he felt justified reneging on his pledge to support the Republican nominee, saying he will not get behind Trump "like a servile puppy dog." 
In an interview that will air Sunday night on Showtime's "The Circus," Trump said his intervention at the end of Cruz's speech probably prevented the senator from being ripped off the stage by angry delegates.   
The Trump campaign waged a separate war with Kasich, whose state hosted the Republican convention. After Kasich refused to attend, some within the Trump camp began to attack the Ohio governor. During a Bloomberg Politics breakfast on Monday, Trump campaign chairman Paul Manafort called Kasich "petulant" and said he was "embarrassing his party in Ohio" by refusing to back Trump. 
"That's a dumb, dumb thing. Will John Kasich finally grow up? Maybe," Manafort said.
Asked for comment on Saturday, Chris Schrimpf, a spokesman for Kasich, said, "LOL.''
-- With assistance from Mark Niquette.
Before it's here, it's on the Bloomberg Terminal.
LEARN MORE