Surrogates
America Meets Trump's Secret Weapon: Ivanka
The Republican presidential nominee's daughter made the case for her father Thursday night.
by and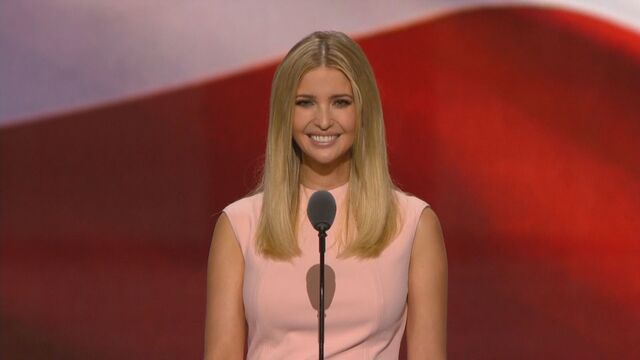 The night of the Iowa caucuses, about six months pregnant at the time, Ivanka Trump gave the pitch for her father at a key voting site, addressing the room right after the charismatic Ted Cruz.
"How'd I do?" she asked an aide afterward. Her eyes welled with tears. "I'm not good at this."

The aide grabbed her hand. "No," she said. "You're great at this."
On Thursday, the 34-year-old mother of three became Donald Trump's surrogate-in-chief, introducing him at the Republican National Convention before an audience of millions.
"To people all over America I say when you have my father in your corner, you will never again have to worry about being let down. He will fight for you all the time all the way every time," she said after entering the stage to an instrumental rendition of The Beatles' "Here Comes the Sun."
Ivanka, a former fashion model with her own business, might be her father's single strongest asset for changing his perception among women, one of Trump's weakest demographic groups, strategists and campaign insiders said.
By virtue of her prime speaking slot -- the second most prominent of the convention -- she was poised to do the most to benefit him of anyone who took the stage at the convention.
Ivanka used that opportunity to argue that her father is "color-blind and gender-neutral" and has made a practice of paying women the wages they deserved throughout his career.
Appealing to independent voters crucial to winning the White House, Ivanka Trump said she doesn't consider herself a Republican or a Democrat, and that her father "will call upon the best and brightest people on on both sides of the aisle."
Ivanka said her father will "focus on making quality childcare affordable and acceptable for all" -- an idea Democrats have advocated for but that Trump hasn't called for on the stump. She vowed to help guide her father.
"He will fight for equal pay for equal work and I will fight for this too, right along side of him," she said, her hair blowing in a slight breeze that crossed the stage.
The groups she targeted were more like her, and less like her father and the strongest parts of his coalition.
"She's talking to millennials. She's talking to women. She's talking to working women, aspirational people who are trying to do what Ivanka's been able to do," her brother Donald Trump Jr. said in an interview. "She's an impressive woman."
Campaign strategists consider her a character witness, a humanitarian who is aware of her good fortune and wants to improve others' lives -- and provide bridge between her father and women. Her brand is refined and feminine, but unmistakably Trump.
"I think she brings in independents. I think she brings in Democrats quite frankly," her brother Eric Trump said. "She's a strong, independent woman, she's a huge success, both within our company as well outside our company."
All four of Trump's adult children addressed the audience at Quicken Loans Arena in Cleveland this week, but Ivanka -- daughter of Ivana, the first of three of Trump's wives, and his second oldest child after Donald Jr. -- faced the biggest television audience on the most climactic night.
Her siblings agreed that she should take the best speaking spot. Melania, Trump's wife, spoke Monday night. Donald Jr. and youngest daughter Tiffany addressed the convention on Tuesday, and Trump's third-born, Eric, appeared Wednesday. Ten-year-old Barron arrived on Thursday, watching from the VIP box.
"She's so good at humanizing him. They have a very special relationship. We all have a great relationship with him, but they have a unique bond," Donald Jr. said.
Trump's eldest siblings are already the candidate's top boosters, jamming national TV appearances while working as executives of the Trump Organization. They split up at the convention this week, speaking to swing-state delegations like Pennsylvania and North Carolina.
They now intend to fan out across the country in the coming weeks on behalf of their father, they said. Donald Jr. has fundraisers for his father in Texas on Monday, and will be at a popular county fair in Mississippi next week.
"We'll either be campaigning for him or we'll be at his side from now until election day in November," Eric said.
Just a few months ago, "we didn't even know what a delegate was," he said, laughing.
Ivanka warmed to her political role, but it took a little doing. In February, on the night of the first-in-the-nation Iowa vote, she telephoned an aide from her Cedar Rapids hotel room.
"Is there anything I'm supposed to do?" she asked, according to the staffer.
Ivanka was scheduled to speak to thousands of caucus-goers at the biggest voting site in the state, but aides hadn't scheduled volunteers to sit at the campaign's promotional table there.
That's unacceptable, we'll be right down, she said.
Ivanka arrived in the arena lobby, and, in a pair of high heels from her own fashion line, helped an aide carry a folding table to a corner next to the Cruz campaign. She signed autographs and posed for selfies while instructing her husband, Jared Kushner, to search Google for the rules of the caucuses so she could help instruct voters who wanted to vote for her dad.
After Cruz, a seasoned politician, delivered a speech to voters, Ivanka took to the stump, making a confident case for her father.
Five months later, she confessed to nervousness.
"I'm terrified," she said in an interview on NBC's "Today Show." "I've never spoken in a stadium like this."
On Thursday, Ivanka praised her father as a get-it-done developer with a history of personally reaching out to people who have experienced hardship or injustice.
"He is honest and he is real. He's an optimist and he's a relentless believer in America and all her potential," she said.
After her remarks, Trump, who often says Ivanka refers to him as "Daddy," gave his daughter a double-cheek air kiss and patted her hip.
Even Trump's opponents agreed that Ivanka, a balm to her dad's shock-jock tactics, is a strong weapon for Trump.
"You don't win new support because your family likes you," said Katie Packer, a GOP strategist who founded a super-PAC aimed at stopping the Trump nomination. "Even the worst people in world history had families that loved them.
"In Trump's eyes, all of these people speak to his greatness. Melania -- 'Look! I landed a supermodel.' Kids -- 'Look at these attractive, successful kids I created,'" Packer said.
But Ivanka is an exception, Packer said.
"She is smart, poised, graceful and dignified. All things he isn't," she said.
Ivanka, who is friends with presumptive Democratic nominee Hillary Clinton's daughter, Chelsea, has pulled her father more toward the middle on some issues.
After the Orlando massacre at a gay nightclub, Ivanka successfully persuaded her father to strike a warm tone toward the gay community in his formal response. She urged him to tone down his rhetoric on the divisive Muslim ban.
As Trump battled Fox News' Megyn Kelly in August in one his first major political scuffles this cycle, Ivanka convinced him to emphasize his record of employing women at his companies and his support for women's health programs. In an interview with Fox News' Sean Hannity, Trump called Ivanka "my guide on that whole subject."
Before it's here, it's on the Bloomberg Terminal.
LEARN MORE