U.S. ELECTION WRAP: Suspense Builds Ahead of Trump's Big Speech
Will Trump go "full Trump?" Or will he  attempt to heal the Republican rift in his speech to accept the GOP nomination?
by , , and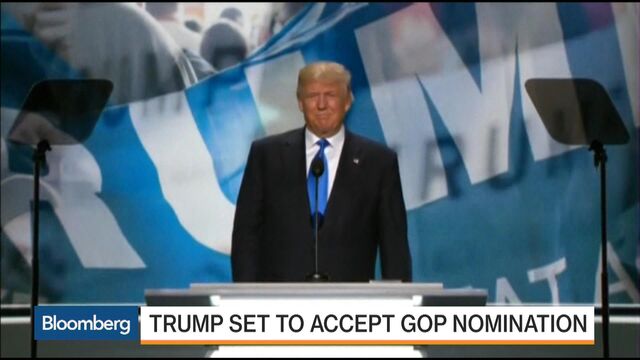 Whether Donald Trump can rebuild burnt bridges when he speaks to the Republican National Convention tonight remains to be seen, but one thing's for sure: the nation will be tuning in for the summer's biggest cliffhanger.
The immediate drama: Will he debut a new "presidential" tone? How will he tee-up his message to undecided voters? How much will he rely on a teleprompter? Will there be a fog machine?
But the real suspense starts when Trump exits the stage in Cleveland and hits the campaign trail after a convention marked by off-script moments and a party more split than at any time since 1964
Cruz raised the stakes last night after refusing to endorse his rival in the GOP primary and drawing raucous boos from the crowd, making clear to a national audience the divides within the Grand Old Party. A smiling Trump, as if on cue, was caught on camera entering the convention hall just as the jeers against Cruz were at their loudest.
While conventions have been "TV shows" for decades, usually in form of a 4-day infomercial, this time it's different, said Robert Thompson, director of Syracuse University's Bleier Center for Television and Popular Culture.

"This is a full-blown serialized dishy, soapy program," he said in a telephone interview. "It's more like watching an episode of 'Empire' than a convention."

As for Trump, "He seems to be having such a grand old time at it," Thompson said. "He's been at the center of one of the big American dramas for over a year now, but eventually an election has to happen."
Even if Trump loses to Clinton on Nov. 8, the Trump questions will linger

"What happens if he's not at the center of the narrative?": Thompson

Even for a master showman, the acceptance speech is a big test, Bloomberg's John McCormick writes
The real-estate developer, former reality-TV star and political novice is expected to deliver his address a little after 10 p.m. ET, with media experts forecasting a record television audience
Read the full story here

Click here to get the U.S. Election Wrap by e-mail every afternoon



CRUZ FALLOUT
Trump's newly selected running-mate, Indiana Gov. Mike Pence, gave the biggest speech of his political career last night in Cleveland and while he garnered praise from Republicans and commentators, his spotlight moment was largely overshadowed by the focus on Cruz
N.J. Gov. Chris Christie told MSNBC Cruz's non-endorsement was "awful" and "selfish"; GOP Rep. Peter King of N.Y. told the cable-news channel the speech was "narcissistic and self-centered"

Trump's son, Eric, who also gave a convention speech last night, deemed Cruz "classless" on "CBS This Morning"; Donald Trump Jr. told MSNBC his father knew a Cruz endorsement wasn't coming but let him speak anyway to show unity; Trump himself last night on Twitter said he saw speech beforehand but opted to let Cruz talk
Trump campaign chairman Paul Manafort, though, told ABC News the nominee's camp didn't know the Texas Republican wasn't going to endorse

Cruz this morning declined to commit to voting for Trump, telling Texas delegates he will be "watching and listening" to decide who to ultimately support, though he made clear he won't cast a ballot for Hillary Clinton

Cruz said the pledge he made during the primary season to support the eventual GOP nominee is no longer valid because of Trump's attacks on his wife and father
"I am not in the habit of supporting" such people, he said, adding he's not a "servile puppy dog"
Trump earlier this year retweeted a post insulting the appearance of Cruz's wife, Heidi; Trump also suggested Cruz's father had a link to John F. Kennedy's assassin Lee Harvey Oswald; Cruz at time called Trump a "pathological liar"
Read full story on Cruz by Bloomberg's Michael Bender

Trump, not surprisingly, scoffed at the importance of a Cruz embrace

The Texan's endorsement doesn't mean anything, Politico reported he told donors at a lunch near the convention arena, citing unnamed unnamed attendees

ALSO TONIGHT
Republicans cap off their 4-day convention today with the theme "Make America One Again"; in addition to Trump, speakers include RNC Chairman Reince Priebus, Jerry Falwell Jr. and Ivanka Trump, the fourth child of the nominee to take the stage

See full RNC schedule here

DEMOCRATS UP NEXT
After tonight, attention will quickly turn to the Democratic convention starting Monday in Philadelphia

Sen. Al Franken, D-Minn., told MSNBC the gathering will focus on Clinton and her plans, with a message that Americans can "trust" her to do the job; he also called the GOP gathering the "ugliest convention" he's ever seen

Additional speakers have been announced for the convention; more to be later, according to party officials

The updated list includes Franken, Mass. Sen. Elizabeth Warren, Senate Democratic Leader Harry Reid, Va. Sen. Tim Kaine, Calif. Gov. Jerry Brown, Ohio Sen. Sherrod Brown, N.Y. Gov. Andrew Cuomo, NYC Mayor Bill de Blasio, N.J. Sen. Cory Booker, N.Y. Sen. Chuck Schumer

Earlier schedule of headlining speakers includes former President Bill Clinton; President Obama; first lady Michelle Obama; Sen. Bernie Sanders

VEEPSTAKES
Clinton quietly met last week with Booker at her home in Washington, Politico reported, citing person briefing on the meeting

On same day, she met with Warren, HUD Secretary Julian Castro and Colo. Gov. John Hickenlooper, Bloomberg reported earlier
Bill Clinton is said to back Virginia Sen. Tim Kaine for the role, according to New York Times
Hillary Clinton may appear with her running mate Saturday at rally in Fla., though she might unveil her choice ahead of time in a text to supporters: NYT

NATO ALARM BELLS
Trump set off alarms across Europe after raising doubts about U.S. willingness to fulfill its NATO security obligations, Bloomberg's Toluse Olorunnipa, Andy Sharp and Aaron Eglitis reported

The Obama administration pushed back on the comments Trump made in an interview with the New York Times
"There should be no mistake or miscalculation made about this country's commitment" to the North Atlantic Treaty Organization, White House spokesman Josh Earnest said. "The U.S. commitment to that pledge is ironclad"
Trump told the newspaper the U.S. should only defend member states attacked by Russia if those nations "have fulfilled their obligations to us"
Former NATO Commander Wesley Clark, who sought the Democratic presidential nomination in 2004, said Trump has "a lot to learn"; Senate Majority Leader Mitch McConnell told Politico Trump is "wrong" on NATO
Pence told Fox News he's "confident" Trump "will stand by our allies"

POLLS
Clinton and Trump are tied at 44% in Ohio, according to a Suffolk University poll

Ohio has 18 electoral votes; Obama won state in 2012 with 50.1% vs Mitt Romney's 48.2%; no GOP presidential nominee has won White House without Ohio

FUNDRAISING
Trump fulfilled his promise to forgive the $47.5 million he loaned his campaign, according to FEC filing

He ended June with $20.2 million cash on hand and raised $24.1 million -- but $3.9 million came from his own personal funds

Today, Trump tweeted out a new goal to raise $4 million by midnight
RNC raised $16.5 million in June, with $21.1 million cash on hand

Group said it raised $172.3 million for the cycle

Democratic Senatorial Campaign Cmte out-raised its GOP counterpart in June, raking in $8.6 million to the NRSC's more than $6.5 million

DSCC ended month with $29 million cash on hand, National Republican Senatorial Cmte about $26.4 million

The Democratic Congressional Campaign Cmte out-raised the National Republican Congressional Cmte in June as well, with $12.1 million to $9.3 million

ETC
An anti-Trump organization has filed an FEC complaint alleging the businessman's campaign accepted illegal corporate contributions by allowing a volunteer paid by the Trump Organization to write Melania Trump's convention speech

Meredith McIver, who took the blame for allegations the speech plagiarized Michelle Obama's 2008 DNC speech, is a Trump Organization staffer

In another Melania-related controversy, there's no public record of the candidate's wife receiving a degree from the university in Slovenia from which she claims to have graduated, CBS News reported

CONGRESSIONAL RACES
FL-SEN: Vice President Joe Biden will campaign early next month with Democratic Rep. Patrick Murphy, according to campaign statement

White House backing Murphy in Aug. 30 Senate primary over Democratic Rep. Alan Grayson; Obama appears in TV ad endorsing Murphy
Republican Sen. Marco Rubio seeking second term in state with closest 2012 presidential contest; Obama-Biden ticket won by less than one ppt

NV-SEN: Democrat Catherine Cortez Masto in TV ad said she helped promote more than 40 bills as state Atty. Gen. passed by Democrats and Republicans "because good ideas are good ideas, no matter which party they come from"

Cortez Masto highlighted her support for GOP. Gov. Brian Sandoval's school-funding package, said GOP Rep. Joe Heck opposed it
Cortez Masto/Heck competing for seat of retiring Minority Leader Harry Reid

OH-SEN: GOP Sen. Rob Portman's campaign released TV ad featuring Ohio woman who says Democrat Ted Strickland "voted to raise taxes on Social Security" and supports Obamacare "even though it cuts Medicare by $700 billion"

Ad cites Strickland's 1993 vote as House member for Clinton administration's economic recovery plan, which in part increased level of income subject to Social Security taxes; Portman, also then in the House, among Republicans who unanimously opposed to measure
Obama's health-care law cuts future Medicare costs by more than $700 billion over 10 years from providers, including Medicare Advantage plans

WI-SEN: Democrat Russ Feingold raised more than $775k in first 20 days of July, according to campaign release

Feingold, former three-term senator, challenging incumbent Republican Ron Johnson in rematch of 2010 race

IL-10: GOP Rep. Bob Dold's campaign released TV ad accusing Democratic ex-Rep. Brad Schneider of backing Iran nuclear deal after previously opposing it

Dold's district includes North Shore suburbs of Chicago, gave 58% of vote to Obama in 2012

KS-01: Super-PAC opposing GOP Rep. Tim Huelskamp in Aug. 2 primary raised $180k from three donors in first 13 days of July, according to FEC filing

Super-PAC ESAFund raised $100k from Calif. investor William E. Oberndorf, $50k from Kan.-based American Warrior Inc, $30k from Kan.-based Conestoga Energy Partners LLC
Huelskamp, who antagonized agricultural interests with his vote against 2014 reauthorization of farm programs, opposed in primary by physician Roger Marshall
Huelskamp's campaign released TV ad in which narrator describes congressman as "never silent, never compromising"
Pro-Huelskamp super-PAC House Liberty Project has spent $113k on the race, per FEC filing

NV-03: Republican businessman Danny Tarkanian, the only Nevada congressional candidate attending GOP convention, said Trump "articulates issues that I agree with and the Republican Party agrees with and Hillary Clinton is the antithesis of that," Las Vegas Review-Journal reported

Tarkanian running against Democrat Jacky Rosen in competitive metro Las Vegas district now represented by Heck; district among 20 nationwide that nonpartisan Cook Political Report rates as toss-up
Before it's here, it's on the Bloomberg Terminal.
LEARN MORE