Trump Paints Dark Portrait of Fading Nation Only He Can Save
by , , and
Convention stumbles put pressure on nominee to deliver

Acceptance speech gives Trump chance to regain momentum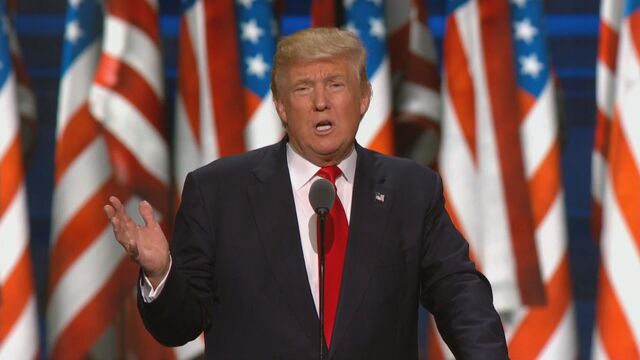 Donald Trump gambled that Americans share his vision of a nation teetering on oblivion, casting himself as a renegade outsider who is the last, best hope to stand up to a discredited and depleted establishment.
"I am your voice," he told a cheering convention hall in Cleveland as he accepted the Republican presidential nomination. "I say these words to you tonight: I am with you, and I will fight for you, and I will win for you."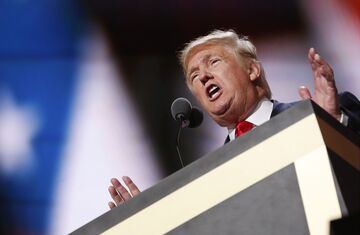 In a speech that warned of dangerous immigrants at home and unchecked terrorism in the world, Trump argued that his America-first vision and business savvy make him uniquely qualified to reverse the decline.
And he portrayed his opponent Hillary Clinton as a corrupt and self-serving charlatan embedded in an establishment whose fecklessness invited the nation's enemies to test it.
"This is the legacy of Hillary Clinton: death, destruction, terrorism and weakness," Trump said. 
"I have joined the political arena so that the powerful can no longer beat up on people who cannot defend themselves," he said. "Nobody knows the system better than me -- which is why I alone can fix it."
The speech, which lasted for 76 minutes, was unusual for Trump, who marshaled statistics and stuck closely to his prepared text. Unlike past speeches he read from the teleprompter, his delivery was confident and brash and the crowd responded enthusiastically.
Multiple Stumbles
But the real-estate mogul's address came amid questions over his abilities as a leader and manager after a convention repeatedly marred by tactical missteps and embarrassing moments of disunity.
His campaign's decision to allow his primary rival, Ted Cruz, to speak during prime time on Wednesday -- despite having no intention of endorsing the Republican nominee -- dominated headlines on a night that was supposed to be a showcase for vice presidential nominee Mike Pence, a social conservative Trump chose explicitly in a bid to unify the party behind him.
In an apparent effort to avoid a repeat of plagiarism controversy involving his wife, Melania, his campaign released the text of Trump's speech with 282 footnotes.
The early fears that protests and violence would overshadow the convention proved unfounded, as Cleveland remained peaceful amid tight security. 
The real drama came inside the convention, which was marred by the plagiarism episode, a gaffe made worse by his campaign's delayed response. And Trump again provoked concern among party leaders when he told the New York Times Wednesday that the U.S. might not defend NATO allies if the countries had failed to contribute their fair share to the alliance's budget. On Monday, opponents to Trump staged a dramatic floor fight in protest of his nomination.
By Thursday, Trump looked to wash away those concerns with his signature charisma and confidence. He stood calmly while a protester briefly interrupted his speech.
"I have a message for all of you: The crime and violence that today afflicts our nation will soon, and I mean very soon, come to an end," he said.
Robert Yates, a delegate from Pennsylvania, said Trump's message of law and order, as well as economic development, registered especially well with the crowd.
"He's hitting all the right notes and I can't find anything I disagree with," said Yates, who was originally bound to support Cruz though he said he decided this week to vote for Trump. "It was the right thing for the party and I'm really glad I did that now."
Taking on Clinton
Trump depicted Clinton, secretary of state in President Barack Obama's first term, as responsible for a litany of foreign policy challenges, painting her as directly responsible for the rise of Islamic State and chaos in the Middle East.
"America is far less safe –- and the world is far less stable –- than when Obama made the decision to put Hillary Clinton in charge of America's foreign policy," he said.
Trump also accused Clinton of illegally deleting the e-mails from her private server to conceal "her terrible crimes" from authorities and putting the country at risk. He also accused her of corruption, noting foreign donations to the Clinton Foundation.
"Her single greatest accomplishment may be committing such an egregious crime and getting away with it," Trump said.
But when the crowd started chanting "Lock her up," he waved them off, replying: "Let's defeat her in November."
Clinton's campaign chairman, John Podesta, said Trump's speech only pushed more fear and division.
"He offered no real solutions to help working families get ahead or to keep our country safe, just more prejudice and paranoia," Podesta said. "America is better than this. America is better than Donald Trump."
Olive Branch
Trump extended an olive branch to the gay community, calling the victims of the mass shooting at an Orlando gay club "wonderful" and saying he would do everything in his power to protect gay, lesbian and transgender Americans "from the violence and oppression of a hateful foreign ideology." 
"And as a Republican, I have to say it is so nice to hear you cheering for what I just said," he added, as his statement earned broad applause in the hall.
Still, Trump's remarks offered little by way of new policy proposals, while doubling down on some of the familiar campaign promises that have alienated minority voters. Trump echoed his call to "build a great border wall to stop illegal immigration" and devoted a lengthy section of his speech to discussing Americans who had been killed by immigrants.
Alabama Republican Senator Jeff Sessions, an early Trump backer, said after the speech that the nominee refined his message -- there was no direct mention of a complete ban on Muslim immigrants -- "but he did not back down on the idea that we need to be careful about admitting people from countries with a histories of violence and terrorism."
The immigration language may solidify negative impressions of Trump among Latino voters, an important and growing voter bloc in swing states like Florida, Virginia, and Colorado. Some 82 percent of Hispanic registered voters viewed Trump unfavorably, and three out of four said they planned to vote for Clinton, according to a Wall Street Journal/NBC News poll released over the weekend. 
Still, the nationalist message could have appeal in rust belt states like Ohio and Pennsylvania that Trump has identified as key to his campaign.
Trump's apparent refusal to pivot to the center suggests he sees his best chance at defeating Clinton as motivating many of the same voters who propelled him to the stage in Cleveland.
Religion and Business
The speakers who joined Trump on the fourth night of the convention were relatively low-profile, so as not to risk overshadowing the presidential nominee's main address. Still, they represented the unorthodox coalition that Trump is hoping can propel him to the White House.
Jerry Falwell Jr., the president of Liberty University, spoke early in the evening. Falwell's endorsement of Trump earlier this year helped the twice-divorced New Yorker make inroads with the party's evangelical base.
Falwell, in a nod to the discord, warned Republicans that if they failed to vote for Trump, they were risking the future of the Supreme Court. A "decision not to vote or vote for a third party candidate is a de facto vote for Hillary Clinton," he said.
Trump in his speech thanked evangelicals for their support, while wryly adding that he was "not sure I deserve it."
And Silicon Valley billionaire Peter Thiel -- the first speaker to declare he was gay in a speech at the Republican National Convention -- extolled Trump as the antidote to income inequality and a "broken" government.
"I don't pretend to agree with every plank in our party's platform," the PayPal Holdings Inc. co-founder said. "But fake culture wars only distract us from our economic decline. And nobody in this race is being honest about it except Donald Trump."
Trump was introduced by his daughter Ivanka, who worked to humanize her father and tried to appeal to women who may still be having second thoughts about Clinton.
She delivered perhaps the most optimistic speech of the entire convention, speaking to issues like family leave and equal pay that got little play from other speakers. She said her father was "colorblind and gender neutral" and hires "the best person" for a job.
"At my father's company, there are more female than male executives," she said. "When a woman becomes a mother she is supported, not shut out."
Struggles with Women
Trump has consistently fared poorly among women in polls. A Washington Post-ABC News poll published July 17 showed that 69 percent of women have an unfavorable view of him, and surveys of married women, a key demographic for Republicans, have been especially harsh for the billionaire.
Ultimately, however, all eyes were on Trump.
Paul Manafort, Trump's campaign chairman, told reporters in Cleveland Thursday that his candidate was trying to reach undecided voters, even amid the distractions.
"People are hearing the message," he said. "I think you will see next week that the polls will show that the convention was successful."
Before it's here, it's on the Bloomberg Terminal.
LEARN MORE