Obama to Target Undecided Voters in Democratic Convention Speech
by
Press Secretary Earnest previews Obama's speech next week

Republican convention speakers have attacked Clinton, Obama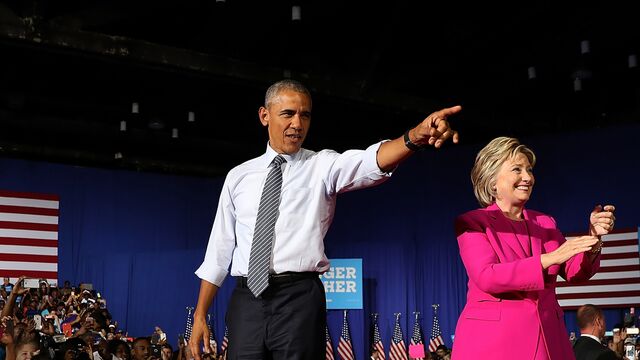 President Barack Obama's keynote speech next week at the Democratic National Convention will target undecided voters as much as it tries to rally the Democratic faithful, White House Press Secretary Josh Earnest said Wednesday.
Obama will make the case on July 27 at the party's convention in Philadelphia that presumptive Democratic nominee Hillary Clinton is the only candidate qualified or willing to build on his accomplishments, Earnest told reporters Wednesday. The president will draw a comparison between Clinton and Republican nominee Donald Trump, Earnest indicated.
"It's so important that the next president is somebody with the judgment, skill, leadership to build on that progress; that's the overarching case the president will make," Earnest said. "It's the kind of case the president hopes will resonate with progressive Americans but also with people who may not have an attachment to one party or another."
Republicans officially nominated Trump on Tuesday at their convention in Cleveland. Clinton has been a target of many speakers at the Republican gathering; on Tuesday evening, New Jersey Governor Chris Christie spurred the audience to chant "lock her up" as he mock-prosecuted the former secretary of state for supposed crimes including civil wars and unrest in Libya, Nigeria and Syria.
The first night of the Republican convention on Monday was dedicated to persuading Americans that Obama had left them more vulnerable to crime and terrorism. Earnest indicated that the president will directly rebut that argument in his own speech.
"Our country is more prosperous and safer than when President Obama took office, and the president believes strongly that we can't afford to flush that progress down the drain," Earnest said.
Clinton holds less than a 3 percentage point lead on Trump nationally, 43 percent to 41 percent, according to Huffington Post's Pollster.com aggregation of polling data. About 9 percent of voters are undecided, according to the site.
Before it's here, it's on the Bloomberg Terminal.
LEARN MORE