Clinton: Trump 'Most Dangerous' Candidate to Seek White House
by
Democratic nominee says her opponent lacks self-control

Clinton hits Trump-Pence ticket as 'deeply distressing'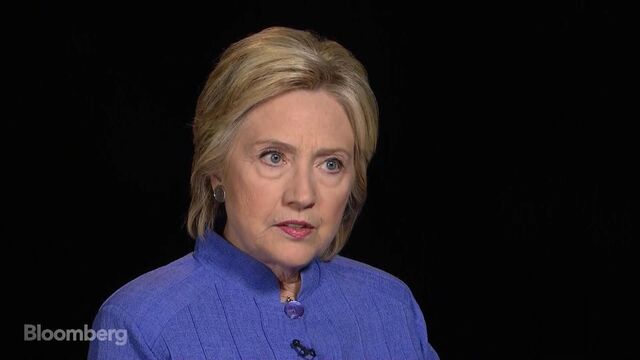 Hillary Clinton said Republican Donald Trump is the "most dangerous" candidate to seek the U.S. presidency because of his stances on nuclear weapons, dictators, torture and foreign policy that are far outside the mainstream.
In an hour-long interview with Charlie Rose for CBS News on the opening day of the Republican National Convention, Clinton, the presumptive Democratic nominee, said her rival "has shown that he is dangerous. What he has laid out is the most dangerous, reckless approach to being president than I think we've ever seen."
"He has shown no self-discipline, no self-control, no sense of history, no understanding of the limits, of the kind of power, that any president should impose upon himself," Clinton said. "He has shown none of that. And so I am looking at someone who, if I were not running against him, I would be going everywhere I could in this country speaking to wherever two or more are gathered to make the same point."
She also criticized Indiana Governor Mike Pence for his opposition to abortion rights and gay rights and called the Trump-Pence ticket "deeply distressing."
Clinton called on white Americans to show "more humility" toward black Americans' experience with the criminal justice system, in the wake of fatal attacks on police officers in Baton Rouge, Louisiana, and in Dallas, and fatal shootings of black men by white police officers in Louisiana and Minnesota.
"We're either going to come together and face up to these challenges or we're going to get even further divided, aided and abetted by the voices of bias and bigotry in our midst," Clinton said.
"I want white people to really think hard about what it would feel like to have the talk where you sit your youngster down and say, 'You know, you're a good kid but I'm just warning you, you've gotta do everything to stay out of trouble with the police.'"
"Too many Americans feel like the economy has failed them and government has failed them, and just forget about politics," Clinton said. "If we don't get an economy that produces results for an increasing number of Americans, then we're gonna see more of this demagoguery and this kind of rhetorical fear-mongering. And there are some terrible examples in history of where that leads. If we don't get the government to get off its back and start functioning and get over the ideology and produce results, the same path could possibly be waiting for us."
Clinton declined to discuss individual potential running mates ahead of a decision expected to be announced at the end of the week. She said she has met with a "bunch" of candidates and said, "I am blessed with a broad group of people to choose from."
The Democrats' decision to nominate the first woman from a major U.S. party as president is "revolutionary," Clinton said. "And it is something that I'm very conscious of. And I intend to fight for every single vote that I can possibly get in this general election."
Before it's here, it's on the Bloomberg Terminal.
LEARN MORE