Trump Backer Jeff Sessions Goes From Gadfly to Major Player
by
Alabama senator lines up with nominee on trade and immigration

A Senate outsider, Sessions has new chance to gain influence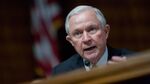 A year ago, Alabama Senator Jeff Sessions was a lonely voice in his party and a minor player on Capitol Hill. After the year of Donald Trump, he's heading to the Republican convention on the ride of his political life.
Trump's triumph over the Republican Party has taken Sessions, who will speak at the convention in Cleveland Monday night, from party gadfly to trusted adviser for the potential president, counseling him on policy and his vice presidential pick, while taking rides on the billionaire's Boeing 757.
Trump's ideology taps into the populist and America-first strains championed in Congress in recent years by Sessions more than anyone.
"I have been making this basic message for several years now and I believe it was a key to this election," Sessions, 69, said in an interview last week. "A lot of good candidates with a lot of good money and a lot of talent have been dispatched by the one candidate who spoke in these terms."
In Trump, Sessions saw someone strong enough to smash the system in Washington that he says caters to big money interests like the Chamber of Commerce and Wall Street.
"Trump has a way of driving a message so people hear it. I've been talking about it for years and nobody hears it," Sessions said. "Trump has that gift."
A Trump victory would make Sessions a newly powerful emissary on Capitol Hill, if Trump doesn't tap him for a cabinet post.
'Conversion Experience'
But for now, the four-term senator from Alabama is keenly aware that the Republican Party hasn't all warmed up to Trump, particularly in the Capitol.
"He needs to win," he said. "The establishment has not had a conversion experience like I have."
Sessions's influence inside his own party remains tenuous.
Many of Sessions's Senate colleagues are finding excuses to stay away from Cleveland. John McCain of Arizona is spending time at the Grand Canyon, while fellow Arizona Senator and immigration overhaul backer Jeff Flake joked that he would spend his time mowing his lawn, unhappy at the prospect of a "Trump coronation" for a man who called Mexican border-crossers "rapists."
'Man of Principle'
Senator Chuck Grassley of Iowa, who backed Trump late in the process, said Sessions has become the senator not only willing to back Trump but to push back on other senators who have criticized him, and now sees a chance to advance his agenda.
"Whether it's last year or 10 years ago or this year, he's pretty much a man of principle," Grassley said in an interview in Cleveland. "He stands by his principle and I think he sees a chance through Trump to have some of that principle, that maybe by other senators has been downgraded, gets a chance to get that lifted up a little bit."
As for Sessions's clout in the Senate -- or lack thereof -- Grassley, who is Judiciary Committee chairman, pointed to his colleague's lack of a major committee chairmanship.
Grassley noted Sessions thought he was going to be chairman of the Budget Committee 18 months ago, only to be squeezed out of the gavel by Mike Enzi of Wyoming on seniority.
Trade and Immigration
Last year, Sessions was one of just a few Republicans to come out against fast-track trade deal negotiating authority, and he also took on the Trans-Pacific Partnership. Slamming trade deals has become a core element of Trump's campaign, along with restrictions on immigration that hew closely to Sessions's own proposals.
Those parallels first attracted Sessions to appear with Trump at a massive rally in Alabama last year and don his "Make America Great Again" hat, before becoming Trump's first Senate endorser earlier this year.
In between, a top Sessions aide, Stephen Miller, joined the Trump campaign as a senior adviser and warm-up act at Trump's rallies.
Miller on Monday praised Sessions for killing immigration bills over the years, turning the fast-track trade battle into a "Pyrrhic victory" for the president, and leading the fight against Democratic Supreme Court nominees, among other issues.
"Who has been the more influential conservative in Congress for future of the party, and on the issues that matter?" Miller asked. "What senator is more trusted by the grassroots?"
Hardline Views
Sessions is a hardliner even among Republicans on immigration. Not only does he oppose anything smacking of amnesty for the 11 million immigrants here illegally, he's also sought to slow legal immigration. Trump consulted Sessions for his own plan, which calls for a pause on legal immigration.
Sessions has been equally lonely defending Trump after his proposals like his Muslim immigration ban, which lately seems to be morphing into a ban on people from countries with significant terrorism.
"People do not have a right to demand entry here," Sessions said, while pointing to the potential threats from refugees from countries like Syria. "You don't have a constitutional right or a moral right to demand entry into any country."
And Sessions tends to shrug off Trump's critics.
On trade and immigration, Sessions said, "Trump is exactly right, and many of our establishment colleagues on both sides of the aisle haven't gotten it."
Sessions also doesn't shy away from the "nativist" label sometimes applied to his and Trump's brand of populist politics. He doesn't see anything wrong with focusing on what's best for people already here.
'National Interest'
"They suggest that somehow it's irrational to love your country and that you should be grownups now and be a part of the world, get over this nativism," Sessions said. "My belief is that the nation-state remains the one entity that can function, the one entity that can demand sacrifice from its constituents in the national interest. People are not going to sacrifice for the EU, they're not going to sacrifice for the Trans-Pacific Union."
Sessions said part of Trump's advantage is he didn't initially have to spend a lot of time raising money, which tends to put candidates in rooms with people who back trade and immigration liberalization.
"Those are the controversial issues with the establishment, but not with American voters," Sessions said.
A Trump victory would also mark a triumph for Sessions over a broader Washington establishment that has at times given him a cold shoulder. In 1986, the Senate Judiciary Committee blocked his nomination to the federal bench over testimony that he had made racially insensitive remarks.
Before it's here, it's on the Bloomberg Terminal.
LEARN MORE