U.S., Russia Extend Talks in Search for Syria Cooperation Deal
by , , and
Negotiations go on as Kerry and Lavrov meet for seven hours

Putin, Kerry didn't reach military agreement, Kremlin says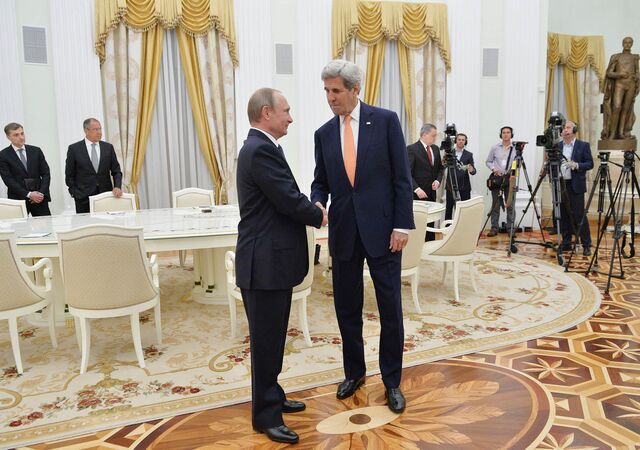 Russia and the U.S. extended talks to try to reach agreement on military cooperation against terrorists in Syria after Secretary of State John Kerry delayed his departure from Moscow in a bid to resolve their differences.
Negotiations between Kerry and Foreign Minister Sergei Lavrov, which were scheduled to run for one hour, broke up after seven hours on Friday. The two delegations are continuing to work separately and Kerry and Lavrov may resume discussions in the evening, the Russian Foreign Ministry said.
The day of talks came after Kremlin spokesman Dmitry Peskov said that Kerry and President Vladimir Putin didn't "come closer to real cooperation" on a U.S. initiative for joint military action against terrorists in Syria when they met late Thursday.
Kerry came to Moscow with a proposal to try to curtail violence in Syria ahead of an Aug. 1 deadline set by the U.S. for a political settlement, as the Obama administration seeks to salvage a cease-fire in the 5 1/2-year civil war. The plan would establish a Joint Implementation Group in which the U.S. and Russia would coordinate on airstrikes against Syrian rebel groups that the two countries agree are terrorists, according to a text obtained by the Washington Post. The talks are taking place as France reels from another terrorist attack after at least 84 people were killed when a truck drove into a crowd in the coastal city of Nice during Bastille Day festivities late Thursday.
Terrorist 'Incubator'
The meeting with Putin was "very productive" and continued until 1 a.m., Kerry told Lavrov at the start of Friday's talks. "The conversation last night was extremely frank and very serious," and "I look forward to building" on the discussions, he said.
The Russian and U.S. delegations stood for a moment's silence to commemorate the victims of the attack in France before their meeting began. The "incredible carnage" in Nice is being repeated in terrorist attacks in different countries "almost on a weekly basis," and "nowhere is there a greater hotbed or incubator of these terrorists than in Syria," Kerry said.
"People all over the world are looking to us" to ensure "that everything that is possible is being done to end this terrorist scourge and to unite the world in the most comprehensive efforts possible to fight back against their nihilistic and depraved approach to life and death," Kerry said.
The Kerry plan would see the U.S. sharing military information for targeting Islamic State and the al-Qaeda-affiliated Nusra Front, while Russia would use its influence to persuade Syrian President Bashar al-Assad to ground his air force and uphold the cease-fire.
Settlement Deadline
"We've always made clear that we would welcome a contribution -- a military contribution from Russia, as long as they were focused on ISIL and al-Qaeda's presence in Syria," White House spokesman Josh Earnest told reporters in Washington Thursday, using an acronym for Islamic State. "Unfortunately, we've seen them devote too much of their attention to using their military might to prop up the Assad regime."
Overshadowing the talks is the Aug. 1 deadline for a political settlement, even as violence has surged, especially in the rebel bastion of Aleppo. The war, which has killed more than 280,000 people and sent millions fleeing to neighboring countries and Europe, has also allowed Islamic State to seize territory that it's used as a base to direct and inspire terror attacks in Europe, the U.S. and elsewhere.
Talks Stalemate
Russia's military intervention in Syria last September changed the tide of the war in Assad's favor even as a U.S.-led alliance conducted airstrikes against Islamic State and the Nusra Front. There's been little coordination between the Russian and U.S. military forces other than efforts to avoid accidental targeting of each other's planes.
While a partial "cessation of hostilities" took effect in late February, that agreement quickly broke down and broader talks in Geneva over a political solution to the crisis stalemated. Diplomats in recent weeks have pressed for improved humanitarian access to besieged cities and towns.
"President Obama and Kerry and others are pressing this because they see a dead end otherwise," said Michael Wahid Hanna, a senior fellow in New York at the Century Foundation. "They're not interested in escalating. They see escalation as a dead end and while they think that the cessation of hostilities didn't last as long as one would hope, it lasted longer than people expected and had a material impact on levels of violence in the country."
For a QuickTake explaining the Syria conflict, click here.
Highlighting the challenges facing any new accord, Lavrov said Tuesday the U.S. had failed to carry out its promise to separate rebel groups it supports from Nusra. Echoing that concern, a Kremlin official said Thursday it wasn't clear the two sides would reach a deal because they remain at odds over the links between Nusra and other rebel groups. The official requested anonymity because he wasn't authorized to speak publicly about the matter.
Under the Kerry proposal, the U.S. would detail areas of Syria that Assad's military shouldn't bomb, though it wouldn't give Russia precise locations of rebel groups in those locations, the Washington Post reported. The Obama administration has blamed Russia for attacking anti-Assad rebels that the U.S. and its allies consider moderates.
Before it's here, it's on the Bloomberg Terminal.
LEARN MORE