Hamm, Thiel, Barrack Listed as Republican Convention Speakers
Potential Trump running mate Mike Pence is not on the partial list.
by , , and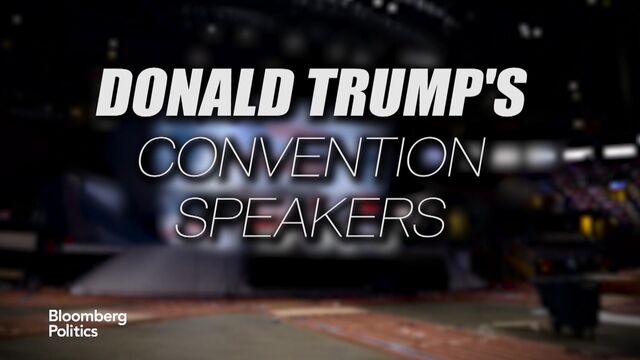 Donald Trump wanted his convention to be a flashy, theatrical event packed with celebrities and sports heroes.
A partial list of speakers released Thursday by the Republican National Convention committee was heavier on politicians and business executives, including Continental Resources founder Harold Hamm, PayPal co-founder Peter Thiel, Colony Capital founder Tom Barrack, and casino owner Phil Ruffin.
Republicans' top leaders in Congress, Senator Mitch McConnell and House Speaker Paul Ryan, were on the roster of 62 people, along with 10 other members of Congress and four governors. The four-day convention starts Monday.
Sports figures on the list included Ultimate Fighting Championship president Dana White and professional golfer Natalie Gulbis. Professional football player Tim Tebow was listed in plans obtained by the New York Times earlier, but didn't appear on the list released by the convention committee. In a post on Instagram, Tebow said his inclusion was just a "rumor." A final list will be released later, the committee said.
Potential running mates Chris Christie, the governor of New Jersey, and Newt Gingrich, a former House speaker, were listed. So was retired Army Lt. Gen. Michael Flynn. Indiana Governor Mike Pence, whom Trump named as his running mate Friday, was not. 
Ex-Rivals
Senator Ted Cruz, who came closest to beating Trump in the presidential primary and whom Trump needled as "Lyin' Ted," was on the list, along with other onetime White House hopefuls Ben Carson, Mike Huckabee, and Scott Walker.
Carson quickly became a close ally of Trump's after he dropped out of the 2016 race. He will speak Tuesday night with a "nobody but Trump" theme, said Armstrong Williams, an adviser to Carson.
"We must be a unified party and we must defeat Hillary Clinton, whether it's religious freedom or Supreme Court nominees. It can't be nobody but Trump," Williams said.
Absent were other unsuccessful 2016 candidates Ohio Governor John Kasich, whose state is hosting the Cleveland convention, and Jeb Bush. Also not expected to appear, in a sign of how Trump's candidacy has divided Republicans: Bush's father and brother, who are former U.S. presidents, and the party's last presidential nominees, Mitt Romney and John McCain.
McCain's running mate, Trump supporter Sarah Palin, was not on the long-awaited list, which Trump had said would be released July 7.
Ryan, who created turmoil within the GOP by initially withholding his endorsement of Trump after the real-estate developer and TV personality clinched the nomination, has said he intends to take the podium to talk about conservative solutions and how the party can unite around common principles.
Wish List
Trump has said on the campaign trail that he wants the event to be a gathering of "winners" and not just elected officials like at past conventions.
"We're going to do it a little different, if that's OK," he said in Virginia in June. "I'm thinking about getting some of the great sports people who like me a lot."
"We are totally over-booked. We have great speakers, we have winners, we have people that aren't only political people," he added on Fox News on Tuesday.
In recent weeks, his campaign's wish list included Bobby Knight, the former Indiana University basketball coach whom Trump frequently credits for his Indiana primary victory; boxing promoter Don King; tennis champion Serena Williams; former Chicago Bears coach Mike Ditka; boxing champion Mike Tyson; and NASCAR CEO Brian France.
None appeared on Thursday's partial list.
Benghazi, Hollywood
In an indication that presumptive Democratic nominee Hillary Clinton's record as secretary of state will be a topic of discussion, two security contractors posted to the Benghazi consulate during the 2012 attack, Mark Geist and John Tiegen, were listed. Decorated Navy SEAL and "Lone Survivor" author Marcus Luttrell also appeared.
Actor Antonio Sabato, Jr., will speak, according to the committee. Religious figures listed included Mark Burns, an African-American pastor from South Carolina; Jerry Falwell, Jr., the president of the evangelical Christian school Liberty University; and Rabbi Haskel Lookstein, who converted Trump's daughter Ivanka to Judaism, according to the Associated Press. The rabbi later withdrew, saying the "matter turned from rabbinic to political," the Israeli newspaper Haaretz reported.
Ivanka, as well as Trump's other adult children, Eric, Donald Jr., and Tiffany, were listed along with the candidate's wife, Melania.
Other current and former elected officials included:
Former New York City Mayor Rudy Giuliani
House Republicans Kevin McCarthy, the majority leader; Chris Collins, one of Trump's earliest Capitol Hill backers; Ryan Zinke; Michael McCaul; Sean Duffy; and Marsha Blackburn
Senators Tom Cotton, Joni Ernst, and Jeff Sessions, whom were all mentioned as possible running mates in the early stages; and Shelley Moore Capito
Governors Asa Hutchinson, Mary Fallin, and Rick Scott
Florida Attorney General Pam Bondi, who got unflattering headlines last month for, according to the Associated Press, soliciting a campaign contribution from Trump as her office weighed a possible fraud investigation of Trump University
Before it's here, it's on the Bloomberg Terminal.
LEARN MORE