U.S. ELECTION WRAP: Sanders Backs Clinton, Will His Supporters?
by , , and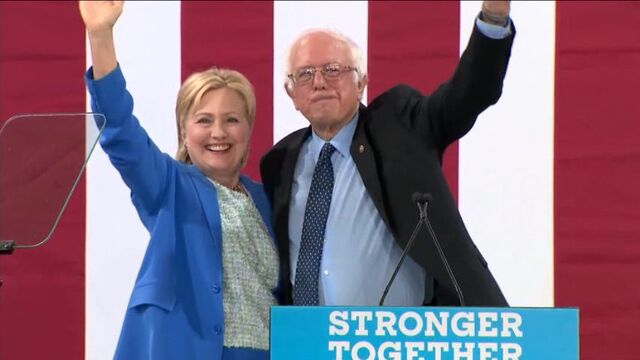 Independent Sen. Bernie Sanders finally gave Hillary Clinton what she and her backers have sought for weeks: an endorsement and declaration that the former secretary of state will be the Democratic presidential nominee.
"It was the proper thing to do," progressive Chicago politician Jesus "Chuy" Garcia, who campaigned for Sanders, said in phone interview. "Sanders made quite a mark in Democratic Party politics and policies. The effects of the political revolution will be felt for years to come. The most exciting part is the crop of young people who became politically involved and engaged."
Clinton, speaking today alongside Sanders in N.H., wasted no time reaching out to his enthusiasts

"We take $27 donations too, you know," Clinton told the crowd of ~3k in reference to Sanders' oft-repeated claim about the average contribution made to his campaign
"Our country desperately needs your voices and involvement, and so does this campaign and so does the Democratic Party," she said. "Let's open the doors to everyone who shares our progressive values."
"You will always have a seat at the table when I am in the White House."

Garcia, who promoted a Sanders-type agenda when he ran against Chicago Mayor Rahm Emanuel last year, predicts that Clinton can win over enough of the "Feel the Bern" crowd to defeat Donald Trump in Nov., even though she won't spark the "same level of energy or intensity" as Sanders did among backers

"But it helps and is strategic in building as much energy and movement to ensure" beating Trump and winning a Senate majority, says Garcia, who is now endorsing Clinton

Liberal activist group MoveOn, which initially backed Sanders, said Democrats are now ready to defeat Trump's "toxic campaign of hate and lay the groundwork for progress"
Today's rally began with speeches by two Sanders' supporters, environmental activist Bill McKibben and Jim Dean, head of grass-roots group Democracy for America, Washington Post reports

McKibben on Twitter called Sanders the "greatest candidate of my lifetime;" at rally he emphasized Sanders' appeal to young voters and said he hopes the Democratic Party doesn't let them down

Disappointment among Sanders' supporters was on display on social media

The owner of KCAA-AM radio in Loma Linda, Calif., wrote on Twitter that he's "shocked, disappointed and humiliated by Bernie's betrayal of me and millions of other Americans"

"North Carolina for Bernie" Twitter account: "We have to be honest. We're feeling pretty betrayed Bernie Sanders"
See BuzzFeed's sampling of other angry Twitter posts
Trump used Sanders' endorsement of Clinton as a chance to intensity his effort to woo the senator's constituency

Sanders "has abandoned his supporters by endorsing pro-war pro-TPP pro-Wall Street Crooked Hillary Clinton," went one Trump Twitter post; "To all the Bernie voters who want to stop bad trade deals & global special interests, we welcome you with open arms. People first," another reads
And this one: "Bernie Sanders endorsing Crooked Hillary Clinton is like Occupy Wall Street endorsing Goldman Sachs"

Sanders, in his speech at rally, stressed Clinton's commitment to addressing income inequality; he didn't specifically mention big banks or "too big to fail," a point of contention between the two during their primary fight

Click here to subscribe to the U.S. Election Wrap


WHAT'S NEXT FOR SANDERS?
In an e-mail to supporters after the rally, Sanders said the "revolution" must continue; said in coming weeks he will unveil the creation of "successor organizations to carry on the struggle that we have been a part of these past 15 months"
Sanders campaign manager Jeff Weaver tells CNN the senator will campaign "coast to coast" to help elect Clinton and other Democrats; says Clinton "at least moves the ball forward" in terms of policy
Weaver also says Sanders is expected to speak at the Democratic National Convention later this month in Philadelphia; the schedule for his appearance is being worked out, he said


VEEPSTAKES
If Trump doesn't pick Newt Gingrich as his VP, he may consider him for a top national security position, Bloomberg's Terrence Dopp, Jennifer Jacobs and Mark Halperin report

Asked about the role, Gingrich said "I know nothing of this"

Trump holds a rally in Ind. tonight with the state's governor and another possible running mate, Mike Pence
Virginia Gov. Terry McAuliffe says he's "pushing" Sen. Tim Kaine as Clinton's running mate, Bloomberg's Michael S. Arnold reports


ON THE TRAIL
Clinton, while speaking alongside Sanders, decried the Trans-Pacific Partnership trade deal and vowed to ensure Wall Street can never again "wreck" the economy

Clinton also said campaign finance would be a top priority for her administration

Trump is in Chicago today for fundraising lunch, with a minimum contribution of $10k; it's $100k for the "VIP roundtable," Chicago Sun-Times reports

Activists were planning 2 demonstrations, both near the city's Trump Tower building, according to the newspaper


POLLS
Trump leads Clinton by 2 ppt in Iowa, according to a Monmouth University Poll

Trump gets 44% of likely voters to Clinton's 42%, while Gary Johnson gets 6%; remaining 6% are undecided

Clinton leads Trump 54%-32% among college-educated likely voters, a Bloomberg Politics poll finds


CONVENTIONS
Republican Party Platform Cmte has removed a two-state solution for Israel and Palestine from its platform
Political parties vote in line with direct promises in their platforms more than 80% of the time, Vox reports

Platforms also closely track how the public views the presidential candidates

 
ETC 


CONGRESSIONAL 
SENATE FUNDRAISING: NRSC's Targeted State Victory Cmte raised $2.3m in Q2 from donors including investor Philip Anschutz and Home Depot co-founder Bernard Marcus, according to FEC filing

Barbara Banke, co-founder of Jackson Family Wines, was top donor with $384k; Majority Leader Mitch McConnell and Majority Whip John Cornyn gave $75k from their leadership PACs
Joint fundraising cmte raises funds for the National Republican Senatorial Cmte, which is defending party's 54-46 Senate majority, and for GOP groups in 15 states

AZ-SEN: Republican Sen. John McCain released TV ad attacking Democratic Rep. Ann Kirkpatrick's record on border security, says she "votes with D.C. liberals nearly 90%" of the time

Spot also promotes McCain for securing funding for new border agents/technology, citing 2010 border-security measure that Senate passed unanimously

MO-SEN: Democratic Secretary of State Jason Kander has $3.8m in campaign cash-on-hand after raising about $1.75m in Q2, St. Louis Post-Dispatch reported

Kander opposing GOP Sen. Roy Blunt

PA-SEN: Democrat Katie McGinty raised more than $2.9m in Q2, according to release from campaign

Three-month period included April primary that McGinty won over three other Democrats with help from White House
McGinty challenging Republican Sen. Pat Toomey

HOUSE: Democratic Congressional Campaign Committee added five candidates to "Red to Blue" program targeting Republican-held districts, according to release

Democrats who will get fundraising boost from designation are Shelli Yoder, running against Republican Trey Hollingsworth in open IN-09; Anna Throne-Holst, opposing GOP Rep. Lee Zeldin in NY-01; Tom Suozzi, seeking to succeed retiring Democratic Rep. Steve Israel in NY-03; Zephyr Teachout in open NY-19; Mike Derrick, opposing GOP Rep. Elise Stefanik in NY-21

KS-01: Club for Growth Action super-PAC released TV ad that accuses Republican physician Roger Marshall of backing measure that "grows the debt by hundreds of billions"

Ad doesn't include citation but refers to law that replaced Medicare's sustainable growth rate physician-reimbursement formula with new system, Club spokesman Doug Sachtleben said in e-mail to Bloomberg; House passed the bill 392-37 in March 2015
Club for Growth backs GOP Rep. Tim Huelskamp, whom Marshall is challenging in Aug. 2 primary; Huelskamp among 33 Republicans who voted no on SGR overhaul

MI-10: Republican Paul Mitchell's campaign released TV ad showing images of Obama and Clinton as narrator says "politicians in Washington refuse to confront the danger" from terrorist groups such as Islamic State

Ad refers to Mitchell as "hard-charging businessman" who will work to strengthen military and support veterans
Mitchell among five Republicans in Aug. 2 primary seeking to succeed GOP Rep. Candice Miller in district north of Detroit

NY-19: Teachout and Republican John Faso "differ ideologically but share an ability to fight hard and raise money," Associated Press reported in profile of race in Hudson Valley where "both parties expect an expensive battle"
NY-22: Businessman Martin Babinec says he's collected enough signatures to appear on Nov. ballot as third-party candidate, State of Politics reported

Babinec loaned his campaign $1 million in March; Democrat Kim Myers and Republican Claudia Tenney are major-party contenders for competitive upstate district of retiring GOP Rep. Richard Hanna
Before it's here, it's on the Bloomberg Terminal.
LEARN MORE