House Republican Chairmen Seek U.S. Perjury Probe of Clinton
by
Letter to federal prosecutor says FBI has raised new issues

Action comes after FBI inquiry results in no criminal charges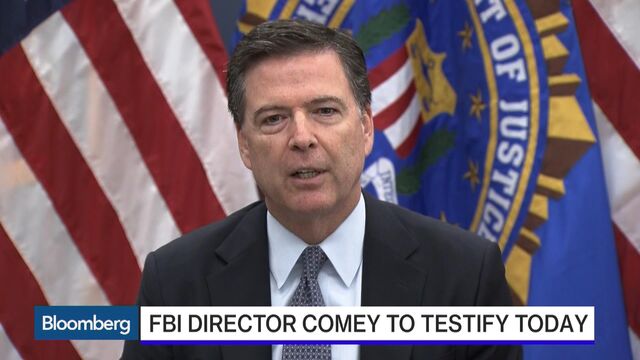 Two House Republican chairmen are asking federal prosecutors to open an investigation into whether Hillary Clinton committed perjury before Congress.
Frustrated that FBI Director James Comey didn't recommend criminals charges against the former secretary of state over her use of a private e-mail server, Republicans are trying to keep up pressure on the presumptive Democratic nominee.
The letter, sent Tuesday by Judiciary Chairman Bob Goodlatte of Virginia and Oversight Chairman Jason Chaffetz of Utah, says the Justice Department should investigate and determine whether to prosecute Clinton for violating statutes that prohibit perjury and false statements to Congress, "or any other relevant statutes."
"The evidence collected by the FBI during its investigation of Secretary Clinton's use of a personal e-mail system appears to directly contradict several aspects of her sworn testimony," states the letter, which is addressed to Channing Phillips, the U.S. attorney for the District of Columbia.
For a QuickTake Q&A on the Clinton e-mail controversy, click here.
The lawmakers' letter doesn't specify any alleged incidents of perjury, instead referring to Comey's testimony last week before the Oversight Committee that the truthfulness of Clinton's remarks to Congress wasn't within the scope of the FBI's previous investigation.
Chaffetz and Goodlatte also wrote separate letters asking Comey to provide the FBI's full investigative file of its review of Clinton's e-mail use and pressing the FBI director on why he didn't recommend action against Clinton for mishandling classified information.
Clinton Testimony
Clinton long maintained that she never sent or received e-mails "marked classified," a position she asserted during her almost 11 hours of testimony in October before a special House committee investigating the deadly 2012 attacks in Benghazi, Libya.
"That's not true," Comey said of the assertion when he was questioned at a hearing of Chaffetz's committee last week.
In a television interview on Friday, Clinton modified her standard answer on whether she had sent or received classified information on her private account, now saying she didn't "believe" she had done so. "As I have said many times, I certainly did not believe that I received or sent any material that was classified," she told CNN.
Attorney General Loretta Lynch may be questioned about her decision to accept the FBI's recommendation when she testifies on Tuesday before the House Judiciary Committee.
"Republicans are so frustrated with the FBI's unanimous decision that they are now completely unloading on Secretary Clinton with everything they've got -- right before the presidential conventions," Representative Elijah Cummings of Maryland, the top Democrat on the Oversight Committee, said in a statement. "Republicans are now squandering even more taxpayer dollars in a desperate attempt to keep this issue alive and bring down Secretary Clinton's poll numbers ahead of the election."
Before it's here, it's on the Bloomberg Terminal.
LEARN MORE