Clinton Deflects Criticism on Handling of Classified E-Mails
Questions about her e-mail use are likely to linger through the presidential campaign.
by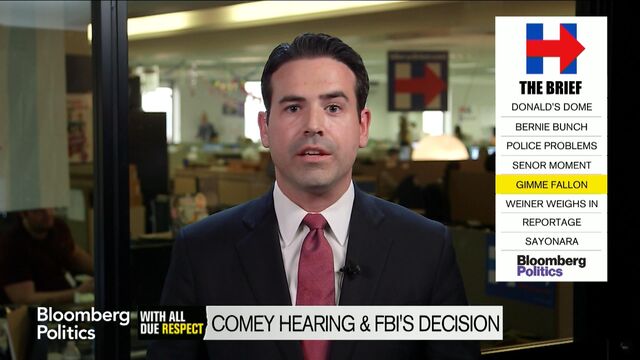 Hillary Clinton deflected the FBI director's assertion that she and her aides were ``extremely careless'' in handling classified information while she was secretary of state, saying the officials who exchanged messages with her were experienced in dealing with confidential material.
In her first public remarks on the issue since FBI Director James Comey concluded that Clinton's use of a private e-mail server was careless rather than criminal, Clinton said about 300 people in the government communicated with her via her private e-mail address.
"I do not believe that all of the professionals that I dealt with in the State Department were careless in handling classified material,'' Clinton said in an interview Friday on MSNBC. "I do not believe that they did anything that in any way, they believed, was inappropriate. And I think the facts show that."
Even with the FBI investigation concluding that no criminal charges were warranted, the presumptive Democratic presidential nominee is facing a new review of her e-mail practices at the State Department and vows by Republican lawmakers to seek a separate FBI investigation into whether she lied to Congress. Republican Donald Trump is certain to put the issue front and center in the general election campaign.
Clinton modified her answer on whether she had sent or received information marked as classified on her private account, telling CNN in a separate interview that she did not "believe" she had done so. "And as I have said many times, I certainly did not believe that I received or sent any material that was classified."
She had previously asserted that she never sent or received e-mails "marked classified.'' Comey, in testimony to a House committee hearing on Thursday, said, "That's not true.'' Three e-mails included a classified marking.
The State Department said Thursday that at least two of the e-mails shouldn't have had any classified marking.
Pressed on whether she should have known better than to use a private e-mail account and server, she also pointed to those who wrote to her. "I have no reason to believe that they were careless in their judgments in sending me the material that they did," she told CNN.
She also repeated that she regrets the decision to use private e-mail while serving as secretary of state. "I also know how important it is to make sure everybody understands that I would certainly not do that again.''
In another potential political headache for Clinton, Judicial Watch, the conservative watchdog group, on Friday asked a U.S. judge in Washington for permission to question her under oath in its long-running legal pursuit of records relating to top aide Huma Abedin's overlapping employments by the State Department, the Clinton Foundation and an outside consulting firm.
U.S. District Judge Emmet Sullivan in May gave the Washington-based group permission to take Abedin's deposition as well as those of others employed by the Clinton-era State Department plus Bryan Pagliano, the man who maintained the candidate's private e-mail system. Sullivan also said Judicial Watch could question Clinton too, if necessary, with his prior express permission.
The sessions with Clinton's aides ended last month. Now, Judicial Watch lawyers have said they still need "definitive answers'' from Clinton concerning that e-mail system, her continued use of it -- even as it interfered with her job -- and Pagliano's role in curating it. The group also wants to question State Department officials John Bentel and Clarence Finney.
Brian Fallon, a spokesman for Clinton, said Judicial Watch "has been attacking the Clintons since the 1990s so it's no surprise that after the Justice Department declared this case closed, they are trying to keep this issue alive in order to try to hurt Hillary Clinton's campaign for president." 
With assistance from Andrew M. Harris.
Before it's here, it's on the Bloomberg Terminal.
LEARN MORE