FBI Chief Fends Off Republican Attacks on Clinton Decision
by
'We went at this very hard,' he says, but couldn't make a case

Republicans say Comey should probe if Clinton lied to Congress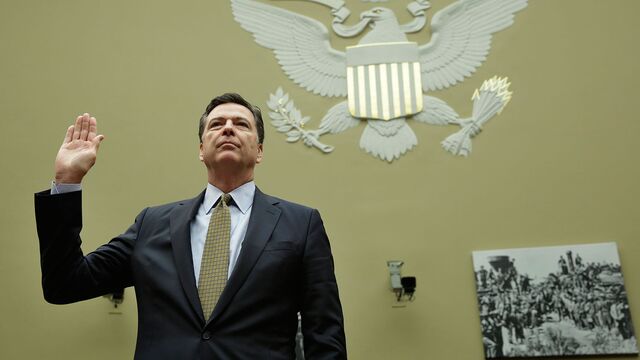 FBI Director James Comey forcefully defended his recommendation against criminal charges for Hillary Clinton during almost five hours of sharp questioning from lawmakers, as Republicans vowed to investigate whether she lied to Congress.
Comey was repeatedly challenged by a House panel Thursday about why no charges will be brought even though an investigation uncovered details that appeared to contradict Clinton's past statements about her use of private e-mail as secretary of state. He parried questions about whether the presumptive Democratic presidential nominee lied to the FBI, how the bureau's probe was conducted and even whether he was part of a bribery scheme to avert charges.
"We went at this very hard to see if we could make a case," Comey told the hastily summoned session of the House Oversight and Government Reform Committee. "The appropriate resolution of this case was not to bring a criminal prosecution."
Comey's testimony marked the latest turn in a dispute that continues to cast a pall over Clinton's presidential campaign. While embracing the FBI director's criticism of Clinton and her aides for what he's called the "careless" handling of sensitive official information, Republicans have moved on many fronts to challenge his July 5 recommendation against seeking charges.
False Statements
Even though the hearing failed to yield any major revelations, Republicans succeeded in getting Comey to say that some statements made by Clinton turned out to be false. He even acknowledged that she may not be as "competent" as people might assume, at least in using modern technology.
Comey refused to budge on his decision to recommend against criminal charges, saying there's no evidence that Clinton or her aides intentionally violated laws governing the protection of classified information and that there's virtually no precedent for bringing a prosecution in such a case.
"We did not find evidence sufficient to establish that she knew she was sending classified information," Comey said.
Comey also said there was no evidence that Clinton lied to the Federal Bureau of Investigation. But he said he would pursue a request that Republican lawmakers promised to send him to investigate whether Clinton lied to Congress. She discussed her use of a private e-mail server during 11 hours of testimony in October before a House committee investigating the deadly 2012 attacks on U.S. outposts in Benghazi, Libya.
State Department Inquiry
The issue also returns to the State Department, which will revive its own inquiry into the handling of classified information by Clinton and some of her top aides, which was suspended during the FBI investigation.
"Given the Department of Justice has now made its announcement, the State Department intends to conduct its internal review," department spokesman John Kirby said in an e-mailed statement.
Kirby told reporters Wednesday that the department's "process for reviewing potential cases of mishandling of information does not apply exclusively to current employees." For former employees, he said, it could include "issuing a security violation or infraction" that could affect their ability to get security clearances for future government positions.
'Average Joe'
Republicans contended that the FBI appeared to have a double standard when it comes to probing Clinton compared to other cases involving the mishandling of classified material.
"It seems to a lot of us that the average Joe, the average American, that if they had done what you laid out in your statement that they'd be in handcuffs and they might be on their way to jail and they probably should," said Utah Representative Jason Chaffetz, the Republican chairman of the committee. There are two standards, he said, with different treatment "if your name isn't Clinton or you're not part of the powerful elite."
For a QuickTake Q&A on the e-mail dispute, click here.
Comey told the committee it's "not true" that a separate standard was applied to Clinton or that politics tainted the inquiry. The FBI chief -- who has been a registered Republican in the past but said Thursday that's no longer the case -- said the investigation was conducted by people who didn't "give a hoot about politics" and performed their work in "an apolitical and professional way."
Representative Elijah Cummings of Maryland, the panel's top Democrat, called the hearing politically motivated and another instance of Republicans using taxpayer funds to revisit an issue that's already been resolved.
After Comey's testimony, Clinton campaign spokesman Brian Fallon said it "clearly knocked down a number of false Republican talking points and reconciled apparent contradictions between his previous remarks and Hillary Clinton's public statements."
Comey announced July 5 that an almost yearlong investigation found Clinton and her staff at the State Department were "extremely careless in their handling of very sensitive, highly classified information." But he also said that "no reasonable prosecutor" would bring charges in the case, and Attorney General Loretta Lynch announced on Wednesday that no charges will "be brought against any individuals within the scope of the investigation."
Gowdy's Questions
One of the sharpest exchanges during the hearing came when Republican Representative Trey Gowdy of South Carolina, a former prosecutor who heads the Benghazi inquiry, got Comey to acknowledge that some of the FBI's findings contradicted comments that Clinton has made publicly and in her congressional testimony.
The FBI director also sought to clear up an incident in which Clinton asked one of her aides to remove classified markings from a document so it could be sent to her through an unsecured fax machine. Republicans have seized on that issue as demonstrating that Clinton tried to skirt the law. Comey said it was his understanding that Clinton's intention was to remove all classified material from the document so that it no longer needed special protection.
Hacking Efforts
Comey said unsuccessful attempts were made to break into Clinton's e-mail system. He declined to say where the hackers originated but said the attempts weren't limited to criminal activity, suggesting that they came from other governments for the purpose of espionage.
Comey added that the private e-mail server used by Clinton was even less secure than a popular free e-mail service, saying Google's "Gmail has full-time security."
The FBI found that of the more than 30,000 e-mails turned over by Clinton, some 110 e-mails spanning 52 chains contained information that was classified at the time it was sent. Of those chains, eight contained information classified at the Top Secret level.
Comey said in announcing his findings that the bureau also discovered "several thousand" work-related e-mails that weren't turned over by Clinton's lawyers.
In another sign that Republicans intend to keep the e-mail controversy alive, Donald Trump, the presumptive Republican presidential nominee, sent out a fundraising e-mail while Comey was testifying.
"FBI Director James Comey has let her off the hook," according to the e-mail. "This is a disgusting example of just how badly the career politicians have rigged the system."
Trump Accusations
Earlier, Trump had called the end of the FBI investigation a form of bribery. He said Lynch let Clinton off the hook in a deal to keep her job as attorney general if the Democrat wins the November election.
Among other Republicans, House Speaker Paul Ryan has said Clinton should be denied the national security briefings that presidential nominees normally receive and he hasn't ruled out seeking a special prosecutor to investigate further.
Senate Majority Leader Mitch McConnell has demanded public release of Clinton's interview with the FBI. The Republican National Committee said it has filed a Freedom of Information Act request for the several thousand previously undisclosed work-related e-mails that Comey said the FBI found.
Before it's here, it's on the Bloomberg Terminal.
LEARN MORE