Christie's Ex-Allies Won't Get His Phone Before Bridge Trial
by
Judge denies request to force the handover of Christie's phone

Baroni, Kelly accused of gridlocking traffic to punish mayor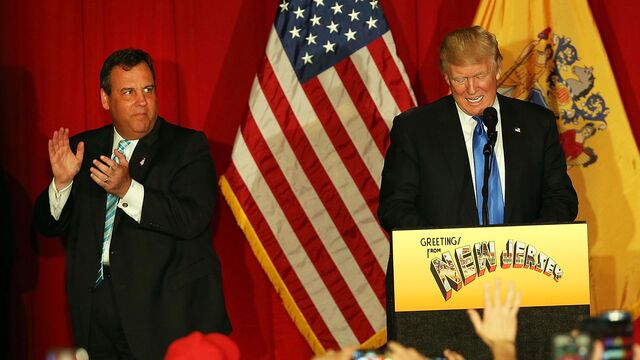 New Jersey Governor Chris Christie won't have to surrender his personal cell phone to two former allies who said it would help them defend against charges that they orchestrated massive traffic jams near the George Washington Bridge as political payback.
The judge overseeing the case denied the request from Bridget Anne Kelly and Bill Baroni. They had sought thousands of documents and all electronic devices including cell phones, laptops and tablets of the governor and his top staff reviewed by a law firm hired by Christie's office. The firm's internal investigation cleared Christie of wrongdoing in the lane closings. 
 
The firm, Gibson Dunn & Crutcher LLP, argued Kelly's and Baroni's subpoena was too broad. U.S. District Judge Susan Wigenton agreed, ruling Thursday that the request wasn't specific enough, failed to show the relevance of the evidence sought, and was "so sweeping" that she must deny it. 
"Nothing has been provided in writing that would justify such a request," Wigenton said in federal court in Newark, New Jersey, after a 2 1/2-hour hearing.
Christie Texts 
Kelly and Baroni were pressing for the phone that Christie used to send texts to another top aide in December 2013. The exchanges came as state lawmakers took testimony from officials at the Port Authority of New York and New Jersey, which runs the bridge. The aide who traded the texts said she deleted their exchange.
During the hearing Baroni's attorney Michael Baldassare and Kelly's lawyer Michael Critchley said Gibson Dunn did a sloppy investigation. Critchley said the firm failed to ask the governor about his texting with the aide, and it didn't press her for details.
While the ruling put to rest the status of Christie's phone before the September trial, it leaves questions unanswered. Christie has said he doesn't have the phone, a spokesman for U.S. Attorney Paul Fishman said prosecutors never got it and that they relied on Gibson Dunn to examine its contents and turn over evidence. 
Gibson Dunn said in a June 28 court filing it "returned the phone" without saying who has it. The firm said it hired a forensic firm that "copied and preserved the contents of all government-issued devices and e-mail accounts" belonging to Christie and his senior staff. For those who used personal devices or e-mail accounts -- including Christie -- "we ensured that the contents of these devices and accounts were preserved," it said.
 
Missing Phone
It wasn't clarified at the hearing where the phone is now, and Gibson Dunn attorney Randy Mastro didn't expand on what the filing said. 
"Sometimes trying to find out what's going on here is like trying to nail jello to the wall," Critchley said.
Christie is among the candidates that Donald Trump, the presumptive Republican nominee for president, is considering for his choice of vice president. Christie headed to Italy for a vacation with his wife this week, days before Trump is expected to make his announcement. The Republican convention starts on July 18 in Cleveland.
Kelly, a former deputy chief of staff in Christie's office, and Baroni, a former Port Authority deputy executive director, are accused of closing access lanes to the bridge to gridlock traffic and punish a local Democratic mayor for not supporting the governor's re-election. They are accused of conspiring with David Wildstein, a former Port Authority official who pleaded guilty and is helping prosecutors.
'Defamatory Attacks'
In court filings, Mastro said Kelly and Baroni had engaged in "baseless, defamatory attacks" that "reek of desperation." At the hearing, Mastro said the request for more material was "a search warrant for every device and document we inspected," which he said was "unprecedented in the history of this country." 
While denying the request for a handover of devices, Wigenton directed the law firm to turn over some documents related to Christie's former campaign manager, Bill Stepien, who wasn't charged.
The case is U.S. v. Baroni, 15-cr-193, U.S. District Court, District of New Jersey (Newark).
Before it's here, it's on the Bloomberg Terminal.
LEARN MORE