Comey Found Clinton's No Petraeus in Abusing Classified Material
by
FBI chief is summoned before Congress to explain his rationale

Scholars debate whether Clinton showed 'gross negligence'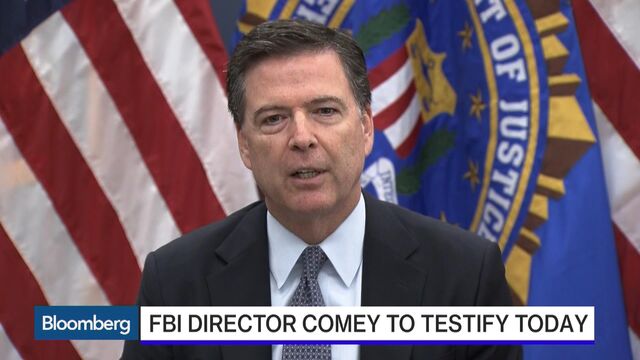 Hillary Clinton's Republican critics are asking why she's different from David Petraeus and Sandy Berger, two former officials whose mishandling of classified data was treated as criminal.
The distinctions are likely to be debated Thursday, when FBI Director James Comey appears before a House committee to explain his finding that "no reasonable prosecutor" would bring a criminal case against Clinton, the former secretary of state and presumptive Democratic presidential nominee, even though she and her staff were "extremely careless in their handling of highly classified information." Accepting Comey's recommendations, Attorney General Loretta Lynch announced Wednesday that no charges will be brought against Clinton or her aides.
Legal scholars are already debating Comey's conclusions about Clinton's use of a private e-mail server to send and receive messages on official business, a practice she has said wasn't illegal but one that she now regrets.
"Director Comey draws a rather curious distinction," said Jonathan Turley, a George Washington University law school professor. "What's strange about this outcome is that Comey detailed what would normally be viewed as a basis for gross negligence."
The late Berger, who served as national security adviser to President Bill Clinton, was charged in 2005 with having taken classified papers from the National Archives two years earlier while conducting research for a panel investigating the Sept. 11, 2001, terrorist attacks. He'd also taken his own handwritten notes.
For a QuickTake Q&A on the Clinton E-Mail Dispute, click here.
Confronted with his wrongdoing as he returned the purloined papers and destroyed some duplicates, Berger and his lawyers entered into a plea deal with prosecutors who charged him with a misdemeanor punishable by as long as a year in prison and a $100,000 fine. He was sentenced to two years of supervised probation and assessed about $57,000 in fines and costs, plus 100 hours of community service. The judge also stripped him of his access to classified material for three years.
Petraeus, the general who led the U.S. Central Command coordinating military action in Afghanistan and Iraq before being elevated to Central Intelligence Agency director, pleaded guilty last year to the same crime as Berger -- removing and retaining classified information -- after sharing sensitive information with his biographer and lover Paula Broadwell.
Petraeus was sentenced to two years' probation and fined $100,000.
Comey didn't name Berger, Petraeus or Edward Snowden, the former government contractor who has been a fugitive since leaking vast quantities of classified material. Comey did say, "All the cases prosecuted involve some combination of clearly intentional and willful mishandling of classified information or vast quantities of information exposed in such a way as to support an inference of intentional misconduct or indications of disloyalty to the U.S. or efforts to obstruct justice. But we do not see those things here."
'Breathtaking' Recklessness
Turley, the George Washington law professor, said there are ample grounds to prosecute Clinton because the handling of classified information by the State Department she led demonstrated conduct that was "other-worldly," and "a level of recklessness that is breathtaking."
Turley said he sees the sentences given Berger and Petraeus and Comey's recommendation not to prosecute Clinton as part of a continuum in which the criminal sanctions for mishandling classified information have been gutted.
University of Texas law professor Stephen Vladeck counters that those arguing for Clinton's prosecution are wrenching out of context the "gross negligence" provision of the federal law making gathering, transmitting or losing defense information a felony.
Vladeck attributed that to the "messy language" of the statute, adding the term didn't apply to all of the conduct covered by the multi-part law. "It's gross negligence with a very specific result," the professor said.
'Simply Talking'
Asked why the lower-level misdemeanor charge applied to Petraeus and Berger wasn't in play for Clinton, Vladeck said that required proof of intent to dispossess the government of that information.
"Simply talking about a classified program via e-mail is by no means dispossessing the government of that program," he said.
Turley added that he believes the FBI director did what he thought was correct, even though it appears to set a double standard in applying the law.
"Comey is right in that this would have been a challenging prosecution," he said, saying Clinton could have based a defense in part on her delegation of authority to others, as evidenced by her indirect involvement in some of the e-mail traffic. "I think that was the basis for his decision."
Before it's here, it's on the Bloomberg Terminal.
LEARN MORE