Gun Votes Demanded by Democrats as Republicans Probe Sit-In
by
House Democrats hint at more protests if proposals ignored

Republicans to ask sergeant-at-arms to investigate violations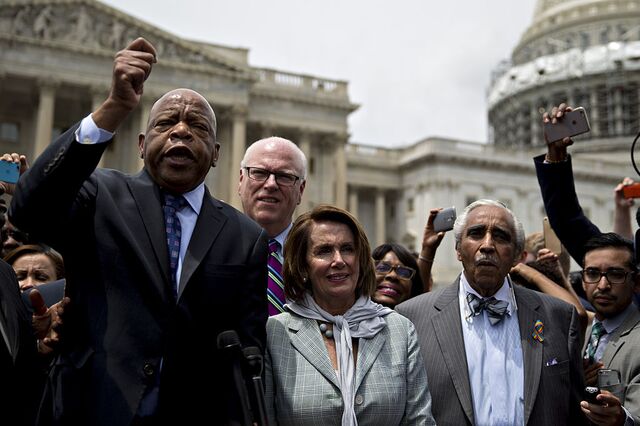 U.S. House Democrats stuck with their demands for votes on gun-related measures as Republicans began maneuvering to investigate potential wrongdoing during last month's 25-hour sit-in.
Two of the leaders of the protests -- Democrats John Lewis of Georgia and John Larson of Connecticut -- met with Speaker Paul Ryan of Wisconsin on Tuesday night to try to find a path forward.
The pair said after the meeting that Ryan was cordial but made no promises about future votes. They also said Ryan brought up concerns for the institution, and his role as speaker.
"We made it clear we are not going away," said Larson, saying Republicans underscored how determined Democrats were on this issue.
Ryan's office said that the two sides had different views over how to prevent gun deaths, but that the speaker was pleased to have the discussion.
"The path ahead on the anti-terrorism package will be discussed and determined by the majority in the coming days," AshLee Strong, a Ryan spokeswoman, said in a statement Tuesday evening.
Demonstration Warning
Emotions are still raw over the sit-in that led Republicans to gavel the chamber into an early recess, with Democrats warning that more demonstrations could occur if their demands aren't met. 
California Republican Tom McClintock said Tuesday on the House floor that Democrats who staged the sit-in were "replacing the rule of law with the rule of the mob" and that a failure to impose sanctions against the participants would set a "dangerous and corrosive precedent."
"That behavior cannot be tolerated," Majority Leader Kevin McCarthy of California told reporters Tuesday, as House leaders said they wouldn't let Democrats commandeer the floor again.
Larson said Tuesday before that meeting that he and Lewis wanted to ask Ryan for votes to be allowed on versions of legislation supported by Democrats that would broaden background checks for gun sales and ban firearm sales to people on the government's "no-fly" list of suspected terrorists.
Democratic calls for such legislation intensified after the killings of 49 people in a gay nightclub in Orlando, Florida, and helped spark the floor demonstrations.
Larson said that he and Lewis will report back to the Democratic caucus Wednesday morning on the results of that meeting. If Ryan denies votes on the legislation they want, Larson said the caucus will decide what to do next.
"All options are on the table," he said.
No Surrender
But Ryan and McCarthy made clear Tuesday that further demonstrations that disrupt House proceedings wouldn't be permitted.
Without offering details, Ryan said in a radio interview that he won't allow the House floor to be turned "into a college campus," and that "the last thing we're going to do is surrender the floor over to these types of tactics."
He also said Republicans will proceed this week with a vote on an anti-terrorism bill that includes language aimed at preventing terrorists from purchasing firearms. Democrats say that measure doesn't go far enough.
There were also some signs of conservative discontent with the measure. Representative Mick Mulvaney of South Carolina said Tuesday evening that the House Freedom Caucus has raised objections to the bill because some Republicans object to the standard it would employ to deprive individuals of their gun rights.
Meanwhile, McCarthy and Ryan will be meeting Wednesday with the House sergeant-at-arms, in part to seek details of reports of misconduct or other events during the protests two weeks ago on the House floor. McCarthy told reporters Tuesday those incidents include reports that some professional House staff may have been mistreated on the floor by having papers knocked out of their arms.
He said the review could include looking at video and what was live-streamed of the sit-in events. "We have to look at all the facts," he said.
Following Rules
But, he said, "That was not a behavior becoming of the United States Congress."
"We expect members of Congress to adhere to the rules and the decorum of what is expected" on the floor, he said.
Democrats rejected the need for an investigation.
"The lengths the House Republican leadership will go to follow the NRA's marching orders know no bounds," Drew Hammill, a spokesman for Democratic leader Nancy Pelosi, said in a statement, referring to the National Rifle Association.
Before it's here, it's on the Bloomberg Terminal.
LEARN MORE