Trump's Errors Stymie Efforts to Use Supreme Court to Rally Conservatives
by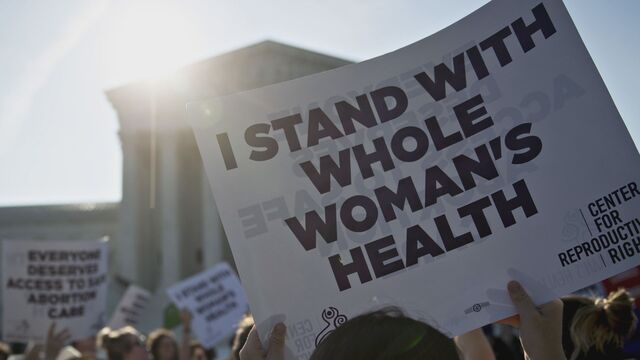 The enormous stakes hinging on the U.S. Supreme Court's makeup have given Republican Donald Trump a powerful issue to rally conservatives to his side against presumptive Democratic nominee Hillary Clinton.
But unforced errors have hindered Trump's effectiveness at exploiting what seems like a slam-dunk issue to consolidate the right, as Senate Republican leaders keep open Justice Antonin Scalia's seat for the next president to fill.
Trump stayed silent -- at least publicly -- for three days about the most consequential abortion ruling in a generation after the Supreme Court on Monday struck down Texas restrictions on abortion clinics, concluding that they posed an "undue burden" on a woman's right to terminate a pregnancy.
When asked about the ruling Thursday, Trump mischaracterized it. "If we had— Scalia was living or Scalia was replaced by me, you wouldn't have had that. It would've been the opposite," Trump said on the Mike Gallagher talk radio show. In fact, the ruling was 5-3; one more vote for the Texas law wouldn't have changed the outcome.
"Trump has problems with math," David French, a conservative writer and lawyer who briefly considered a third-party run against Trump, quipped on Twitter.
The episode reinforced doubts among prominent conservatives over whether Trump is sufficiently dedicated to ensuring a right-leaning Supreme Court.
"The stakes are obviously high, but I don't have faith in Trump to follow through on his commitment to only nominate solid constitutionalist judges," said Jonathan Adler, a conservative legal scholar who teaches at Case Western Reserve University School of Law in Cleveland. "I understand why some folks on the right might be inclined to hold their nose and vote for Trump, hoping that he'll make decent judicial nominations, but not me."
In May, Trump released a list of 11 potential Supreme Court nominees, winning plaudits from a broad spectrum of conservatives. The National Rifle Association endorsed Trump after he promised to select judges who will protect gun rights. Evangelical leaders have rallied to Trump as he promises to pick anti-abortion rights jurists.
"I asked him to produce a list of folks that he chose from to pick a Supreme Court justice. When he produced that list and said he would pick from it that to me was enough to get my endorsement," two-time presidential candidate Rick Santorum, an outspoken social conservative, told Breitbart News.
Gallagher, the conservative radio host, praised Trump for releasing the list. "You're transparent. You're direct to the American people. Excuse me, I haven't seen a list from Mrs. Clinton," he told the presumptive Republican nominee.
Hugh Hewitt, a conservative talk-radio host who has often spoken skeptically about Trump, has maintained that the Supreme Court is reason enough for conservatives to support a Republican. "In his or her first weeks, the next president will nominate not just one Supreme Court justice to succeed Antonin Scalia but also fill dozens of vacancies on the federal bench," Hewitt wrote in a mid-June Washington Post op-ed declaring his support for Trump.
Apart from Scalia's empty seat, three high court justices are on retirement watch. As of inauguration day, Ruth Bader Ginsburg will be 83 years old, Anthony Kennedy 80 and Stephen Breyer 78. The average age for a justice to leave the Court is 78.7, according to a 2006 Harvard study. Scalia died at 79.
"The Court's role in our country and our lives is big. The next president could appoint one, two, maybe three justices. And boy, we cannot let that president be Donald Trump," Clinton said Tuesday at the International Women's Forum in Chicago.
Erwin Chemerinsky, the dean of University of California, Irvine School of Law, said this year's election will likely be the most consequential for the Supreme Court since 1968, after which Richard Nixon replaced four members of the liberal Warren Court and began a rightward drift on the panel that has continued for nearly half a century.
"After this election -- especially if it's a two-term president -- it's either going to be a much more conservative or a much more liberal court," Chemerinsky said.
As Trump's nomination looms, the qualms among some conservative legal specialists remain.
"I've heard people all over the map on this," said John Malcolm, who oversees legal and judicial studies at the conservative Heritage Foundation. "I know people who've said, 'I can't stand the guy but I care so much about the courts that that is the only reason I'll vote for him.'"
"The Supreme Court is hanging in the balance for a generation," said Randy Barnett, a Georgetown Law professor and an architect of a lawsuit that in 2012 came within one Supreme Court vote of invalidating the Affordable Care Act. "We didn't get a constitutional conservative presidential candidate from the Republican Party this year. And that means we don't really know what we're going to get."
"The list of names that he put forward as judges is very good. But it's only a list and who knows what he'll actually do," Barnett said.
Adler, who helped craft a separate lawsuit in 2014 that came within two Supreme Court votes of crippling the Affordable Care Act, said Trump may not nominate strictly conservative judges because they would be an obstacle to his agenda.
Amanda Carpenter, a former aide to Republican Senator Ted Cruz of Texas, called Trump's Supreme Court list "fantastic" but doubted he would ultimately pick one of those judges. She said she doesn't plan to vote in the presidential race and it's up to Trump to persuade her otherwise.
"Right now, it's a campaign promise and Trump is hardly a man of his word. The stakes of the Supreme Court are high, no doubt," she said. "I want to see Trump embrace the Constitution, not wave around a paper with a list of names he can tear up at any point in time."
Campaigning Thursday in Manchester, New Hampshire, Trump was asked by an attendee to promise he'd be faithful to the Constitution as president.
"One hundred percent," he said. "One of the great, great instruments ever written, ever conceived -- we're with the Constitution a hundred percent."
Before it's here, it's on the Bloomberg Terminal.
LEARN MORE