Three Amigos Decry Isolationism Fueling Trump, Brexit
by , , and
Obama joined by Trudeau and Pena Nieto in defending free trade

Leaders hold North American summit after U.K. vote to leave EU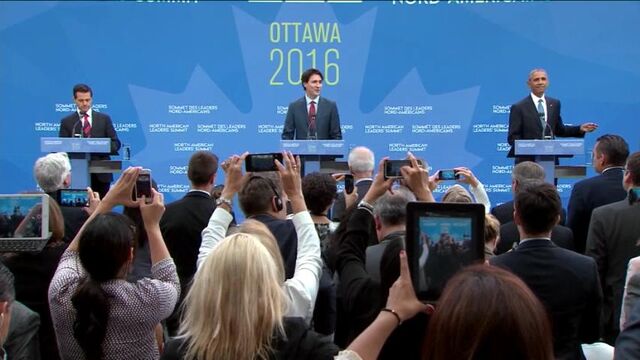 President Barack Obama and his counterparts from Canada and Mexico warned against protectionist and isolationist sentiments that drove the U.K. to withdraw from the European Union and now are coursing through the U.S. presidential campaign.
Obama, Canadian Prime Minister Justin Trudeau and Mexican President Enrique Pena Nieto all delivered a vigorous defense of the integrated commercial ties among their countries as beneficial to the global economy as well as individual citizens.
"The question is not whether or not there's going to be an international global economy. There is one," Obama said Wednesday at a news conference with Trudeau and Pena Nieto in Ottawa. "We're going to keep pushing hard for an international order that works for our people, but we're not going to do it by cutting off trade because that's going to make us poor."
The three leaders completed a one-day summit in Ottawa where they agreed to cut greenhouse gas emissions from the oil and gas sector, boost the development of clean power and build new cross-border transmission lines, among a long list of new initiatives that go well beyond energy.
Anti-Trade Rhetoric
The North American leaders met as discontent over economic globalization helped fuel a British vote to leave the European Union and anti-trade rhetoric ramped up in the race to succeed Obama. Though his name was never mentioned by the three leaders, presumptive Republican presidential nominee Donald Trump was the underlying subject of much of the discussion at the news conference about trade and immigration.
Trump has made criticism of trade deals a centerpiece of his campaign, casting them as benefiting a global "financial elite" at the expense of American workers. He's vowed to "rip up" the North American Free Trade Agreement among the U.S., Canada and Mexico, as well as other trade pacts. He and presumptive Democratic nominee Hillary Clinton oppose the 12-nation Trans-Pacific Partnership trade deal, which all three North American countries have signed but not yet ratified.
Trump also has vowed to crack down on immigration, saying he would build a wall along the U.S.-Mexico border and make the Mexican government pay for it.
Historical Echo
Obama blasted Trump's message as a nativist and xenophobic echo of the vitriolic 19th century campaign to keep out white Catholic immigrants, whose descendants the Republican is now courting to win the Rust Belt battleground states of Ohio and Pennsylvania.
In a possible preview of the argument he'll be making when campaigning on Clinton's behalf, Obama said the billionaire's rhetoric on immigrants is "no different" than that used in the 19th century efforts to keep out Irish, Italian and Poles.
Obama said someone who never before has worked on behalf of workers or the poor doesn't "suddenly become a populist because they say something controversial in order to win votes. That's not the measure of populism. that's nativism or xenophobia or worse. Or it's just cynicism."
U.S. Campaign
Pena Nieto said he has discussed the anti-immigrant sentiment in the U.S. with Obama, but he declined to directly address the presidential campaign.
"My government will respect the election process, which is a domestic process of the United States," he said. "We are getting ready to work with whoever ends up as president of the United States."
But, he said "the things that people are saying today are a lot like what some leaders in the past said to their societies -- Hitler, Mussolini -- and we all know the results."
All three leaders lauded multilateral cooperation and trade as beneficial to individuals as well as the global economy. Trudeau said an agreement on clean energy goals announced at the summit is "proof that cooperation pays off and working together always beats working alone."
Leaders Unveil Climate and Energy Plan, Nafta Changes
Obama said that the full impact of the vote in Britain to leave the EU remains to be seen. He said policy makers are better prepared to deal with the effects as a result of changes made after the financial crisis.
"I think you've seen the markets settle down a little bit over the last couple of days," he said. "We're monitoring very carefully whether there's any systemic strains on the system."
Obama added that "there are some genuine concerns about global growth if in fact Brexit goes through." The U.K.'s absence from the 28-nation EU also will "make it harder to solve some of the other challenges that need to be solved."
Before it's here, it's on the Bloomberg Terminal.
LEARN MORE