U.S. ELECTION WRAP: Reagan Expert Sees GOP Ruin and Rebuild
by and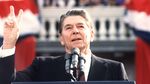 The message sent by the rising number of Republicans who say they won't attend or won't speak at the party's national convention is clear: "It's a vote of no confidence in Donald Trump," according to Ronald Reagan biographer Craig Shirley.
"The Republican Party is in the process of destroying itself -- that's the bad news," Shirley says in an interview. "The good news is the Republican Party has destroyed itself before and rebuilt"
While Shirley, who's authored three books on Reagan, is among those not planning to attend next month's convention in Cleveland, he's not suggesting other Republicans follow suit

"Party loyalty does count for something," he says, noting that the two most prominent Republicans who stuck by Barry Goldwater in 1964 went on to become presidents: Richard Nixon and Reagan
"If you want a future in Republican Party politics you want to go," he says. "You can be loyal to your party without being loyal to your candidate"

Trump or no Trump, he adds, today's conventions just aren't as fun or dynamic as they once were

"Consultants have ruined the spontaneity and importance of political conventions," he says, calling the gatherings "infomercials"

Former GOP presidential contenders Sen. Ted Cruz of Texas and Ohio Gov. John Kasich both tell New York Times they haven't sought a speaking slot at the convention; Trump said last week that he won't invite his two former rivals to give speeches unless they endorse him, which neither has done
Politico yesterday reported that few of more than 50 prominent Republicans they spoke to said they plan to go to Cleveland

VEEPSTAKES  
Democratic political consultant Mark Mellman has a message for pundits and reporters scrambling to figure out who will be the Democratic and Republican presidential running mates: calm down

"The truth is most of the time the vice-presidential selection doesn't make much of a difference at all," Mellman says in interview
Last time a VP choice made a significant difference was 1960, when John Kennedy's choice of then-Senate Majority Leader Lyndon Johnson was key to keeping LBJ's home state of Texas in the Democratic fold

Mellman also offers a different take on the 2016 race than many pundits/pollsters, saying the biggest surprise for him so far is a lack of surprise

It's been "less intriguing than anyone would have assumed, despite the fact we have the craziest nominee ever of a major party in Donald Trump, and despite the fact we have in the first time in the history of polling both candidates disliked by the majority of American people"
In some ways so far it's "strangely a perfectly normal race"


ON THE TRAIL  
Trump unveiled his most detailed trade agenda in a speech at an aluminum factory in heart of coal country in Monessen, Pa., near W.Va. and Ohio

Trump vowed to protect American workers, use U.S. steel and aluminum to rebuild the nation's infrastructure, withdraw the country from the Trans-Pacific Partnership trade deal and renegotiate Nafta
He criticized Clinton for previously backing TPP; she has since reversed that position

Clinton camp in response calls Trump "king of outsourcing"
AFL-CIO, which has previously been critical of Clinton on trade issues, called Trump a "complete fraud" on trade and defended Clinton's trade positions
Clinton, commenting on the House GOP's Benghazi report while campaigning in Denver, says the lengthy inquiry cost taxpayers $7m and "found nothing" to contradict "multiple earlier investigations carried out on a bipartisan basis in Congress"

Report says Clinton, as secretary of state, should have been aware of risks U.S. officials faced prior to the 2012 attacks in Libya, Bloomberg's Billy House reports, while containing no big revelations about Clinton's role in the response to the violence
Clinton campaign says Benghazi panel's aim was to politicize the incident and hurt Clinton's election bid

BREXIT 
Clinton tells LinkedIn's Daniel Roth she won't repeat faults of Brexit's "Remain" campaign; criticizes those leaders who urged U.K. voters to support staying in the EU for not effectively "taking on all those wrong and misleading claims" made by the "Leave" side
U.K. Independence Party leader Nigel Farage, in Bloomberg Television interview, says that while he doesn't see "eye-to-eye" with Trump on some issue, he sees a bond between himself and the presumptive GOP presidential nominee

"People like myself have taken on difficult issues that the normally politically correct class would try to bury under the carpet, and we've made them political debating points, and Trump has done that"
Get "The Wrap" by e-mail—subscribe now


POLLS
NBC News/Wall Street Journal poll released late yesterday afternoon shows that 52% of GOP voters say they would have preferred a different candidate than Trump, with 45% saying they are satisfied with him

Attitudes among Democratic voters exactly reversed, with 52% saying they are content with Clinton, 45% saying they wanted someone else


ETC
Washington Post reports that in last 15 years, Trump gave ~$2.8m to charities, less than a third of what he promised; Trump spokeswoman didn't respond to requests for response
Trump is attempting to catch up with Clinton's advantage in digital outreach and on line fundraising; some of his aides met last week in Texas with the company Cambridge Analytica, Politico reports, citing unidentified people familiar with meeting

Cambridge worked for Cruz during the primary and is linked to mega-donor Robert Mercer, co-CEO of hedge fund Renaissance Technologies


CONGRESSIONAL
Races to watch in tonight's primaries:
CO-SEN: Five-candidate GOP primary includes El Paso County (Colorado Springs) Commissioner Darryl Glenn, who's supported by Cruz and Sarah Palin; former state lawmaker Jon Keyser, who's backed by Senate Majority Leader Mitch McConnell; Jack Graham, ex-Colorado State U. athletic director

Democratic Sen. Michael Bennet unopposed in his primary

CO-05: GOP Rep. Doug Lamborn opposed in Colorado Springs-based district by Calandra Vargas, former state legislative aide who almost knocked Lamborn off ballot at April nominating convention but has raised little money since then
NY-01: Former Southampton Town Supervisor Anna Throne-Holst and venture capitalist David Calone seek Democratic nod to oppose one-term GOP Rep. Lee Zeldin in competitive eastern Long Island district that includes the Hamptons
NY-03: Five Democrats want to succeed retiring Democratic Rep. Steve Israel in competitive district that includes parts of Nassau and Suffolk Counties on Long Island's North Shore and a section of Queens in NYC

Israel supports Suffolk County legislator Steve Stern, who's opposed by ex-Nassau County Executive Tom Suozzi, ex-North Hempstead Town Supervisor Jon Kaiman, North Hempstead Town Councilwoman Anna Kaplan, lawyer Jonathan Clarke
State Sen. Jack Martins unopposed in GOP primary

NY-10: Democratic Rep. Jerry Nadler, who voted for President Obama's Iran nuclear deal, opposed by businessman Oliver Rosenberg in most heavily Jewish congressional district that includes parts of Manhattan and Brooklyn, Bloomberg's Dani Bernstein reported

In radio debate yday, Nadler touted accomplishments on transit funding, aid to first responders affected by 9/11, support for same-sex marriage

NY-13: Nine Democrats seeking to succeed retiring 23-term Rep. Charlie Rangel in overwhelmingly Democratic district in northern Manhattan and western parts of the Bronx

Rangel is backing Assemblyman Keith Wright; other candidates include state Sen. Adriano Espaillat, Assemblyman Guillermo Linares, former DNC political director Clyde Williams, ex-Assemblyman Adam Clayton Powell IV, pastor/ex-ambassador Suzan Johnson Cook
NY-13 is majority-Hispanic, with more Dominican Hispanics than any other congressional district; also includes Harlem

NY-19: Former Assembly Minority Leader John Faso and businessman Andrew Heaney seek Republican nomination in central Hudson Valley district of retiring GOP Rep. Chris Gibson

Billionaires Paul Singer, Robert Mercer funded super-PAC that aired ads attacking Heaney
Zephyr Teachout, law professor and political activist who ran against Democratic Gov. Andrew Cuomo in 2014, favored over Will Yandik for Democratic nomination

NY-22: Assemblywoman Claudia Tenney, businessman Steve Wells, teacher George Phillips seek GOP nomination for upstate district of retiring GOP Rep. Richard Hanna

Tenney backed by Tea Party-aligned groups and opposed by a super-PAC of centrist Republicans and another funded by Oneida Indian Nation tribe; Hanna, who beat Tenney in 2014 primary, endorsed Wells
Broome County legislator Kim Myers unopposed in Democratic primary; district includes Utica, Binghamton

NY-24: Democrats seeking Syracuse-based seat are Colleen Deacon, ex-aide to Sen. Kirsten Gillibrand; Eric Kingson, social work professor endorsed by Bernie Sanders; lawyer Steve Williams

Winner to face GOP Rep. John Katko

OK-01: Two-term GOP Rep. Jim Bridenstine, member of strongly conservative House Freedom Caucus, opposed by energy executive Tom Atkinson in Tulsa-area district
OK-02: Two-term GOP Rep. Markwayne Mullin opposed by Jarrin Jackson, military veteran supported by ex-Sen. Tom Coburn

Other news:

CA-SEN: Democratic Rep. Loretta Sanchez missed some House votes and her party's gun-control "sit-in" on House floor while she was in Spain for trade mission, meetings and a personal day, Los Angeles Times reported

Sanchez running against fellow Democrat Kamala Harris, state's atty. gen., in Nov. general election to succeed retiring Democrat Barbara Boxer

KS-01: GOP Rep. Tim Huelskamp defended conservative voting record, vowed to return to House's Agriculture Cmte during debate yday with physician Roger Marshall, who is challenging him in Republican primary

GOP leaders removed Huelskamp from Ag panel after 2012 election; Huelskamp then voted against John Boehner in 2013 and 2015 speaker elections
''One reason I'm going to be back on there is John Boehner is no longer speaker,'' said Huelskamp, who mentioned ex-speaker's name 16 times during debate
Marshall cast himself as "peacemaker" who "knows how to solve problems" and will get on Ag Cmte

TN-04: Republican Grant Starrett in TV ad says nation "has been taken over by politically correct cowards"; says Obama administration "going easy on radical Muslims" and is "financing abortionists"

Starrett seeking to unseat GOP Rep. Scott DesJarlais, whose campaign released mailer calling the challenger a "trust fund millionaire," Chattanooga Times Free Press reported
Before it's here, it's on the Bloomberg Terminal.
LEARN MORE