Secret Campaign Cash Gushes Into U.S. State and Local Elections
by
Brennan Center study tracked anonymous spending in six states

Dark money is closely tied to specific benefits for the givers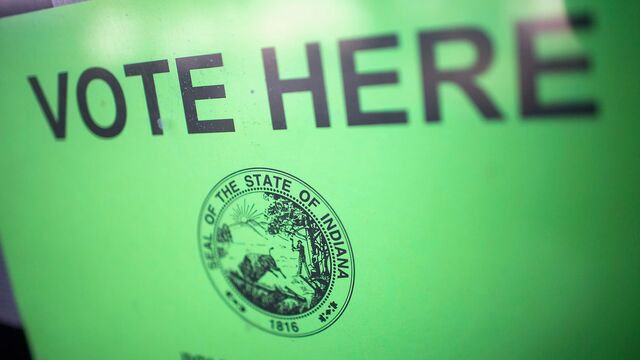 Secret campaign cash from groups that aren't supposed to coordinate with candidates has over recent election cycles poured into state and local races where the impact can be much greater than at the federal level, according to the Brennan Center for Justice.
The New York-based nonprofit law and policy institute researched spending by outside groups in six states between 2006 and 2014. Instances in which donors could be clearly identified fell to 29 percent from 76 percent on average after a landmark 2010 U.S. Supreme Court decision that allowed unlimited and anonymous spending, according to the study released Sunday, billed as the first of its kind.
So-called dark money is more likely to be tied to a specific benefit for contributors at the state and local levels than in federal elections, the report said. Donations, for instance, may influence the selection of a regulator or the passage of a ballot measure affecting a company's bottom line, and they can have a greater impact on the outcomes by dominating total spending in low-cost races.
"The problem is not that dark money will flood every state and local election or even most," the Brennan Center report said. "It's that dark money is most likely to turn up where the stakes are particularly valuable, in amounts that could make all the difference in persuading voters."
Cash Fountain
The Citizens United decision allowed as free speech unlimited spending by corporations, labor unions, and the wealthy, often through super political action committees that are technically independent from candidates and must reveal their contributors. Yet it also led to increasing contributions to non-profit groups that spend money on campaigns even though their primary purpose isn't supposed to be politics. And they don't have to disclose their donors.
Hundreds of millions of dollars in dark money have been spent to influence federal elections, and the same phenomenon is happening at the state and local levels, the researchers said. Dark-money spending rose 34 percent at the federal level between 2006 and 2014 and 38 percent during that time in the states examined, the study found.
"There's just less scrutiny of what's going on in state and local elections," said Chisun Lee, a senior counsel at the Brennan Center and one of the report's authors.
In the 2012 race for Utah attorney general, for example, a state legislative committee determined that payday-loan companies worked with Republican John Swallow's campaign to use generic-sounding PACs such as "Now or Never" and secret nonprofit spending to obscure about $450,000 in donations for election ads seeking protection from new consumer-rights rules, the study said.
In Wisconsin, an out-of-state mining company secretly put $700,000 into ads attacking legislators who opposed speeding mine permits, according to the report. The company gave money to one non-profit organization that contributed to a second non-profit that ran the ads, and the company's role surfaced only through an unrelated court case, the report said.
Gray Fog
Working with the National Institute on Money in State Politics, a nonpartisan organization in Helena, Montana, that compiles campaign data, Brennan Center researchers identified states where it was possible to track all spending for elections in 2006, 2010, and 2014. Only nine met the criteria for the study, and analysts chose to look at Alaska, Arizona, California, Colorado, Maine, and Massachusetts.
Researchers tracked dark money -- donations to non-profits that don't have to be revealed -- as well as what they dubbed "gray money": contributions to super-PACs whose sources are difficult or impossible to identify because they are made in the name of other PACs or by non-profits. The amount of gray money in the states examined increased to almost 60 percent in 2014 from 15 percent in 2006, the study found.
Secret spending often flows from donors who have a direct economic stake in lower-level elections, making them easier to dominate, the report found. Researchers examined court cases and other investigations in states where the secret donors to dark-money groups were revealed to show the influence of the spending.
"There's good reason not to want folks to know who's behind the spending," said Lawrence Norden, deputy director of the Brennan Center's Democracy Program.
While there's been little action on the federal level to require more disclosure, efforts at the state level can make a difference, the researchers said. In California, which had the most outside spending of the six states examined, stricter disclosure laws meant a low amount of dark money, the report said.
The study makes recommendations, including requiring disclosure by all groups that spend a substantial amount on politics, extending disclosure to organizations that donate to other groups, and naming the people in charge of spending entities with opaque titles, while also making reasonable accommodations for spenders.
"There is more realistic hope of change at the state and certainly city level," said the Brennan Center's Lee.
Before it's here, it's on the Bloomberg Terminal.
LEARN MORE