Aftershocks
Clinton to Mayors: U.S. Will Weather Brexit Repercussions
The presumptive Democratic presidential nominee also took a shot at Donald Trump.
by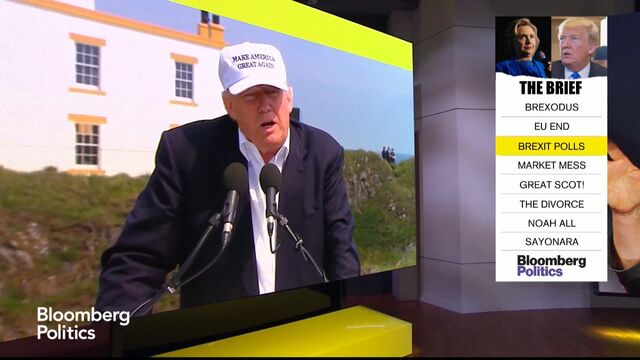 Hillary Clinton said Sunday that she believes the United States can recover from the immediate economic impact of  Britain's vote to leave the European Union and "from all the other shocks that are in the system."
In her first public remarks responding to Thursday's vote, Clinton told the U.S. Conference of Mayors annual meeting in Indianapolis that her priority is "to protect American families and businesses from the negative effects of this kind of tumult and uncertainty."
Clinton suggested that while she's focused on helping American stay afloat, her opponent, presumptive Republican nominee Donald Trump, cares more about himself. The U.S. needs leaders "who understand that bombastic comments in turbulent times can actually cause more turbulence and who put the interests of the American people ahead of their personal business interests," she said.
Trump has spoken about loosening ties with allies and key groups like NATO, a position that Clinton opposes.
"We've got to be clear about this: no one should be confused about America's commitment to Europe," she said, before nodding not just to Trump but to Russian President Vladimir Putin. "Not an autocrat in the Kremlin, not a presidential candidate on a Scottish golf course. We have to reaffirm that the United States and the United Kingdom are different countries in many important ways -- economically, politically, demographically -- but we still have a lot of common interests and values."
Earlier on Sunday, Trump knocked Clinton over an ad the presumptive Democratic presidential nominee released mocking the billionaire's response to the Brexit vote. 
"Crooked Hillary Clinton, who called BREXIT 100% wrong (along with Obama), is now spending Wall Street money on an ad on my correct call," Trump tweeted. He later tweeted that Clinton's ad showed him playing golf at his Turnberry resort. "Shows me hitting shot, but I never did = lie!"
Before it's here, it's on the Bloomberg Terminal.
LEARN MORE