Plan B
Dump Trump Convention Effort Could Look to Someone Like Walker
The long-shot movement's leaders say they have no single person in mind to replace the billionaire at next month's national convention, but that doesn't mean names aren't being discussed.
by and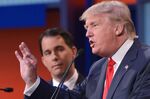 As the long-shot bid to block Donald Trump from becoming the Republican presidential nominee gains modest momentum, the movement's leaders claim they have no one specifically in mind to replace him at next month's national convention.

That doesn't mean names aren't circulating and politicians aren't subtly auditioning for what could be the role of a lifetime. One of those being floated: Wisconsin Governor Scott Walker. 

As an early Trump critic who exited the presidential race in September and endorsed Texas Senator Cruz ahead of Wisconsin's April primary, Walker could appeal to many segments of the fractured party.
"It's very a sell-able notion to many delegates," said Rick Shaftan, a Republican consultant working with the so-called "Free the Delegates" effort. "His record in Wisconsin, every conservative loves it."
Walker checks multiple boxes that delegates might find attractive in a post-Trump search: his confrontations with organized labor have made him a hero for many conservatives, he spent months last year crafting a campaign message and he eagerly embraces the campaign trail like few others. He also got out of the race before a single voter cast a ballot, creating separation from other candidates who were outright rejected.
Since the beginning, Walker has been a critic of Trump and framed his exit from the race as a selfless attempt "to clear the field in this race so that a positive, conservative message can rise to the top of the field."
He then backed Cruz in Wisconsin's primary, helping deliver what was arguably Trump's biggest blow of the nomination season. Walker has strong support from big money backers in his party, including the billionaire Koch brothers. And he has a close relationship with RNC Chairman Reince Priebus and U.S. House Speaker Paul Ryan, both also Wisconsinites.

On the other side of the coin, Walker got lackluster reviews in the Republican presidential debates that he participated in and was the head of a campaign that clearly struggled with financial management.
Further complicating the prospect of taking on the man who handily beat a field of 17 Republicans, anyone who might emerge as a Trump alternative would immediately face the challenge of simultaneously rallying conservatives -- especially supporters of second-place finisher Cruz -- assuaging skittish donors and reassuring party leaders. Walker, however, appears to be keeping his options open. 
Earlier this week, in an act that could be viewed as trying to gain favor with the dump-Trump movement, Walker backed Ryan in calling for convention delegates to be free to vote their conscience.
"Delegates are and should be able to vote the way they see fit," Walker told reporters this week after a groundbreaking ceremony for a sausage factory in his state. "We'll see how things go between now and the convention as to what the next steps are."
Those remarks made Walker one of the highest-ranking Republicans in office other than Ryan to suggest that delegates should be free to vote how they see fit at the convention, even if this year's primaries and caucuses were supposed to bind many of them to a candidate at least for the first round of nomination voting.
As a presidential candidate, Walker signed a pledge to support the nominee, and after the Wisconsin primary said he would support Trump if the billionaire became the nominee. He's since distanced himself from that stance.
"He's not yet the nominee," Walker told Wisconsin reporters earlier this month when Trump came under fire for suggesting a U.S. judge overseeing fraud cases against Trump University is biased because of the judge's Mexican heritage. "Officially, that won't happen until the middle of July, and so for me that's kind of the time frame on that. In particular, I want to make sure that he renounces what he says -- at least in regards to this judge."
Walker added: "I think for a lot of us, not just Republicans in general, we want to see what he's going to do between now and the time the convention comes. The sad fact is -- it's just sad in America that we have such poor choices right now."

Walker's office didn't respond to an e-mail seeking comment about his plans at the July 18-21 convention and any interest he might have in again being a presidential candidate.
"They are asking us to do something that we cannot do and that is to go out to sell Trump," said Kendal Unruh, a high school government teacher and Cruz delegate from Colorado who is one of the leaders of the dump Trump effort. "We all know that he does not define what conservative means."
Unruh said Priebus should be sending her "roses" because she's doing what she believes is a favor for the national party. "We know Donald Trump cannot win," she said.
For now, Unruh said the movement isn't backing any candidate and doesn't need to. "Once the vacuum is created, we will have some leadership jump in," she said.
Other forces are also working to try to fan the flames.
Courageous Conservatives PAC, a super-political action committee associated with Shaftan, on Thursday started running the first ads calling for delegates required to vote for Trump on the convention's first ballot to be unbound from those obligations.
"Normally, our delegates would ratify the primary winner," Steve Lonegan, who served as Cruz's New Jersey state chairman, says in the ad. "But this is one of those times when the delegates need to be free to vote their conscience."
The radio ad, running in Des Moines, specifically targets Steve Scheffler, a longtime Republican National Committee member who has criticized Iowa delegates for being associated with the effort to block Trump's nomination.
Scheffler will be one of the two delegates from Iowa who will serve on the Rules Committee that will meet the week before the convention in Cleveland.
"I think it's disgusting and deplorable to try to undo the rules at this point," Scheffler said in an interview. "It would be a disaster for the party."
Scheffler questioned whether Walker or anyone else would want to step into such a messy situation, should the opportunity even arise.
"This effort is a slap in the face of every grassroots Republican because the voters have spoken," he said. "They rendered a verdict and we the delegates at the convention should respect that."
The new ad shows just how divisive the campaign within the party is becoming and how it could drain resources that might otherwise be directed to the party's battle with Democrat Hillary Clinton for the White House.
The movement, which now includes several hundred delegates, could stain Trump's coronation and, even if unsuccessful, instill greater division within the party.

As Trump's campaign has struggled with internal bickering, an off-message candidate and a weak fundraising report, the effort to replace him has gained traction in recent weeks. 
Trump has repeatedly dismissed suggestions that he could still face a nomination challenge at the convention, even calling such attempts "illegal."
In reality, there's nothing illegal about delegates at the convention changing the rules to unbind delegates from Trump or other candidates. But it would be highly unusual and almost certain to set off an even more divisive struggle in the party.
Like Trump, RNC officials have called media reports about efforts to block Trump "silly," even as they have shown increased interest in trying to extinguish any flames the movement might have.
Trump's own campaign is preparing a sophisticated operation to try to keep convention delegates in line that will include 200 staffers and volunteers, Politico reported this week.
Blocking Trump is a longshot, at best. Unruh claims the support of about 400 delegates, though roughly 10 percent of those are alternates. There will be 2,472 delegates at the convention, with 1,237 needed to win the nomination.
Trump has the backing of 1,542 delegates, including 1,447 who are required by current party rules to vote for him on the first ballot, according to an Associated Press tally.
Besides Colorado, where Cruz managed to secure all of the convention delegates, Unruh said the other most active states in the effort to block Trump are Arizona, Iowa, Louisiana, Michigan and North Carolina. "There's lots of organization going on," she said.
The effort is focusing first on the 112-member Rules Committee that will meet the week before the convention. If that body declines to change party rules to unbind delegates, Unruh said the effort would then move to the convention floor.
She dismisses suggestions that it's an impossible goal. "It's a campaign on a national scale that is condensed into three weeks," she said.
As for Walker, Shaftan compared the delegate voting to the kinds of campaigns the two-term governor and former county executive and Wisconsin Assembly member has won.
"There's only going to be 2,472 votes in this election," he said. "This is like a small town council race."
If there's anything Wisconsinites know about Walker, he tends to win local elections.
Before it's here, it's on the Bloomberg Terminal.
LEARN MORE