U.S. ELECTION WRAP: Trump May Name Cabinet Early, Likes Cotton
by , , and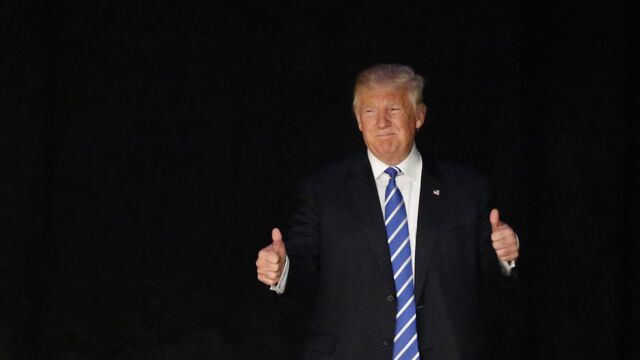 Donald Trump says he "very much" likes the idea of naming some potential cabinet members before Election Day.
"I would be inclined to do a lot of it early. You don't have to do all of it, but a lot of it early, actually," Trump tells Hugh Hewitt after the radio talk-show host says doing so would show conservatives he has a "serious team" in place

Hewitt's suggestions: former Sen. Jon Kyl of Ariz. as Defense Dept chief, former Ambassador John Bolton at State, former Sen. Joe Lieberman of Conn. -- Democrat-turned independent -- as head of the CIA

Hewitt suggests Trump should choose either GOP Sen. Tom Cotton of Ark. or N.J. Gov. Chris Christie as running mate

"I can't give you any clues or anything right now, because I do have a lot of respect for those two guys," Trump says. "But I have a lot of respect for others, also"
Cotton and Christie "are two names that I have high on the list for something at least, that I can tell you," says Trump
Trump has said he plans to unveil his choice at the GOP convention, which starts July 18 in Cleveland; the recent trend has been for presidential candidates to announce their picks shortly before the conventions begin
Sign up to receive the campaign wrap here

MORE VEEPSTAKES
Sen. Tim Kaine of Va. leads Hillary Clinton's list of potential running mates, Politico reports

HUD Sec. Julian Castro, Sen. Elizabeth Warren of Mass. also among top picks

DEBATES
On preparing for 1st debate with Clinton, set for Sept. 26 in Ohio, Trump tells Hewitt he hasn't started, doesn't want to end up sounding over-rehearsed

"Obviously I will be practicing, but I don't want to put so much practice in that all of a sudden, you're not who you are"

IMMIGRATION
Clinton calls Supreme Court's split ruling that blocks President Obama's executive order to shield as many as 4m unauthorized immigrants from deportation "unacceptable"

Decision shows "just how high the stakes are in this election"

Trump says ruling blocked "one of the most unconstitutional actions every undertaken by a president"

"This split decision also makes clear what is at stake in November. The election, and the Supreme Court appointments that come with it will decide whether or not we have a border and, hence, a country," Trump says in statement
Trump says Clinton's goal of expanding Obama's immigration plan would hurt poor black and Latino workers by "giving away their jobs and federal resources to illegal immigrant labor, while making us all less safe"

ON THE TRAIL
Trump traveling to Scotland in his first foreign trip since becoming the presumptive GOP nominee; he arrives just as the U.K. will be processing results of its referendum on EU membership

Trump has said he thinks U.K. better off with vote to leave
Land from which Trump's mother emigrated to U.S. in 1930s may not offer warm embrace, Bloomberg's Stephanie Baker reports
"I'm not sure what the purpose of the trip is," says GOP Sen. John Thune, R-S.D., according to AP; Trump should "get back here quickly," he added

Lengthy Washington Post piece challenges rosy picture Trump paints of golf course in built in Balmedie, Scotland

Post: "Over the past decade, Trump has battled with homeowners, elbowed his way through the planning process, shattered relationships with elected leaders and sued the Scottish government"
"Trump has also reported to Scottish authorities that he lost millions on the project -- even as he claims on U.S. presidential disclosure forms that the course has been highly profitable"

Clinton has no scheduled events
Sen. Bernie Sanders, who has yet to officially drop out of Democratic presidential race, is set to speak in NYC this evening with theme of "Where We Go From Here"

It won't be concession speech to Clinton, aides say

POLLS
Clinton continues to lead over Trump in prediction market and polls, Bloomberg Intelligence analyst Julie Chariell writes

RealClearPolitics poll average shows Clinton with 45.3% to Trump's 39.6%; PredictIt traders sold more Trump shares, leading to 4-point drop to 29% after he fired former campaign manager Corey Lewandowski

69% of voters say Trump should step down as chairman/president of Trump Org., according to a CNN poll

ENDORSEMENTS
Clinton garners backing of more than 50 business leaders, including Warren Buffett, media mogul Barry Diller, venture capitalist John Doerr, Facebook COO Sheryl Sandberg, Alphabet Inc. Chairman Eric Schmidt, former GM CEO Dan Akerson

Also endorsing her is AT&T Senior Exec VP Jim Cicconi, who has backed every GOP presidential candidate since 1976

FUNDRAISING
Trump campaign says $3m raised online since his first fundraising e-mail went out Tuesday
RNC fundraisers are privately encouraging major donors to donate to RNC, not Trump's campaign, Politico reports
Trump says he's forgiven $50m loan he gave his campaign, making it a contribution; stresses he's "not beholden to the special interests that have corrupted Washington"

ETC.
Sabato's Crystal Ball updates electoral college state ratings, with totals unchanged from March 31 prediction of 347 electoral votes Safe, Likely or Leaning to Clinton, 191 Safe/Likely/Leaning Trump

"Clinton remains a substantial favorite. If this is how the election actually turns out —- and it probably won't, at least not exactly, because there is a long way to go —- Clinton would win a victory smaller than Barack Obama's 2008 win (365 electoral votes) but bigger than his 2012 reelection (332)"
Website run by Univ. of Virginia's Larry Sabato shifts one state -- Pa. -- a bit toward Trump, though rates that Democrats retain advantage there
The state, "potentially the most important" in 2016, "moves from Likely Democratic to Leans Democratic. Trump is targeting the state, and a number of his more plausible paths to 270 include turning the Keystone State red for the first time since 1988"
Shifts Ariz. Ga from "Likely Republican" to "Leans Republican," Utah from "Safe Republican" to "Likely Republican"

CONGRESSIONAL
AZ-SEN: GOP Sen. John McCain said in statement Supreme Court's decision blocking Obama's immigration order shows president "cannot rewrite the laws he finds problematic, nor skirt the separation of powers whenever he finds it convenient"

Democratic Rep. Ann Kirkpatrick, challenging McCain in Nov., said in statement she was "deeply disappointed" by ruling that would have "a harmful ripple effect on thousands of Arizona families"
Ariz. is 31% Hispanic, 4th-highest share in U.S. after N.M., Texas, Calif., according to 2015 Census Bureau estimate released today

FL-SEN: Marco Rubio reversed his decision to retire after "personal charm offensive" led by Majority Leader Mitch McConnell, who asked other GOP senators to lobby him to seek re-election, Washington Post's Paul Kane reported
Miami CBS's Jim DeFede says in investigative report that Democratic Rep. Patrick Murphy, in touting his background as CPA and small-business owner, has "in some cases exaggerated his experience" and in other instances "made claims that were misleading or outright false,"

Murphy's campaign in statement referred to story as "deeply false," according to FloridaPolitics.com
Murphy, who faces Democratic Rep. Alan Grayson in Aug. 30 Senate primary, backed by White House and Minority Leader Harry Reid, who sent out fundraising e-mail saying Fla. Senate race "has become that much more competitive" with Rubio's entry

IL-SEN: GOP Sen. Mark Kirk and Democratic Rep. Tammy Duckworth traded jabs over Kirk's new ad touting his "courageous and independent" record

Kirk calls attention to his push for Senate vote on President Obama's Supreme Court nominee Merrick Garland, support for woman's right to choose an abortion and view that Trump isn't fit to be president
Duckworth camp counters: Sen. Kirk "lied for years about his military record, falsely claiming to have served in combat and claiming an award he never earned, and now he's not being straight with Illinois voters by portraying himself as a liberal Democrat in Chicago while apparently hoping no one else across the state notices"

OH-SEN: Senate Majority PAC in TV ad likens GOP Sen. Rob Portman to a cicada, says he returns to Ohio every six years and "tries to rewrite his record in Washington" on issues such as Social Security

Pro-Democratic super-PAC says Portman once supported "privatizing" Social Security, referring to past push to allow individuals to manage some payroll tax dollars in private accounts

NE-02: Rep. Brad Ashford among six Democrats who voted for $1.1 billion, GOP-written Zika funding package early this morning amid Democratic sit-in on gun policy

Ashford seeking second term in GOP-leaning district in/around Omaha

NY-03: Queens Tribune endorsed Jon Kaiman in five-candidate Democratic primary June 28 for retiring Democratic Rep. Steve Israel's seat

Kaiman, North Hempstead's former town supervisor, "has a proven track record of success," including as Gov. Andrew Cuomo's adviser on superstorm Sandy recovery efforts, according to editorial

NY-22: Defending Main Street super-PAC has spent $215k against Republican Claudia Tenney, including $140k yday to produce/air TV ads, it reported to FEC

Tenney among three Republicans in June 28 primary vying to oppose Democrat Kim Myers for seat of retiring GOP Rep. Richard Hanna
Defending Main Street, aligned with centrist Main Street Partnership, helped Hanna defeat Tenney in 2014 primary
Another super-PAC funded by Oneida Indian Nation, has spent $584k opposing Tenney and supporting GOP businessman Steve Wells
Sign up to receive the campaign wrap here
Before it's here, it's on the Bloomberg Terminal.
LEARN MORE