House Republicans Leave Town as Democrats Extend Gun Sit-In
by
Democrats say protest will continue until votes are scheduled

Leaders want votes on barring terror suspects from buying guns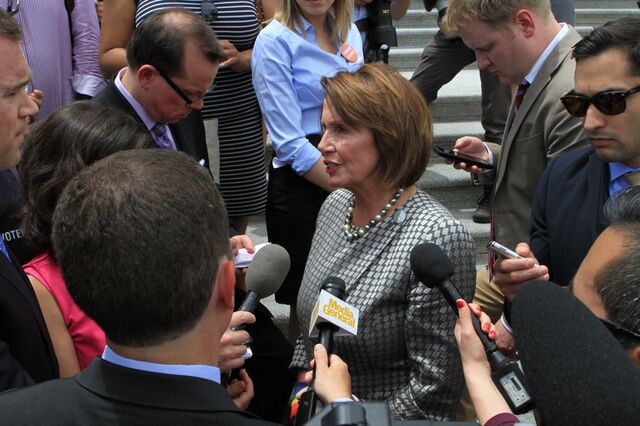 House Democrats kept up their sit-in for a second day as Republicans formally adjourned the chamber early Thursday but failed to halt the protest over the lack of a vote to curb gun sales.
Republicans hastily adjourned the House for a week-long recess nearly 16 hours after rebellious Democrats electrified backers of gun curbs with their unprecedented protest on the House floor. The standoff was dismissed by Republicans as a publicity stunt, but it has the potential to shift the dynamics of an already volatile election year.
Democrats showed little sign of relenting as their protest stretched into a second day, as members delivered rounds of impassioned speech-making, streamed on television from lawmakers' mobile phones in an unusually intimate view of the chamber's debate.
"We will continue to shed a bright light on the urgency of stopping this carnage," Democratic leader Nancy Pelosi, of California, said Thursday morning. She vowed to keep up the protest throughout the recess, which ends July 5. "We will not stop until we pass that legislation."
'No Bill, No Break'
Amid shouts of "no bill, no break" from Democrats occupying the well of the House, Republican leaders sought to work around the protesting lawmakers by trying to proceed with regular business. They quickly teed up and approved their top legislative priority of the week -- a spending bill that includes funding for the Zika virus.
"When we get back on July 5th, we'll start all over again," Representative John Lewis of Georgia, who led the sit-in from the start, said at a news conference early Thursday morning after the House adjourned. "The American people want us to act."
"I think Democrats won the day evidenced in the fact that Republicans lacked the courage to address our efforts and instead shut down the House," Representative Alcee Hastings, a Florida Democrat, said in an interview.
Demanding Action
The spontaneous protest began shortly before noon Wednesday. Dozens of lawmakers were joined by a parade of Senate Democrats to demand action to keep guns out of the hands of suspected terrorists in the aftermath of the shooting at a gay nightclub in Orlando, Florida.
As the night wore on, the scene on the floor became heated after Republican Louie Gohmert of Texas confronted Democrat Brad Sherman of California, who was speaking at the time. Gesturing toward Democrats, Gohmert yelled, "Radical Islam killed these people!"
Pelosi asked her caucus on the floor earlier Wednesday evening whether Democrats should continue their protest even if Republicans try to hold votes. Democrats yelled back, "Stay! Stay! Stay!"
"It will last as long as it needs," Pelosi told reporters Wednesday.
Setting Precedents
Oklahoma Republican Tom Cole said he hopes Speaker Paul Ryan "doesn't give an inch" to the Democratic sit-in to force gun-control votes because doing so would set a precedent for future disruptions of the House.
The protest ground House proceedings to a halt for most of the day, delaying votes on several measures and putting Republicans on the defensive over an issue that has taken on added significance in an election year. Democrats were demanding a vote on a measure that would bar suspected terrorists on the "no-fly" list from being able to purchase guns.
Late Wednesday, Ryan gaveled the House back into session and unsuccessfully tried to override President Barack Obama's veto of a bill that would block the administration's recently issued rules for brokers who handle retirement accounts. The tally was 239-180, short of the two-thirds majority needed to override the veto.
Zika Funding
They also adopted, 239-171, a conference agreement negotiated by House and Senate Republicans that includes funding to tackle the Zika virus. But Democrats and the White House have rejected the measure, calling the funding insufficient and blasting several provisions they claim are partisan and unacceptable.
Earlier, the speaker criticized the Democratic tactics.
"This is nothing more than a publicity stunt," Ryan said on CNN Wednesday evening. "This is not a way to try to bring up legislation."
Republican leaders kept the C-SPAN cameras off. Democratic lawmakers used smuggled mobile phones, which are banned from the floor by House rules, to broadcast their protest over streaming services. The sit-in itself had strong echoes of the 1960s civil-rights movement and was led by Lewis, one of that period's most visible figures.
"Now is the time for us to find a way to dramatize it, to make it real," Lewis said on the floor while surrounded by fellow lawmakers from his party. "We have to occupy the floor of the House until there's action."
'Can't Hide'
Illinois Democrat Bobby Rush said that there were no Republicans on the floor, participating in the sit-in.
"Speaker Ryan. You can run, but you can't hide," he said. "Enough is enough."
The hurdles to passing any gun-related legislation remain high. Even Republicans supportive of some of these measures say they have little chance of passing on the House floor. 
"It resonates in my district, but in other districts they see it as the first step towards taking away their guns," says Representative Peter King of New York. "I would say it has no future."
Senate Negotiations
In the wake of the Orlando shooting, Republican Senator Susan Collins has been negotiating a compromise gun-curb proposal that Majority Leader Mitch McConnell said would get a vote on the Senate floor. Senate Democratic Leader Harry Reid, after expressing a few reservations about the Collins proposal, said Wednesday that he would vote for it.
John Cornyn of Texas, the No. 2 Senate Republican, told reporters Wednesday that he is "optimistic" that he and Collins will be able to work out a deal on a gun measure that would unify the Senate, with a vote still possible this week.
But House Republican leaders have made no commitment to hold a vote on Democratic gun measures in their chamber. 
"We're not going to take away a person's constitutionally guaranteed rights without due process," Ryan said.
'No Other Way'
House Democrats said their sit-in was not planned ahead of time, but instead was a more spontaneous event. 
"I would say at least 50 are here," Democratic Representative John Yarmuth of Kentucky said in a message from the House floor. "We just decided there was no other way to get action, since we can't filibuster. Our members are all in on this, and leadership is totally supportive."
The Republicans, he said, "don't know what to do. It will be interesting."
Obama tweeted his support of the protest, thanking Lewis for "leading on gun violence where we need it most."
The Democratic sit-in interrupted a planned debate on a spending bill that funds the Treasury Department and other agencies, as well as another vote on a repeal of part of Obama's health-care law.
Senator Chris Murphy of Connecticut, who held the Senate floor for nearly 15 hours last week in an effort to demand votes in that chamber on gun curbs, was among the many Democrats who joined the House sit-in. 
"We will not alter the way Congress responds to the mass slaughter of our constituents without ripping up the usual script and demanding change," Murphy said in a statement.
The Senate voted Monday on four gun-related measures, all of which were defeated, but negotiations are ongoing over a compromise proposal.
'Are We Blind?'
House Democrats said they are getting increasingly frustrated by the lack of debate in their chamber.
"What is the tipping point? Are we blind? Can we see?" Lewis said. "How many more mothers, how many fathers need to shed tears of grief before we do something?"
The Democrats said they are also demanding a vote on expanded background checks.
At one point, some of the members in chamber began to sing "We Shall Not Be Moved," an African-American spiritual that echoes back to past non-violent demonstrations in the South and elsewhere.
Back in 2008, House Republicans staged a similar sit-in, occupying the House floor to demand a vote on offshore oil drilling.
Michael Bloomberg, the founder and majority owner of Bloomberg LP, is an advocate of assault-weapon restrictions and serves on the advisory board of Everytown for Gun Safety, a gun-control group.
Before it's here, it's on the Bloomberg Terminal.
LEARN MORE