War of Words
Trump and Clinton Place Bets to Woo Undecided Voters
The two candidates amp up the rhetoric as the general-election campaign gets underway.
by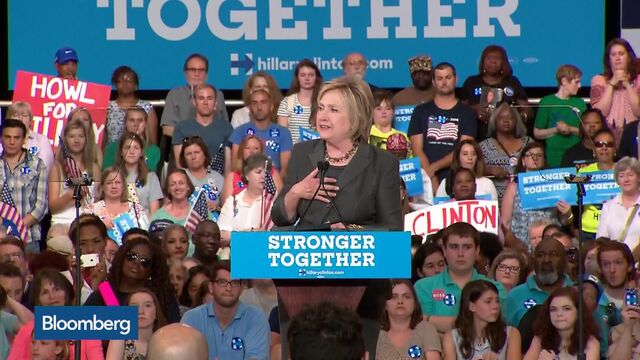 It's details versus denouncements in the race for the White House.
Hillary Clinton and Donald Trump, the respective Democratic and Republican presidential candidates, delivered competing speeches Wednesday that revealed dueling approaches to winning over undecided voters.
Clinton's speech in North Carolina showed how she plans to leverage the campaign's robust team of policy specialists, betting that Americans will be reassured by her readymade plans for legislation or executive action.
"It's not easy to change Washington, or how corporations behave," Clinton said at the North Carolina State Fairgrounds in Raleigh. "It takes more than stern words or a flashy slogan. It takes a plan. And it takes experience and the ability to work with both parties to get results."
It was almost the exact opposite approach than was employed a few hours earlier inside one of Trump's luxury hotels in New York. The billionaire businessman, who specializes in real estate and branding, relied on the force of his own personality to deliver a blistering attack on Clinton. He's wagering that even if his criticisms and signature proposals aren't possible—and polls shows many voters say they aren't—his unambiguous views will convince voters that he's better equipped to deliver change in Washington.
"Things have to change, and this is our one chance—maybe our only chance," Trump said at Trump SoHo. "If we don't do it now, folks, I don't know that we'll ever have another chance."
Style Points
Trump's speech marked the third time this month the combustible Republican used a telepromter to feed him lines and keep him on message. While his delivery improved, he still veered from the script to sprinkle the kind of Trumpian superlatives he's long relied on in business, and now politics, to sell his vision.
It's worked for him so far. He captured the Republican nomination despite polls that show most voters don't believe him. Just 24 percent of voters believe Trump would build a wall while only 19 percent say he could deport all 11 million illegal immigrants, a Quinnipiac University poll showed earlier this month.
Meanwhile, asked which candidate could bring change to Washington, 69 percent of Americans sided with Trump over Clinton, according to a Bloomberg Politics national poll released this month.
If Clinton showed her dependence on her robust policy shop run by political veterans and staffed with Yale-trained 20-somethings, Trump showed his reliance on investigate news reports, innuendo and conspiracy theory to capture the imagination of voters.
During his 40-minute speech, he repeatedly swung for the fences, blaming Clinton for the deadly 2012 attacks on the U.S. embassy in Benghazi, Libya, as well as for the rise of Islamic State militants, saying her foreign policy "unleashed ISIS across the world."
The sustained political attack on Clinton was also an attempt to hit the reset button on his struggling campaign. Trump has had no Republican rivals for seven weeks, a span during which his campaign should have been growing stronger. Instead, Trump has been weakened, beleaguered by personnel problems, campaign finance questions and self-inflicted wounds, such as attacking a U.S. district judge over his Mexican heritage.
"He's trying to stop digging this enormous hole he's in, and put the spotlight back on her," said Peter Wehner, a veteran of the last three Republican presidential administrations. "Trump knows he's not going to win by convincing people he's a decent human being, and so he's placing his bet on disqualifying her. And in the eyes of the public, he has a lot of material to work with."
Turnabout Is Fair Play
Trump also tried to pin on Clinton the same criticisms that she and his former Republican rivals have made of him.
While Clinton has criticized him for not releasing his tax returns on Tuesday, Trump returned fire on Wednesday questioning why she hasn't released transcripts of her paid speeches to companies like Goldman Sachs Group Inc.
Trump also accused Clinton of proposing "most radical immigration platform in the history of the United States."
After running his campaign largely from his private 757 plane—jetting into a city for a rally, and then flying back to his New York penthouse—he described himself as a witness to crumbling roads and bridges around the country.
"I have visited cities and towns across America, all across America, and seen the devastation caused by the trade policies of Bill and Hillary Clinton, and it's total devastation," Trump said. "All over New York, all over Pennsylvania, all over New England, all over the country."
Clinton countered with white papers.
While Trump tapped into the anxiety and unease of many voters with his calls for a wall along the U.S-Mexico border and halting all Muslim immigration, Clinton views her policy proposals as a way to show she empathizes with voter frustrations. 
Her speech on Wednesday was an attempt to distill her economic policies into a straight-forward argument for how she would improve the economy for the working class. She reiterated her plans to make college debt-free for all Americans, build on Obama-era Wall Street regulations, and raise the effective tax rates paid by America's wealthiest individuals and corporations.
"He has no credible plan for rebuilding our infrastructure apart from his wall," Clinton said. "He has no real strategy for creating jobs, just a string of empty promises. And maybe we shouldn't expect better from someone who's most famous words are, 'You're fired!'"
Before it's here, it's on the Bloomberg Terminal.
LEARN MORE